The recording of Blackmagic Design's livestream announcing the public beta of DaVinci Resolve 18.0. Coverage of Blackmagic Cloud and Da Vinci Resolve 18.0 itself starts at 00:12:25.

Previously posted on 21 July 2022. Scroll down for news of the DaVinci Resolve 18.1 update.
Blackmagic Design has updated DaVinci Resolve, its free colour grading, editing and post-production software, and DaVinci Resolve Studio, its $295 commercial edition.
New features in DaVinci Resolve 18.0 include Blackmagic Cloud, a new cloud-based collaboration system, and Blackmagic Proxy Generator, a new app for creating and managing proxies from camera orginals.
Colorists and VFX artists get new AI-trained object masking and depth map generation systems, support for tracking warped surfaces, a new despill effect, and updates to the integrated Fusion compositing toolset.
Video editors get new transitions and improved subtitling. Audio artists get improved Dolby Atmos mixing.
New cloud-based collaboration and automatic proxy generation workflows
The headline changes in DaVinci Resolve 18.0 are the new cloud-based collaboration and proxy systems.
Blackmagic Cloud, the firm's new cloud-based collabaration platform, lets users host project libraries on the DaVinci Resolve Project Server in the cloud, and share them with collaborators or clients.
DaVinci Resolve automatically maps and manages file paths when using cloud-based project libraries, meaning that files are relinked automatically if another user updates them.
For shot review, it is possible to "upload and review … presentations with synced markers and comments".
Windows and Linux users with Nvidia GPUs can also now stream the output of the DaVinci Resolve Studio viewer to a remote Blackmagic DeckLink cards with 12-bit colour depth and "extremely low latency".
Suggested use cases include remote editing and grading, as well as viewing output on local reference grading monitors.
The update also introduces Blackmagic Design's new Proxy Generator app, an intelligent automated system for generating H.264, H.265 or ProRes proxies from raw footage.
It can be set to monitor multiple watch folders for new source footage, and automatically assigns proxies to their proper place in the file tree, and links them to the camera originals in the media pool.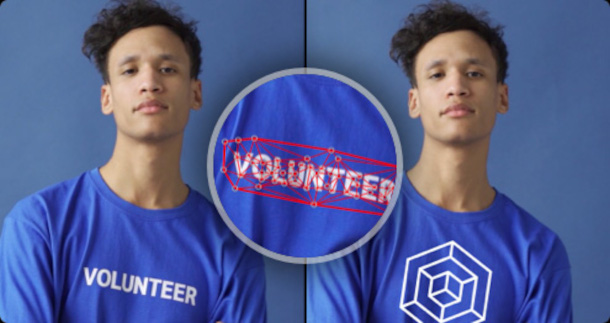 AI-based object masking and depth matte generation, plus tracking of deforming surfaces
For colorists, DaVinci Resolve Studio's Magic Mask palette gets a new object mask system powered by DaVinci Neural Engine, similar to the Semantic Keyer in Autodesk's Flame.
The AI-trained tool isolates and tracks "thousands of unique objects" including animals, vehicles, people and even food, making it a quick way to selectively apply grading or effects.
In addition, the new Resolve FX Depth Map uses DaVinci Neural Engine to generate a depth alpha channel from footage, for grading the background and foreground of a shot separately, or adding depth-based fog.
VFX artists get DaVinci Resolve Studio's new Resolve FX Surface Tracker, which tracks organically deforming planar surfaces in footage, including clothing, flags, and "even the side of a face".
The tool generates a 3D mesh over a selected region of a frame to which a new texture can be applied, automatically repositioning it and deforming it in subsequent frames to match the footage.
There are also self-descriptive new Resolve FX Despill and Fast Noise effects, while DaVinci Resolve Studio's existing Resolve FX Beauty filter for smoothing skin imperfections gets a new Ultra mode.
Fusion, DaVinci Resolve's integrated compositing toolset, has also been updated.
The key changes are the same as those in Fusion Studio 18.0, the new version of Blackmagic Design's standalone compositing software, which has also just been released.
New tools for video editors and audio artists
Video editors get new reverse shape, iris and wipe transitions in the effects library, support for TTML and XML timed texts and embedded MXF/IMF subtitles, and a new 5×5 option in the multicam viewer.
Audio artists get improved mixing of Dolby Atmos projects, including support for binaural monitoring and rendering; and automatic conversion of legacy projects to Fairlight's new FlexBus system.
We don't cover video or audio editing on CG Channel, but you can find more details of the new features via the links at the foot of the story.
Support for new broadcast standards and Apple's M1 Ultra processors
Other changes include support for the HDR Vivid broadcast standard, the option to embed Blackmagic RAW data in QuickTime renders, and a number of other codec updates.
In addition, the DaVinci Resolve 18.0 product page advertises the software's support for the M1 Ultra, Apple's latest Apple Silicon processor, available in the new Mac Studio.
Apple Silicon support isn't new in DaVinci Resolve 18.0, Blackmagic Design having been one of the first software developers to support M1 processors natively, but the firm claims that playback of 8K multicam timelines is "30x faster" on the M1 Ultra.

Updated 11 November 2022: DaVinci Resolve 18.1 and DaVinci Resolve Studio 18.1 are now available.
Despite the small change in version number, both are wide-ranging updates, albeit ones in which most of headline features are in the editing and audio toolsets rather than compositing and colour grading.
Grading and compositing: new automated Resolve FX Sky Replacement tool
New features on the Color page include a new Resolve FX Sky Replacement tool, which automatically isolates the sky in a shot and replaces it with B-roll or an artifically generated sky texture.
You can see the workflow at 12.20 in the video above.
Other changes include the option to add motion blur to textures applied with the Resolve FX Surface Tracker, separate RGB controls in Resolve FX Film Grain, and the ability to process the alpha channel for Resolve FX.
Workflow improvements include the options to filter clips by clip colour, or those clips with object masks.
Changes to the compositing toolset include support for Magic Mask in the Fusion page of the software, and support for the Resolve FX Keyers, Dust Buster, Lens Flare and Stop Motion.
In addition, the VariBlur and FilmGrain tools are now GPU-accelerated.
Workflow improvements include the option to search for Fusion nodes using keywords and categories.
Other toolsets: new options for producing video for social media, and new AI-based audio tools
Key overall changes include new vertical resolution options in project settings for producing video for social media, and the option to select custom thumbnails for YouTube uploads.
The audio toolset gets a new Dialogue Leveler to smooth out changes in volume between clips, vector keyframing for Fairlight automation curve editing, and Fairlight grid support for editing to timecode.
Users of Fusion Studio 18.1 also get a new AI-trained Voice Isolation system for isolating speech from background audio.
In addition, there are a lot of performance improvements, including "up to 5x faster" face tracking, Resolve FX object removal, and video stabilisation, and "up to 4x faster" spatial noise reduction.
The software also now supports fractional display scaling on Windows and Linux, which should improve UI scaling on HiDPI displays. You can find a full list of changes via the links at the foot of the story.
Pricing and system requirements
DaVinci Resolve 18.1 and DaVinci Resolve Studio 18.1 are available for Windows 10+, macOS 11.0+ and CentOS 7.3+ Linux.
The base edition of the software is free; the Studio edition, which adds DaVinci Neural Engine, stereoscopic 3D tools, HDR grading and more Resolve FX filters and Fairlight FX audio plugins, costs $295.

Read a full list of new features in DaVinci Resolve 18.1 and DaVinci Resolve Studio 18.1
Read a full list of new features in DaVinci Resolve 18.0 and DaVinci Resolve Studio 18.0
Tags: AI, AI-based, AI-trained, Apple Silicon, audio, audio editing, audio mixing, audio production, beauty work, beta, binaural rendering, Blackmagic Cloud. cloud-based collaboration, Blackmagic Design, Blackmagic Proxy Generator, Blackmagic RAW, color correction, color grading, compositing, DaVinci Neural Engine, DaVinci Resolve, DaVinci Resolve 18.0, DaVinci Resolve Studio, DaVinci Resolve Studio 18.0. Resolve FX, DeckLink, depth fog, Dialogue Leveler, Dolby Atmos, Dust Buster, editing, effects, face tracking, Fairlight, film grain, FilmGrain, Flame, FlexBus, free, Fusion, Fusion 18.1, Fusion Studio 18.0, Fusion Studio 18.1, H.264, h.265, HDR, HDR grading, HDR Vivid, IMF, lens flare, M1, M1 Ultra, Mac Studio, Magic Mask, motion graphics, multi-user collaboration, multi-user editing, multicam, MXF, new features, noise removal, object removal, planar tracking, post-production, price, ProRes, proxy generation, proxy management, QuickTime, release date, remote editing, remote grading, Resolve FX, Resolve FX Beauty, Resolve FX Depth Map, Resolve FX Despill, Resolve FX Fast Noise, Resolve FX Surface Tracker, ResolveFX, retouching, semantic keyer, sky replacement, subtitle, surface tracker, system requirements, track deforming surface, transition, TTML, VariBlur, vfx, video editing, visual effects, voice isolation, XML