Monday, July 24th, 2023

Posted by Jim Thacker
Blackmagic Design releases DaVinci Resolve 18.5
Blackmagic Design's product updates for NAB 2023. Coverage of Da Vinci Resolve 18.5 starts at 16:05.

Originally posted on 17 April 2023 for the beta, and updated for the final release.
Blackmagic Design has released its latest updates to DaVinci Resolve, its free colour grading, editing and post-production software, and DaVinci Resolve Studio, its $295 commercial edition.
DaVinci Resolve 18.5 is a major update, adding initial support for USD-based workflows in both editions of the software, plus a new AI-based relighting toolset and improved AI-based video upscaling in Studio.
The Studio edition also gets new AI-based video editing tools, including AI-based audio categorisation, transcription and captioning.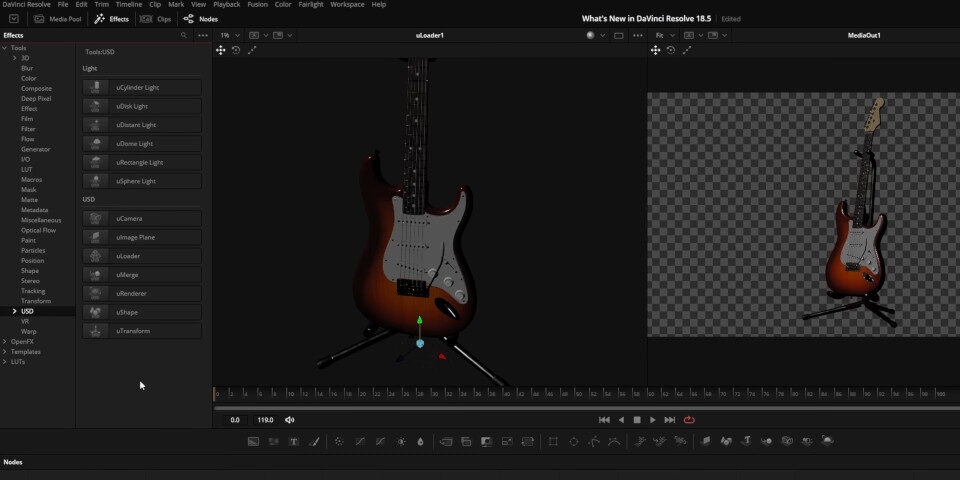 VFX: initial support for USD workflows and new Multi-merge tool for layer-based compositing
VFX artists working in movie pipelines based around the Universal Scene Description format get the option to import USD and USDZ files, including geometry, materials, lights, cameras and animation.
There is also a basic set of tools for manipulating, relighting and rendering imported USD assets: you can find a complete list in this forum post.
Other new features relevant to visual effects work include Multi-merge, a new tool for managing multiple foreground sources as a composited layer stack, shown at 22:10 in the video at the top of the story.
Multi-merge makes it possible to composite shots using a layer-based workflow as well as the node-based workflow available in Fusion, Resolve's 3D compositing environment.
In addition, DaVinci Resolve Studio's native AI depth map generator is now available inside Fusion.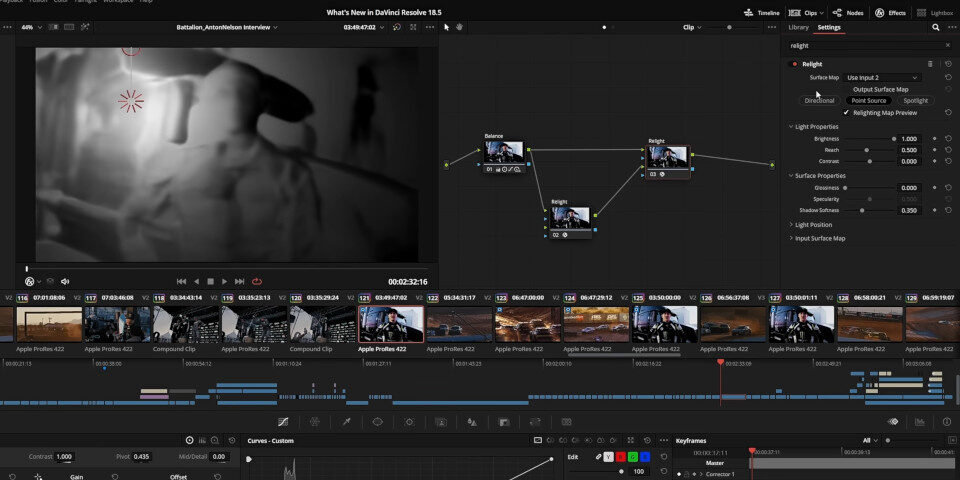 Grading: new AI-based relighting system and improved AI video upscaling
Colorists and effects artists using Studio get Relight, a new AI-based shot relighting system.
With it, artists can add virtual direction, point or spot lights to a shot, and adjust their colour, surface softness and specularity, as shown at 23:40 in the video at the top of the story.
Light intensity information is placed in the alpha channel for use with any of Resolve's existing grading tools.
Studio's existing Super Scale feature for up-resing video gets a new 2x Enhanced mode for "extremely high quality 2x output", with manual controls to adjust noise reduction and images sharpness.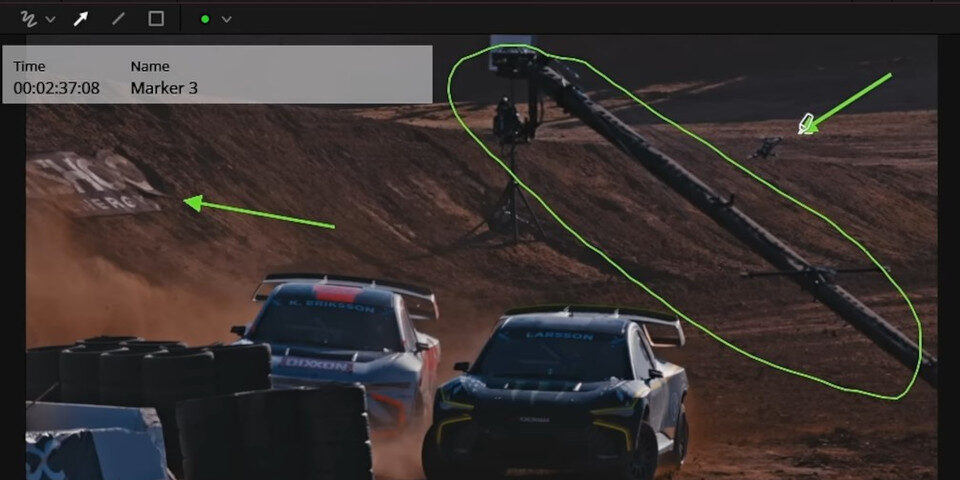 Grading: support for annotations in the color viewer, plus a lot of workflow improvements
Colorists can also now add their own marker overlays and annotations to footage in the color viewer, making it possible for supervisors to flag up parts of a sequence that need adjusting.
The 18.5 updates also improve DaVinci Resolve's handling of projects with missing LUTs.
Rather than interrupting playback with a warning dialog, missing LUTs are now shown via an overlay at the bottom of the screen. The files can be relinked via a Missing LUTs tab in the LUT gallery.
Other workflow improvements include the option to override color management settings on a per-timeline basis, and to copy color grades to all of the angles within multicam shots when flattening multicam clips.
In addition, DaVinci Resolve now automatically creates the inputs and outputs required by Resolve FX effects plugins, removing the need to drag plugins as independent FX nodes.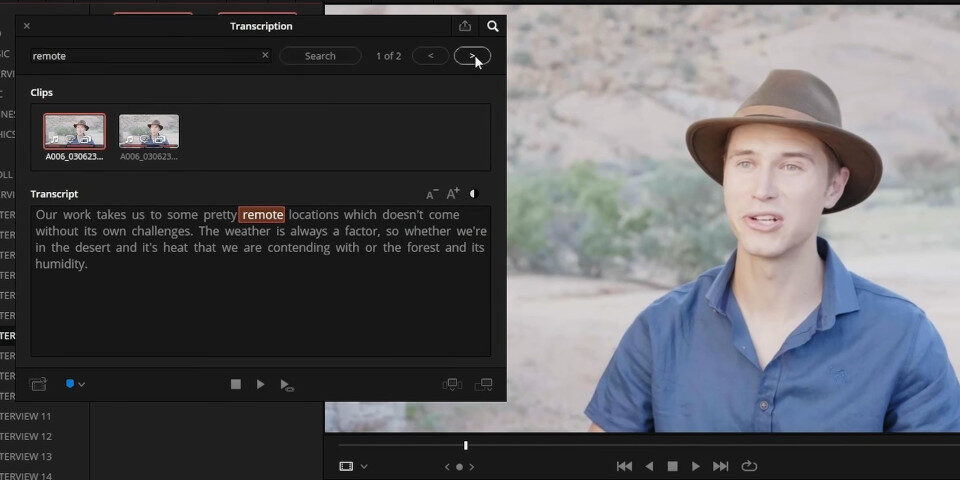 Video editing: new AI-based tools for categorising, transcribing and captioning media clips
Video editors using Studio get a number of new AI-based tools for working with the audio in media clips.
The software can now automatically sort clips by type (dialogue, effects or music), and can also automatically transcribe dialogue, and generate text captions in a new subtitle track.
Workflow improvements include the option to specify the intervals at which timeline backups will be created on a per-timeline basis, and metadata panel support for marker subsclips.
Audio: Fairlight improvements and better support for external database applications
Audio artists get support for edit and mix groups in DaVinci Resolve's Fairlight toolset, support for nesting VCAs, and the option to stream from external database applications like Soundminer.
We don't cover audio or video editing on CG Channel, but you can find a full list of the changes to both toolsets via the links at the foot of this story.
Other changes: performance improvements, new formats supported and better remote monitoring
Under the hood, the edit timeline playback engine has been "hugely improved", which should smooth playback on lower-powered systems where a project cannot be played back in real time.
There is also a new dedicated render cache management window for setting the size of the data caches DaVinci Resolve generates to improve playback performance.
Changes to the media formats supported include the option to export PNG and JPEG image sequences and animated GIFs; and encode support for ProRes, AV1, H.264, MP3 and AAC in MKV containers.
Users can also now upload video directly to TikTok from DaVinci Resolve.
There are also a number of changes to the remote monitoring toolset in DaVinci Resolve studio, including a new free app for iPhones and iPads, DaVinci Remote Monitor.
Again, you can find a full list of changes via the links at the foot of the story.
Pricing and system requirements
DaVinci Resolve 18.5 and DaVinci Resolve Studio 18.5 are available for Windows 10+, macOS 12.0+ and CentOS 7.3+/Rocky Linux 8.6+. The updates are free to existing users.
The base edition of the software is free; the Studio edition, which adds the AI features, stereoscopic 3D tools, HDR grading and more Resolve FX filters and Fairlight FX audio plugins, costs $295.

Read an overview of the new features in the DaVinci Resolve 18.5 on the product forum
Read a list of new features in DaVinci Resolve 18.5 and DaVinci Resolve Studio 18.5