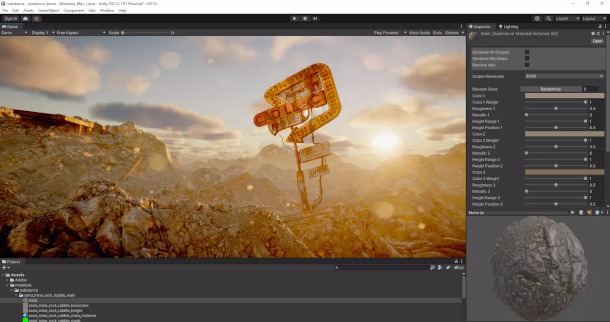 Originally posted on 14 March 2022. Scroll down for news of the stable releases.
Adobe has released new Substance integration plugins for Unreal Engine 5 and Unity, making it possible to edit procedural materials in Substance .sbsar format natively inside the game engines.
Both plugins are free to download, and are officially still in beta.
Edit SBSAR materials natively inside Blender
As with Adobe's other Substance 3D integration plugins, the new add-ons enable artists to import materials in .sbsar format and edit their parameters natively inside Unreal Engine or Unity.
As well as custom materials created in Substance 3D Designer, Adobe's material authoring software, users can import stock materials from online libraries like Adobe's Substance 3D Assets.
Both game engines already have Substance integration plugins – Substance in Unreal Engine and Substance in Unity – so the new add-ons are rewritten and renamed versions of the existing tools.
In the case of the new Substance 3D for UE5 plugin, the main change is support for Unreal Engine 5, the next major version of the game engine, currently available as a public preview.
According to the release notes, the feature set is identical to the existing plugin for Unreal Engine 4.
In the case of the new Substance 3D for Unity plugin, the main benefit is improved performance.
The listing in the Unity Asset Store doesn't include a changelog, but according to this tweet from Adobe product director Jérémie Noguer, it has been "rebuilt from the ground up" for stability and performance.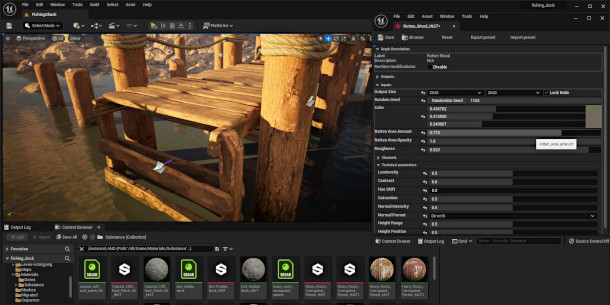 Updated 14 April 2022: Following the release of Unreal Engine 5.0, Adobe has ended its pre-release program for Substance 3D for Unreal Engine 5.
The version of the plugin available from the Unreal Marketplace has been updated to support UE5.

Updated 15 June 2022: Although it's currently still listed as being in beta on the Unity Asset Store, the new Substance 3D for Unity plugin (version 3.0) has officially been released.
The old Substance in Unity plugin has now been deprecated, making the new Substance 3D for Unity plugin the only available integration for the game engine.
License conditions and system requirements
The Substance 3D plugin for Unreal Engine is available for Unreal Engine 4.8-4.27 and 5.0. The Substance 3D plugin for Unity is available for Unity 2020.3.27. Both are free downloads.

Download the free Substance 3D for Unreal Engine 5 plugin from Adobe's website
Download the free Substance 3D for Unity plugin from the Unity Asset Store
Tags: Adobe, arch viz, architectural visualization, beta, download, edit Substance material in Unity, edit Substance material in Unreal Engine, EULA, free, game development, Game Engine, licence conditions, material authoring, prerelease agreement, previs, rendering, SBSAR, Substance, Substance 3D, Substance 3D Designer, Substance 3D for UE5, Substance 3D for Unity, Substance 3D for Unity 3.0, Substance 3D for Unreal Engine 5, Substance in Unity, Substance in Unreal Engine, system requirements, texturing, UE4, UE5, Unity, Unreal Engine, Unreal Engine 4.27, Unreal Engine 5, vfx, visual effects