Color Intelligence has unveiled Colourlab Ai 2.0, a major update to its AI-based colour grading software. The release, currently available in public beta, was announced at a livestream earlier this week.
Time-saving new features include a one-click Auto Color option for less demanding grading jobs; and Timeline Intelligence, which automatically sorts shots into groups requiring similar grades.
The update also introduces Show Looks and Smart LUTs, two interesting new technologies that combine 3D LUTs with parametric controls and, in the case of Smart LUTs, data from individual reference images.
Color Intelligence has also cut the price of the Pro edition of the software, introduced a new lower-priced Creator edition, and introduced new integrations for Final Cut Pro and Premiere Pro.
A 'truly transfomative' AI-based next-gen colour grading system
First released in 2020, Colourlab Ai is a next-gen AI-based colour grading system.
Co-developed by colorist Dado Valentic, founder of training provider Colour Training and post house Mytherapy, the technology has quickly been adopted in the broadcast, VFX and games markets.
Users of Colourlab Ai and its sibling tools, looks design plugin Look Designer and film grain generator Grainlab, now include Activision Blizzard, Disney, Electronic Arts, MPC, Netflix and NBCUniversal.
The software is capable of automatically matching the grade of an entire sequence of shots to a reference shot or image to a quality described in early reviews as equivalent to the first pass by a human colorist.
Speaking during the latest livestream, Valentic described Colourlab Ai as a "glimpse into the possibilities of how AI is going to [enable us to] work smarter".
"Some jobs don't need colorists," he commented. "[Sometimes] you just want to do looks effortlessly."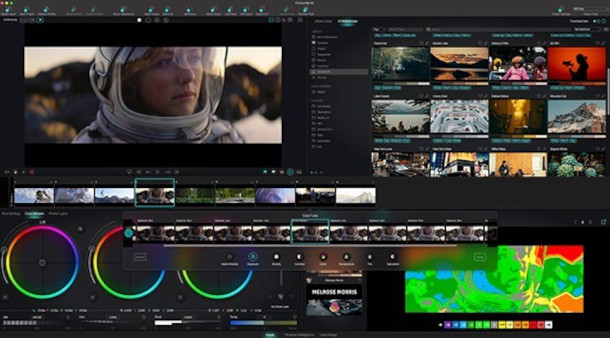 Colourlab Ai 2.0: new one-click Auto Color and full-control Color Tune systems
Colourlab Ai 2.0 takes that philosophy to its logical conclusion with Auto Color, a new "one-click" option for applying a colour adjustment across an entire project.
The system is intended mainly for jobs like reality shows with tight turnaround times or high volumes of footage, where the main aim is to get a good enough result very quickly.
At the opposite end of the spectrum, for jobs where absolute quality takes priority over speed, Colourlab Ai 2.0 also introduces Color Tune, described as the software's AI engine running in "semi-manual mode".
The system enables a human colorist to adjust the parameters used by the AI itself, like exposure and density, via a visual workflow in which users select from sets of automatically generated variant images.
Show Looks and Smart LUTs combine 3D LUTs with parametric colour controls
The update also introduces two new features for establishing the look of a shot through a mixture of automated and manual adjustments: Show Looks and Smart LUTs.
Both combine conventional 3D LUTs with parametric values that can be edited inside Look Designer.
In addition, Smart LUTs include 'content fingerprints' from reference frames for use with the software's AI engine, making the resulting look a combination of the LUT, parametric controls, and the reference image.
Timeline Intelligence automatically sorts shots into groups needing the same colour grade
The other major new feature in Colourlab Ai 2.0 is Timeline Intelligence, a new AI-based system intended to automatically organise a project into groups of shots that require the same colour grade.
Users can sort shots on the timeline according to their visual similarity to the shot selected: for example, to find all of the shots filmed in a particular location.
It is also possible to sort shots into common categories – including close-ups and wide shots, interiors and exteriors and day and night shots – without the need for prior manual tagging.
New history system, workflow improvements, and better performance on new Apple processors
Other changes include a Versions system, making it possible to restore and edit previous versions of a look; and updates to the software's Auto Exposure and camera matching systems.
Workflow improvements include the option to multi-select clips, and to pop out scopes as floating windows.
The software is also now "heavily optimised" for Apple's new M1 Pro and M1 Max processors, making it "up to 10x faster".
Now available in Creator and Pro editions
Color Intelligence has also changed the pricing model for Colourlab Ai, making the software available in two editions: the original version, now renamed Colourlab Ai Pro, and a new lower-cost Creator edition.
The price of the Pro edition, which includes Look Designer and Grainlab, the existing direct link to DaVinci Resolve, and new integrations for Final Cut Pro and Premiere Pro, falls from $490/year to $299/year.
The Creator edition, which costs $129/year, lacks Look Designer and Grainlab, NDI output and support for Blackmagic Design and Tangent control surfaces, and only integrates with Final Cut Pro and Premiere Pro.
Pricing and system requirements
Colourlab Ai 2.0 is available in commercial beta for macOS only. Color Intelligence hasn't announced a final release date yet. A Windows edition is due "later this year".
The Pro edition costs $39/month or $299/year. Perpetual licences – available, but not listed on Color Intelligence's website – cost $599. The Creator edition costs $129/year.

Read an overview of the new features in Colourlab Ai 2.0 on Color Intelligence's website
Read a full list of new features in Colourlab Ai in the online changelog
(Not updated to version 2.0 at time of writing)
Tags: 3D LUT, AI-based, AI-trained, Auto Color, automatic color grading, automatic installation, beta, color correction, color grading, Color Intelligence, Color Tune, Colourlab Ai, Colourlab Ai 2.0, Colourlab Ai Creator, Colourlab Ai Pro, compositing, DaVinci Resolve, editing, FCP, Final Cut Pro, Grainlab, history system, Look Designer, M1, M1 Max, M1 Pro, machine learning, new price, new pricing model, perpetual licence, post-production, Premiere Pro, price, price cut, price drop, release date, Show Looks, Smart LUTs, subscription, system requirements, Timeline Intelligence, versions, video editing, visual effects