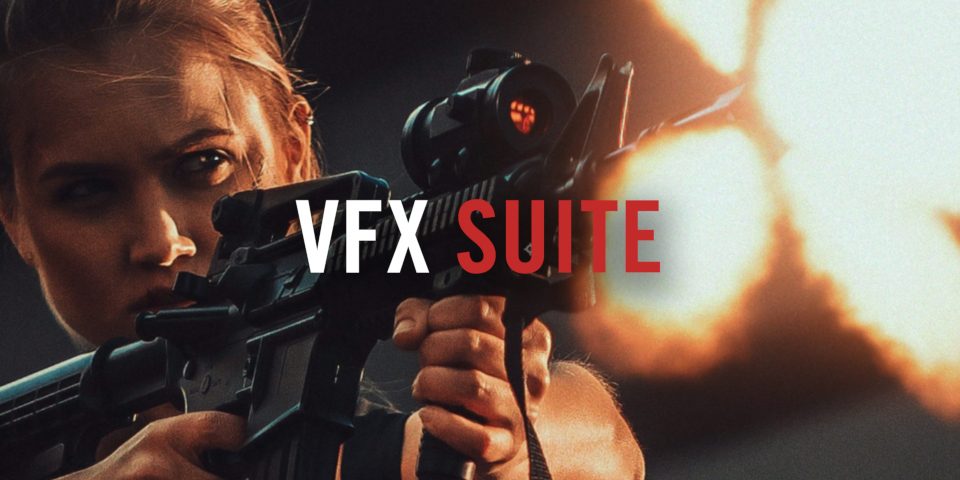 Originally posted on 15 September 2021. Scroll down for news of VFX Suite 2.1.
Maxon has released VFX Suite 2, the new version of its suite of After Effects plugins for common visual effects tasks like chroma keying, camera tracking, blemish removal and precomposing.
The update adds procedural muzzle flare generator Bang, which Maxon acquired from original developer Quarterlight Pictures, and adds support for GPU acceleration via Metal in Primatte Keyer.
The news was announced at the 3D and Motion Design Show, alongside the public beta of Redshift RT and updates to other Maxon apps: Cinema 4D R25, Trapcode Suite 17, Magic Bullet Suite 15 and Universe 5.
A suite of After Effects plugins tailored to common visual effects tasks
Launched in 2019 by original developer Red Giant to replace its old Effects Suite and Keying Suite, VFX Suite is "a cohesive toolkit aimed at solving some of the biggest challenges faced by visual effects artists".
It includes updated versions of popular keying tool Primatte Keyer and lens flare system Knoll Light Factory, plus new plugins for compositing, motion tracking and object removal.
All of the tools are GPU-accelerated and support 8-bit, 16-bit and 32-bit colour depth.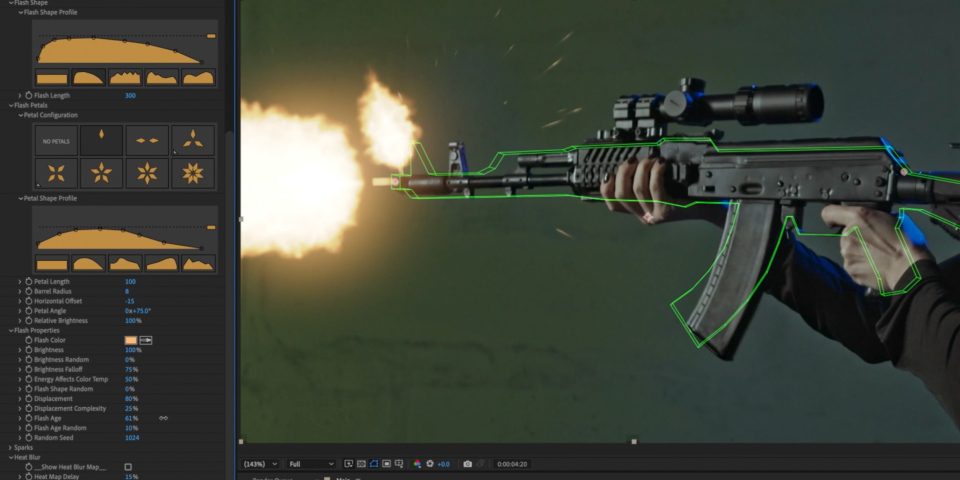 Neat new tool Bang generates procedural muzzle flares for gunfight scenes
The new feature in VFX Suite 2 is Bang, a nifty procedural muzzle flare generator that Maxon acquired from original developer Quarterlight Pictures, aka compositor and VFX supervisor Christian Lett.
It enables users to add realistic muzzle flashes to footage of gunfire by scaling and rotating an on-screen control icon of a gun to match the perspective of the background plate.
Bang then generates a matching flare effect, which can be customised manually via a profile curve to adjust its shape, and via controls for colour and brightness.
Other controls adjust heat blur, sparks and the 'petals' created by the muzzle brake on automatic weapons.
The flare is rendered in full HDR at a quality suitable for either previs or final output, with Bang automatically adding a fill light to the scene to mimic the illumination from the flare.
Bang comes with 20 presents matching real-world handguns, rifles and machine guns, and sci-fi weapons.
GPU acceleration for Primatte Keyer on Macs via Metal
Other than that, the other change in VFX Suite 2 listed on Maxon's website is support for GPU accelration via Apple's Metal API on macOS in chroma keying tool Primatte Keyer.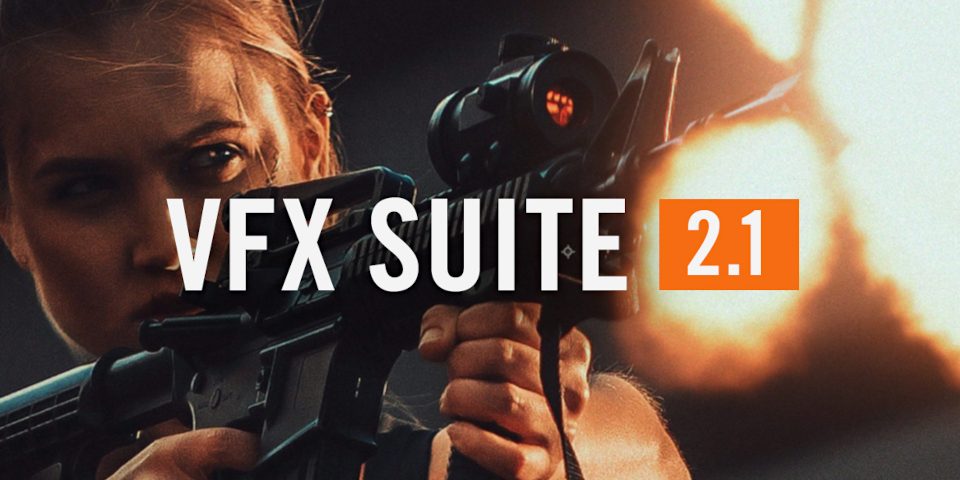 Updated 7 December 2021: Maxon has released VFX Suite 2.1.
It's a performance and bugfix update, with Bang now able to calculate blur and glow effects on the GPU.
The Shadow and Reflection plugins are now GPU-accelerated via Metal on macOS; and Spot Clone Tracker, King Pin Tracker and Lens Distortion Matcher now "fully optimised" for Apple Silicon processors.
Pricing and system requirements
VFX Suite is available for After Effects CC 2019+, running on Windows 10 and macOS 10.14+. Some of the individual tools also work in Premiere Pro. See full system requirements here.
Maxon has now discontinued perpetual licences of VFX Suite, so the software is available rental-only via the Red Giant Complete and Maxon One subscription plans.

Read an overview of the new features in VFX Suite on Maxon's website
Read more about Bang in the online documentation
Tags: 16-bit, 32-bit, 8-bit, After Effects, Apple Silicon, automatic muzzle flare generator, Bang, bluescreen, camera tracking, Christian Lett, color matching, color space, compositing, effect, Effects Suite, glow, GPU acceleration, GPU-accelerated, greenscreen, handgun, HDR, keying, King Pin Tracker, Knoll Light Factory, lens correction, lens distortion, Lens Distortion Matcher, lens flare, lighting, M1, machine gun, macOS, Metal, muzzle flare, muzzle flash, object removal, object replacement, Optical Glow, pistol, planar tracking, plugin, precomp, price, Primatte Keyer, Quarterlight Pictures, Red Giant, reflection, rifle, shadow, Spot Clone, Spot Clone Tracker, Supercomp, system requirements, tracking, vfx, VFX Suite, VFX Suite 1.5, VFX Suite 2, VFX Suite 2.1, visual effects