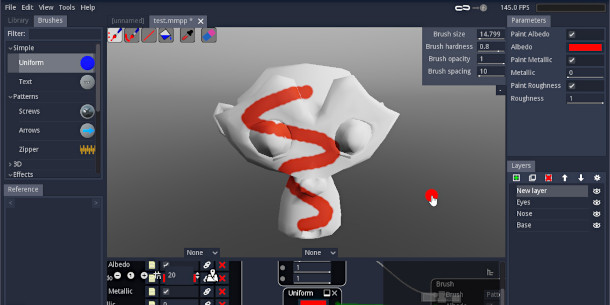 Tools developer Rod Zilla has updated Material Maker, his free node-based material authoring tool, adding a new layer-based 3D texture painting toolset.
The functionality rolled out earlier this year in Material Maker 0.94 and 0.95, but it doesn't seem to have been widely reported, so we felt it was worth covering for anyone else who missed it at the time.
A simple but capable free alternative to the Substance tools
First released in 2018, Material Maker is described as a "simple procedural texture generation tool based on the Godot Engine" – the software is available both as a standalone app, and an add-on for Godot itself.
Its workflow is reminiscent of a simplified version of Substance 3D Designer, Adobe's games-industry-standard material authoring tool, enabling artists to create procedural textures via visual programming.
Users drag nodes from a library panel to the graph editor and wire their inputs and outputs together, with the resulting generated texture being previewed in real time on a 3D mesh.
Nodes are divided into similar categories to Substance Designer, including Generator nodes for creating base patterns, and Filter nodes, for modifying the base pattern into a usable texture.
Completed materials can be exported as a set of metallic/roughness PBR texture maps in PNG format, with the software including export templates for Unity and Unreal Engine as well as Godot.
New 3D painting capabilities, plus an environment editor for the 3D preview
To that, Material Maker 0.94 added basic 3D painting capabilities, more in the vein of a simpler version of Substance Designer's sister application Substance 3D Painter.
Users can paint PBR texture components – albedo, roughness, metallic, emission and depth – of a 3D object's material simultaneously, using patterns or generated shaders as brushes.
Material Maker 0.95 fleshed out the toolset, adding procedural and mask layers as well as paint layers.
The release – the latest to date – also introduced a new environment editor, making it possible to set up HDRI environments for the 3D preview and for the mesh painting tool.
You can find a full list of changes via the links above.
Availability and system requirements
Material Maker 0.95 is available free for Windows and Linux under an MIT licence, both as an add-on for Godot and as a standalone tool. The source code is available on GitHub.

Download compiled versions of Material Maker for free from Rod Zilla's itch.io page
(Includes the option to make a voluntary donation)
Tags: 2D preview, 3D painting, 3D preview, albedo, depth, emission, environment editor, free, free alternative to Substance 3D Designer, free alternative to Substance Designer, game art, game development, GLSL, HDRI environment, layer-based, mask layer, Material Maker, Material Maker 0.94, Material Maker 0.95, metallic, MIT licence, node-based, normal map, open source, open source alternative to Substance 3D Designer, open source alternative to Substance Designer, paint layer, PBR, PBR texture map, PNG, procedural texture, Rod Zilla, Rodz Labs, roughness, Substance 3D Painter, Substance Painter, Substane Designer, texture authoring, texture generator, texture painting, texturing, visual programming, visual scripting