Wednesday, April 7th, 2021

Posted by Jim Thacker
Xsens cuts the price of its pro inertial mocap systems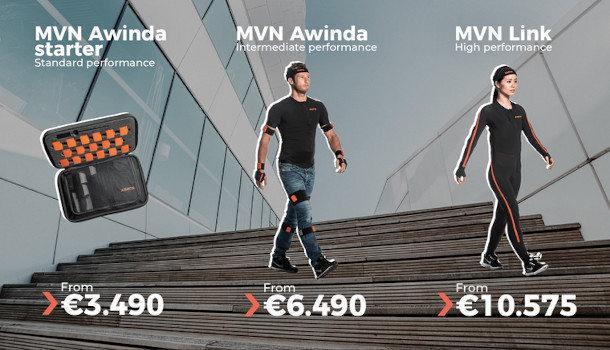 Xsens has shaken up the pricing of its inertial motion-capture systems, including the firm's MVN Awinda hardware and MVN Link suits, and the accompanying MVN Animate software.
Entry-level systems now start at $3,790 for the MVN Awinda Starter kit and MVN Animate Basic software.
The new pricing follows shortly after the launch of MotionCloud, Xsens' new online platform for processing and sharing data generated by MVN systems.
Professional inertial mocap systems for VFX, game development and previs
Since its launch, Xsens' inertial systems have provided VFX firms and game developers with a lower-cost alternative to building a conventional optical motion-capture volume.
However, that still meant spending tens of thousands of dollars: at the last major revision of its product line-up, the cheapest configuration of the firm's MVN hardware and software cost $12,000.
It was also difficult to price up custom systems: like many developers of higher-end motion-capture systems, Xsens' products were priced on enquiry.
New online configurator lets you mix and match editions of Xsens' MVN mocap hardare and software
The most recent changes not only reduce the cost of a basic MVN system, but make pricing more transparent: Xsens' new online product configurator shows the price of every component of the system.
As well as MVN Link suits and MVN Awinda systems, that includes a new MVN Awinda Starter package.
Like the original MVN Awinda, it consists of a set of sensors that strap over an actor's normal clothing, but transmits data to a dongle rather than a base station, and has a lower maximum range.
It can also be coupled with MVN Animate Basic, a new free edition of Xsens' data-capture software.
Unlike the paid editions, MVN Animate Plus and MVN Animate Pro, it can't stream data directly to DCC software or game engines, instead uploading data to MotionCloud for processing.
Users can then download processed data from the cloud in standard formats including BVH, FBX and XLS.
At the minute, that requires a paid subscription, but free subscriptions, which make it possible to download up to 30 seconds of processed data per month, are coming "soon".
Once available, that will make the minimum price of an MVN system $3,790: not exactly pocket change, but still considerably more affordable than traditional pro mocap set-ups.
Pricing and system requirements
Xsens' MVN Awinda Starter inertial mocap systems cost $3,790. MVN Awinda systems cost $6,990 and MVN Link inertial mocap suits cost $12,430. See a feature comparison table here.
The Basic edition of the accompanying MVN Animate data-recording software is free. Plus subscriptions cost $2,750/year and Pro subscriptions cost $9,250/year. See a feature comparison table here.
Mocap data can be processed for offline use via a subscription to MotionCloud, which costs $275/month for up to 30 minutes of processed data, or $495/month for 60 minutes of processed data.
Read more about the new pricing for Xsens' MVN mocap systems on the firm's website
(Includes a link to the new online product configurator)