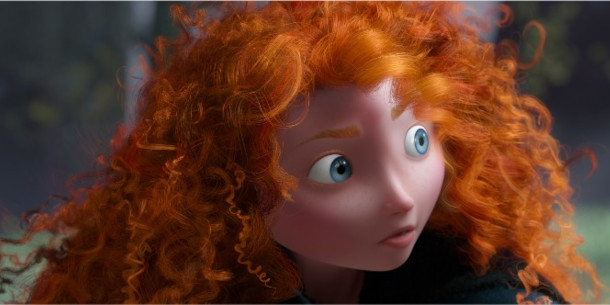 The developers of Pixar's Taz hair simulation system, used to create Meridia's digital curls on 2012's Brave, have won Sci-Tech Academy Awards, along with those for Disney, ILM and Weta Digital's in-house hair tools.

The creators of the in-house hair simulation tools at some of the world's largest VFX and animation firms, including Pixar and Walt Disney Animation Studios, have won Scientific and Technical Academy Awards.
Other winners of this year's Sci-Tech awards, due to be presented later this month, include the developers of production-tracking tools Shotgun and ftrack Studio and CPU ray tracing library Embree.
Pixar and Disney devs win awards for tools for art-directing stylised curls
Four of this year's Technical Achievement Awards – the Academy certificates – go to the developers of the hair simulation tools used in some of the past decade's biggest animated features.
Pixar director of engineering Hayley Iben was recognised for her work in developing the studio's Taz hair simulation system, along with Mark Meyer and former colleagues John Anderson and Andrew Witkin.
The official Academy citation describes it as a robust "mass-spring hair simulation system [capable of bringing to life] animated digital characters with a wide range of digital hair from straight … to curly".
Taz's ability to create digital curls has been in evidence since the start: one of its earliest uses was to simulate Meridia's hair in 2012's Brave.
Meridia also makes a cameo as the demo character on the team's paper on the underlying simulation technology, Artistic Simulation of Curly Hair.
The creators of Walt Disney Animation Studios' hair simulation system – senior software engineer Kelly Ward Hammel, Aleka McAdams, Toby Jones, Maryann Simmons and Andy Milne – also receive certificates.
The Academy citation singles out the elastic rod model developed for hair simulation in Moana, and its ability to enable artists to "manipulate hair in hyper-realistic ways to create … strong silhouettes".

ILM and Weta recognised for work on recreating photorealistic hair styles for VFX
Other Academy certificates go to the creators of two of the key proprietary tools used to simulate hair for visual effects: Industrial Light & Magic's Haircraft, and Weta Digital's Synapse.
Haircraft was developed for ILM's work on the 2016 Warcraft movie, where it was put to good use to create the braided hairstyles for the orc characters – not to mention their chest, back and nose hair.
The Academy citation describes the system, which simulates hair using curves embedded in tetrahedral mesh volumes reprsenting the overall form of a hair style, as a "physically robust hair dynamics model" with a "unique spring-based control system".
Unusually, the award goes to a single person: ILM senior research engineer Stephen Bowline, who can be seen describing his work towards the middle of the video above.
Former Weta lead software developer – and founder of Nuke fluid simulation tools firm VortechsFX – Niall Ryan was also awarded an Academy certificate, along with Christoph Sprenger and Gilles Daviet.
Weta's hair system forms part of Synapse, its wider simulation framework, and is described by the Academy as a "robust, predictable and highly scalable position-based dynamics system".

Key movie production-tracking tools Shotgun and ftrack Studio win Academy certificates
Off-the-shelf tools recognised at this year's awards include the two of the key production-tracking tools used in VFX and animation pipelines: Autodesk's Shotgun and ftrack's ftrack Studio.
Both enable studios to manage complex production projects, providing a suite of production tracking, asset management and shot review tools.
The Academy citation describes Shotgun as having "successfully productised the tracking of complex production data on large-scale motion pictures".
Newer rival ftrack Studio – developer ftrack was founded in 2011, five years after Shotgun Software – was cited for enabling "small and large studios alike to … manage complex [movie projects].
Award-winning Embree library accelerates CPU ray tracing in renderers like V-Ray
Other Academy certificates go to the developers of an open-source technology used in a range of off-the-shelf render engines: Embree, Intel's CPU ray tracing library.
The set of high-performance kernels has been widely adopted to provide CPU-based alternatives to proprietary GPU rendering tech, and is integrated in V-Ray, Unreal Engine and Blender's Cycles renderer.
The Academy citation describes Embree as "an indispensable resource for motion picture … rendering".
You can read a full list of this year's Scientific and Technical Academy Award winners, which also include the developers of key camera, monitor and audio technologies, via the link below.
Read the full list of Scientific and Technical Academy Award winners for 2020
Tags: 2020, Academy certificate, Aleka McAdams, Andrew Witkin, Andy Milne, animation, art-directable hair simulation, Artistic Simulation of Curly Hair, asset management, asset review, autodesk, Blender, Brave, CPU ray tracing, curly hair, Cycles, Disney, elastic rod model, Embree, ftrack, ftrack Studio, fur simulation, hair simulation, Haircraft, Hayley Iben, ILM, Industrial Light & Magic, Intel, John Anderson, Kelly Ward Hammel, Mark Meyer, Maryann Simmons, Meridia, Moana, Niall, Oscar, Pixar, production management, production tracking, ray intersection, ray tracing, rendering, Sci-Tech Academy Award, Scientific and Technical Academy Awards, shot review, Shotgun, Shotgun Software, Stephen Bowline, Taz, Toby Jones, Unreal Engine, V-Ray, vfx, visual effects, VortechsFX, Walt Disney Animation Studios, Warcraft, Weta Digital