SpinVR has launched Ultra Render, a promising new path traced GPU rendering system, in BRIO, its cloud-based AR, VR and 3D presentation platform.
The firm describes Ultra Render as the "world's first ever web real-time and GPU path traced photoreal rendering technology".
In addition, BRIO now supports baked lightmaps, making it possible to achieve more realistic results using the platform's standard Real Time render engine.
Create interactive rendered 3D content for visualisation or marketing in a standard web browser
Launched last year, BRIO enables 3D artists, designers and marketing staff to generate rendered 3D imagery or author augmented or virtual reality content in a standard web browser.
The platform is run by SpinVR, the sister firm of veteran Canadian effects house SpinVFX.
Although the team behind BRIO are industry veterans – SpinVR creative director Dave Cardwell co-created Mudbox – the platform itself is very much one accessible to users of any level of ability.
Upload 3D models and set up materials, lighting and cameras via simple drag-and-drop workflows
Users can upload assets in a range of 3D file formats, including FBX, OBJ, Collada and glTF, and apply or edit PBR materials and set up direct or HDR-based lighting via simple drag-and-drop workflows.
For interactivity, BRIO uses a system of triggers to set off stock behaviours, including a readymade configurator behaviour for presenting design variants or for ecommmerce applications.
Completed scenes are rendered in real time, with the option to apply custom LUTs, and post effects including Screen Space Ambient Occlusion (SSAO), depth of field, bloom, grain and chromatic aberration.
Once published, scenes can be shared via the BRIO website, or embedded into a user's own site: BRIO generates embed codes for CMS and site-building systems like WordPress, Webflow, Wix and Shopfiy.
People with whom the scenes are shared can then view them in standard desktop web browsers, via Oculus or HTC VR headsets, or as augmented reality experiences on Android or iOS mobiles.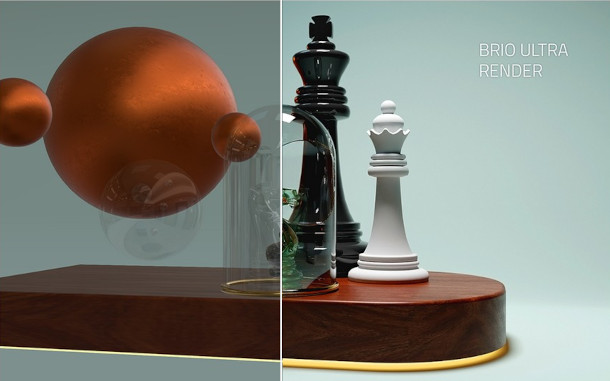 BRIO's new Ultra Render engine (right) generates more realistic results than the existing Real Time render engine (left), particularly for transparent and more complex materials.

New Ultra Render system supports GPU path tracing on desktop systems
To that, the latest update adds Ultra Render: a new GPU-based path tracing renderer capable of generating much more photorealistic results than the standard Real Time render engine.
It supports a Sun and Sky system, and has its own materials, camera and render settings.
At the minute, it's purely for generating still renders, and for sharing presentations with users on desktop systems: it isn't available for AR or VR content, or on mobile devices.
However, users can also use Ultra Render to bake lightmaps for use in the Real Time renderer, making it possible to set up more realistic lighting for mobile content.
BRIO also now supports lightmaps baked in other DCC software.
Pricing and system requirements
BRIO runs on desktop systems on Windows, Linux and macOS in most standard web browsers. It supports the HTC Vive and Oculus Rift, Quest and Go VR headsets, and AR on these Android and iOS devices.
A Solo account costs $9.99/month or $99.99/year and includes 3GB of online storage; a Team account for up to five users costs $49.99/month or $499.99/year, and includes 25GB of storage.
Free accounts provide access to a limited set of features – Ultra Render isn't included – and restrict users to three projects.
Read more about Ultra Render on the BRIO website
Tags: Android, AR, arch viz, architectural visualization, Augmented Reality, baked lightmap, behavior, bloom, Brio, BrioVR, browser based, chromatic aberration, cloud-based, Collada, Configurator, DAE, design, drag and drop, e-commerce, ecommerce, embed code, FBX, free account, glTF, GPU rendering, grain, HDRI, HTC, HTC Vive, iOS, lighting, lightmap baking, LUT, marketing, materials, mobile, new features, OBJ, Oculus, Oculus Go, Oculus Quest, Oculus Rift, path tracing, PBR, post effect, price, product visualization, real time, real-time rendering, render settings, rendering, screen-space ambient occlusion, Shopify, SpinVFX, SpinVR, SSAO, sun and sky, system requirements, trigger, Ultra Render, vingetting, virtual reality, VR, Webflow, WebGL, Wix, WordPress