Thursday, September 10th, 2020

Posted by Jim Thacker
Maxon awarded $200,000 Epic MegaGrant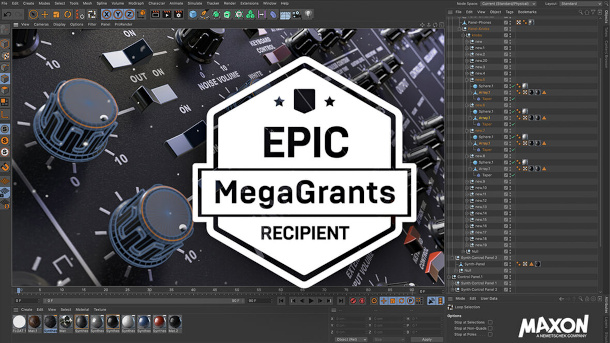 Maxon has become the latest CG software developer to receive an Epic MegaGrant. The $200,000 award will go towards strengthening integration between Cinema 4D and Unreal Engine.
The firm commented that it is "working towards a seamless workflow like we have with After Effects".
The largest MegaGrant so far to a commercial tools developer?
Maxon becomes the latest developer to receive an award from Epic Games' $100 million MegaGrants fund.
The $200,000 grant is the largest to a commercial software developer of which we're aware, although both Reallusion and Boris FX have received awards of undisclosed sizes.
According to Maxon's blog post, the money will fund R&D work on "strengthening the workflow integration" between Cinema 4D, its 3D design and motion graphics software, and Unreal Engine.
Money will fund work on a live link between Cinema 4D and Unreal Engine
Unreal Engine users can already import Cinema 4D scenes: initially, via Maxon's CV-C4D to UE4 plugin, but more recently via support for .c4d files in the Datasmith toolset, included free with Unreal Engine 4.24+.
According to Maxon, it now aims to develop a workflow similar to that between Cinema 4D and After Effects.
The firm's Cineware toolset creates a live link between the two applications, enabling users to make changes to a scene in Cinema 4D and see the results in real time inside After Effects.
An equivalent toolset would make Cinema 4D the latest DCC app to get a live link to Unreal Engine, speeding up workflow for motion designers and visualisation artists using UE4 for real-time rendering.
Epic Games develops its own free live link plugin for Maya and MotionBuilder, while NewTek and Reallusion have equivalent plugins for LightWave and iClone.
Read Maxon's official announcement of its $200,000 Epic MegaGrant