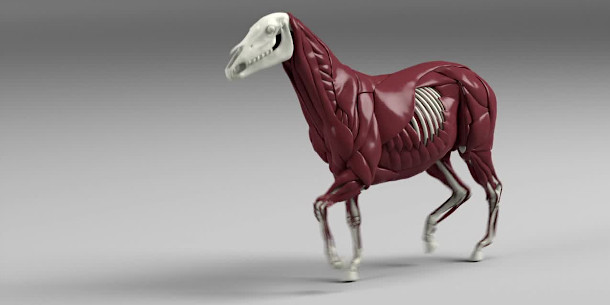 Ziva Dynamics has released Ziva VFX 1.9, the latest update to its soft tissue simulation plugin for Maya, adding support for Maya file referencing, and making the plugin compatible with Maya 2020.
A powerful tool for creating stable, accurate simulations of soft tissues
First released publicly in 2017, Ziva VFX is rapidly making inroads into visual effects pipelines, with the software now in use at studios including DNEG, Scanline VFX and Image Engine.
The plugin mimics the stiffness, density and volume preservation of real tissues, including bone, tendons, muscles and skin; and supports multiple types of physical damping.
As well as editing parameters directly, Ziva VFX supports a brush-based workflow making it possible to paint material properties and mesh resolution, and even paint in muscle attachment points and muscle fibres.
New in Ziva VFX 1.9: support for file referencing
Ziva VFX 1.9 adds support for Maya file referencing, making it possible to work on scenes that contain assets stored in other child scene files.
Referencing with both referenced meshes and referenced ZivaVFX setups themselves. Find more details on how the system works, and its current limitations, in the online documentation.
The update also adds support for Maya 2020, although at present, unlike native Maya simulations, Ziva VFX sims are not supported by its new cached playback system.
The stability of simulations has also been improved at extreme fibre strength or surface tension values for simulated tissues. You can find a full changelog via the link at the foot of the story.
The previous release, Ziva VFX 1.8, streamlined licence registration, but was otherwise primarily a workflow and bugfix update.
Pricing and system requirements
Ziva VFX 1.9 is available for Maya 2016+, running on Windows 7+ or Linux.
Ziva VFX Indie, intended for productions with total revenues of under $500,000/year, costs $50/month or $500/year. For larger projects, Ziva VFX Studio is priced at $1,800/year.
Perpetual licences are available "upon request".

Read a full list of new features in Ziva VFX 1.9
Tags: character, creature, dynamics, file referencing, Maya, Maya 2020, muscle, plugin, price, rigging, simulation, skeleton, skin, soft tissue, system requirements, Ziva Dynamics, Ziva VFX, Ziva VFX 1.8, Ziva VFX 1.9