Autodesk has released Maya 2020, the latest version of its 3D animation software, extending the cached playback system to support simulations, and updating the Bifrost for Maya multiphysics plugin.
The release also adds Remesh and Retopologize tools, support for a new matrix-driven rigging workflow, a GPU-based Proximity Wrap deformer and a new system of animation bookmarks.
The retopology tools and improvements to animation workflow also feature in Maya LT 2020, the latest version of the cut-down edition of Maya aimed at games artists.
In related news, Autodesk has released Arnold 6, the latest version of the renderer, officially making Arnold GPU, its new GPU rendering system, available as a stable production release.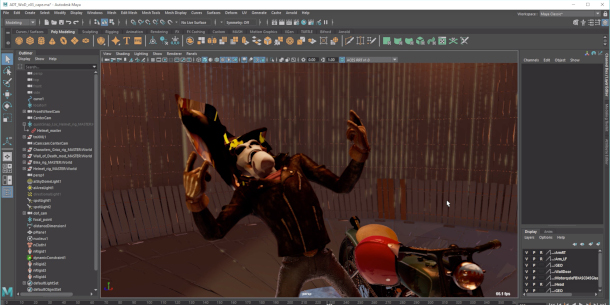 Cached playback: initial support for dynamics, better performance in dense scenes
Maya 2020 brings Autodesk back onto its usual schedule of releasing its major annual updates in the year before their version number, coming just 11 months after Maya 2019.
The 2020 update extends one of the key features of that release, the cached playback system, which enables users to scrub through animations smoothly in the viewport.
The feature is intended as a faster, more artist-friendly way to preview animations than generating Playblasts.
One major change in Maya 2020 is that cached playback now works in scenes that contain dynamics.
Whereas playback was previously disabled in scenes with dynamics nodes, the simulation is now processed as a separate pass, making it possible to scrub through and see the output of the sim.
It's still a work in progress – there is a longish list of unsupported nodes, including some Bifrost, MASH and XGen nodes – but nCloth and nParticles are fully supported.
There are also performance improvements when caching scenes containing image sequences applied to image planes, or where Smooth Mesh Preview is activated, as in dense production scenes.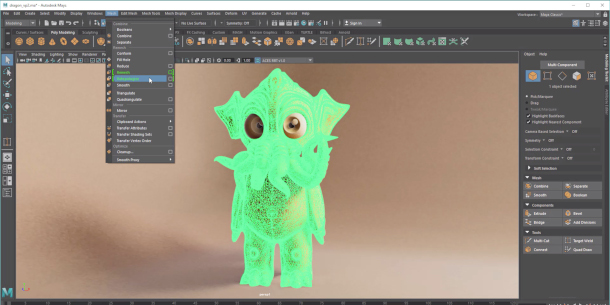 Retopology: new Remesh and Retopologize tools for automated retopology
New retopology tools include Remesh, which converts the selected part of a mesh to uniform triangles.
The feature can be used to add detail selectively to a model, or as a first step towards improving topology: there are parameters to control smoothing and the lengths of the edges generated.
A separate Retopologize tool converts a mesh to even quads, generating more lightweight assets with more animation-friendly topology.
Control parameters include a target face count when decimating geometry; settings to determine how uniform the new faces are; and the option to preserve hard edges, at the cost of increased processing time.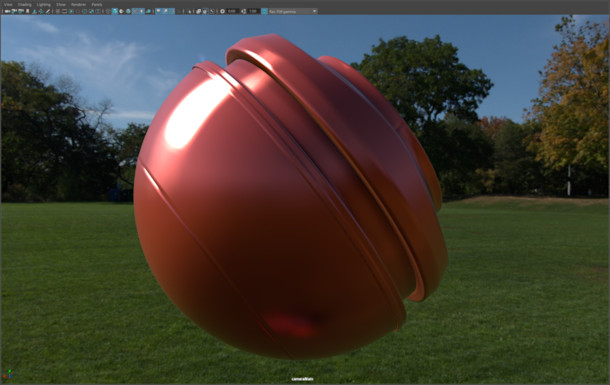 Materials: new Standard Surface uber-shader recreates many common real-world materials
Maya 2020 also introduces Standard Surface, a new "renderer-agnostic, uber surface shader" that follows the same underlying specification as Arnold's Standard Surface shader, introduced in Arnold 5
As in Arnold, it is intended to mimic many real-world materials via a simple set of common parameters.
Features supported include transparency, diffuse reflection and refraction, subsurface scattering and emissivity; and there are clear coat, thin film and sheen components, the latter intended for cloth.
Most attributes can be previewed in the viewport – you can find a list of exceptions here – or in the material viewer of the Hypershade using the Arnold or Hardware renderers.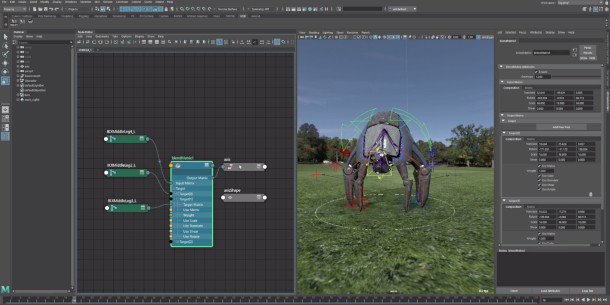 Rigging: new matrix-based workflow simplifies node graphs
Rigging changes include the addition of a new matrix input to all transform-derived nodes, intended both to improve the performance of rigs, and to reduce visual clutter in node graphs.
Previously, Maya computed constraints in matrix format, then decomposed the result into scale, rotation and translation channels – which would have to be recomposed into a matrix by any driven transform.
The new matrix-driven workflow removes these extra – and computationally expensive – steps, while keeping the scale, rotation and translation channels available for animation.
You can find more details in the online documentation for the new Transform Offset Parent Matrix widget.
Rigging: UV Pin and Proximity Pin nodes; new GPU-based Proximity Wrap supersedes the Wrap deformer
Maya 2020 also adds new UV Pin and Proximity Pin nodes to track surface positions on deforming meshes or NURBS geometry, intended to allow transforms to follow the geometry.
A separate Rivet command can be used to attach locators to a deforming mesh, with suggested use cases including attaching buttons to a shirt.
In addition, the new Proximity Wrap deformer "addresses concerns with Maya's default Wrap deformer".
As with its predecessor, it can be used to deform target geometry using other geometry as drivers, but is GPU-based, which should reduce memory usage and the poly count required for smooth deformation.
Users have the option to paint weight maps to control the effect.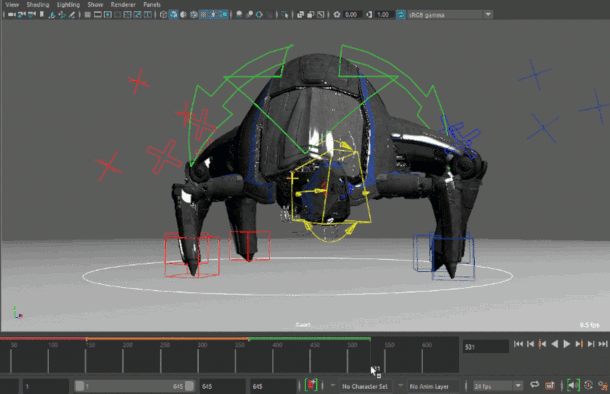 Animation: new Time Slider bookmarks, workflow improvements to ghosting and the Graph Editor
Animators get a number of new features, including the option to create colour-coded bookmarks for frame ranges on the Time Slider, to highlight regions of interest.
There are also updates to the viewport ghosting system for visualising animations, including the option to change the colour or opacity of the ghosts, or toggle their visibility.
Workflow improvements include a new preferences setting for snapping keys to the nearest whole frame when moving or scaling keys in the Time Slider or Graph Editor.
The Graph Editor itself gets a lot of quality-of-life improvements, including new colour themes and colour customisation options, and updates to the menu structure.
The Modern Graph Editor, added during the Maya 2017 release cycle, also gets features previously only available in the original editor, including a Simplified Key View and the option to show a simplified toolbar.
Other animation changes include the option to resize the Time Slider like any other UI element, new hotkeys to toggle the visibility of scene elements, and a MotionBuilder-style toggle for X-ray modes.

Bifrost for Maya: performance improvements and bugfixes
Bifrost for Maya, the new multiphysics authoring plugin introduced with Maya 2019.2, also features prominently in Autodesk's blog post on Maya 2020.
Most of the updates since the original release have been bugfixes and performance improvements: in the demo video at the top of the story, Autodesk claims "2x faster viewport performance".
However, the latest version, Bifrost for Maya 2.0.4, adds initial support for cached playback, plus new options for the MPM and Aero solvers, and improved Arnold support.
Other features: GPU production rendering with Arnold 6
Outside the core software, Maya 2020 ships with MtoA 4.0.0: a new version of the Arnold for Maya integration plugin based on the Arnold 6 core.
The plugin makes it possible to use the new features in Arnold 6, including the official production-ready release of Arnold GPU, Autodesk's new GPU rendering system.
Other features listed in the online documentation include changes to the Light Editor and Render Setup system; and Substance for Maya 2.0, a new integration plugin for editing materials in Substance format, originally rolled out in Maya 2019.1 and Maya 2019.2.
Maya LT 2020: cut-down edition gets the modelling and animation features from Maya 2020 itself
Maya LT, the cut-down edition of Maya for games artists, gets a subset of the new features from Maya 2020.
That includes the Remesh and Retopologize tools, the Proximity Wrap deformer and the improvements to the Graph Editor and animation workflow, but not the new rigging or simulation features.
You can find a full changelog via the link below.
Pricing and availability
Maya 2020 is available for Windows 7/10, RHEL/CentOS 7.3-7.7 Linux and macOS 10.13+ on a rental-only basis, with subscriptions costing $195/month or $1,545/year.
Maya LT 2020 is available for Windows 7+ and macOS 10.13+ on a rental-only basis, with subscriptions costing $30/month or $250/year.

Read an overview of the new features in Maya 2020 on Autodesk's blog
Read a full list of new features in Maya 2020 in the online release notes
Read a full list of new features in Maya LT 2020 in the online release notes
Tags: Aero, animation, Arnold 5.0, Arnold 6, Arnold 6.0, Arnold for Maya 4.0, Arnold GPU, autodesk, Bifrost, Bifrost for Maya, Bifrost for Maya 2.0.4, cached playback, dynamics, GPU-accelerated, GPU-based, image plane, Light Editor, lighting, Mash, Maya, Maya 2019.0, Maya 2019.1, Maya 2019.2, Maya 2020, Maya LT, Maya LT 2020, mesh decimation, modeling, MPM, MPM solver, MtoA 4.0, multiphysics, nCloth, new features, nParticles, price, Proximity Pin, Proximity Wrap, Remesh, Render Setup, rendering, retopology, Retpologize, rigging, Rivet, simulation, Smooth Mesh Preview, Standard Surface shader, Substance for Maya 2.0, system requirements, ubershader, UV Pin, Wrap deformer, XGen