Thursday, February 6th, 2020

Posted by Jim Thacker
Thinkinetic releases Pulldownit 4.8 for Maya

Originally posted on 31 October 2018. Scroll down for news of the 4.8 update.
Thinkinetic has released Pulldownit 4.5 for Maya, the latest version of its shattering and dynamics plugin.
The update adds a new tool for emitting particles from faces on geometry on a per-material basis, helping to simulate dust and debris; and improves performance when working with high-poly animated meshes.
Add dust to destruction sims by emitting nParticles from fracture geometry
The main new feature in Pulldownit 4.5 is a tool for generating Maya nParticles from fracture geometry.
It works on a per-material basis, making it possible to emit dust or debris only from the broken inner faces in a simulation, removing the need to paint an emission map manually in another DCC tool.
You can see the workflow in the video tutorial above.
Performance and workflow improvements
The solver code has also been optimised, leading to a 3x speed boost with high-poly deforming meshes.
Thinkinetic claims that there is now "almost no performance penalty" when using nCloth systems or skinned characters as kinetic objects in simulations.
Workflow improvements include the option to animate a number of key parameters for fracture bodies and rigid bodies, including Friction and Bouciness, providing finer control over simulations.
In addition, users can set fractures to propagate through geometry only at a given frame of an animation, making it easier to control simulation timing.
There are several bugfixes and updates to existing tools, which you can find in the online changelog

Updated 18 October 2019: Thinkinetic has released Pulldownit 4.7 for Maya, the next update to the software. (Despite the version numbering, there is no stable 4.6 release.)
New shattering features include the option to shatter individual fragments of previously baked fracture systems, with the shards inheriting the motion of the original fragment.
According to Thinkinetic, shattering is now "up to 8x faster" for high-poly models made of multiple parts.
New dynamics features include the option to generate secondary cracks on a per-fragment basis; and to recompute the trajectories of fragments after their motion has been baked.
Baking is also now done as a background process, which should speed up workflow on large simulations.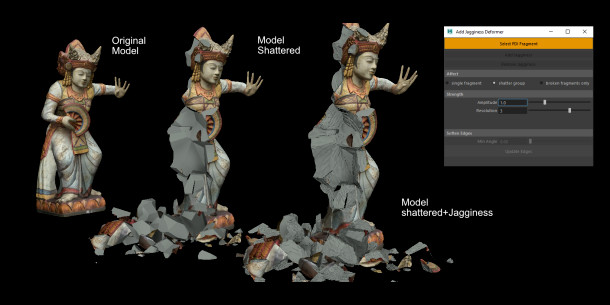 Updated 6 February 2020: Thinkinetic has released Pulldownit 4.8 for Maya.
Again, the update improves performance of "all shatter-related tools", including a 2x speed boost for shattering itself, a 4x boost for undos, and a 3x improvement in preview mode with high-poly meshes.
The update also makes the plugin compatible with Maya 2020.
Pricing and availability
Pulldownit 4.8 for Maya is available for 64-bit Maya 2017+, running on Windows 7+, Mac OS X 10.9+ or Linux. New node-locked licenses cost €395 (around $430); new floating licences cost €495 ($540).

Read a full list of new features in Pulldownit for Maya in the online changelog