Originally posted on 28 February 2020. Scroll down for news of the 1.8.6 update.
Serif has released Affinity Photo 1.8, Affinity Designer 1.8 and Affinity Publisher 1.8, the latest versions of its GPU-accelerated image editing, vector design and page layout apps for desktop systems and iOS devices.
Affinity Photo users get support for Photoshop's Smart Objects, and expanded support for RAW image formats, metadata and plugins, including DxO's Nik Collection.
Affinity Designer users get improved stroke and Boolean tools, plus a new Stock images panel.
Affinity Publisher users get support for the IDML and XSLX file formats, document merging, live preflight checking, and the option to collect and share assets.
All three updates add support for document templates and a unified macOS toolbar, and both Affinity Photo 1.8 and Affinity Designer 1.8 make it possible to use custom iPad keyboard shortcuts.
All Affinity 1.8 updates: document templates, workflow improvements on macOS and iOS
New features common to Affinity Photo, Designer and Publisher include a new template system, making it possible to reuse or share document presets. Templates can be used across all three applications.
Users of macOS Mojave 10.14 and above also get a new unified toolbar, integrating window controls and the main Affinity toolbar to free up screen space for the image or document being edited.
Support for the Pantone colour systems has also been updated, including support for Color Bridge and Formula Guide palettes.
In addition, both Affinity Photo 1.8 and Designer 1.8 make it possible to create custom keyboard shortcuts when using the software on an iPad with an external keyboard.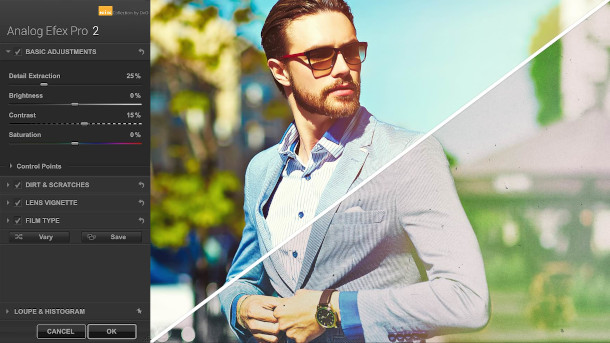 Affinity Photo 1.8: PSD Smart Objects and better RAW, metadata and plugin support
Affinity Photo 1.8 adds a number of features that should make it easier to use the software in design pipelines, including support for Smart Objects when importing PSD files from Photoshop.
There are also "big plugin support improvements", including support for the Nik Collection, DxO's popular set of image-editing, colour correction and analogue effects tools, previously only available for Adobe apps.
The update also adds support for Canon CR3 RAW files, and improves handling of metadata, including support for the IPTC format and the option to save and import XMP files.
The lens correction system has also been updated, with the option to override the automated lens correction system manually, and lists of recently used and favourite settings.
Affinity Designer 1.8: better stroke editing and Boolean operations, new Stock panel
Affinity Designer 1.8 updates the software's stroke editing system, making it possible to achieve "accurate results with far fewer nodes than before".
Boolean operations – adding, subtracting and combining shapes – are also now "better than ever before", although Serif's online changelogs don't go into any more detail.
The update also adds a new Stock panel similar to the one in Affinity Photo, making it possible to browse stock images from a range of online providers directly inside the software.
Affinity Publisher 1.8: support for IDML files, document merging and collection, live preflight checks
Affinity Publisher is the newest of the three apps – it was officially released last summer – so unsurprisingly, it gets the most new features in its 1.8 update.
They include support for Adobe's IDML format, making it possible to import documents from older versions of InDesign, and support Microsoft Excel's XSLX format.
The release also adds new toolsets for merging documents, collecting and sharing all of their associated images, and preflight checks before printing a document; and updates the master pages system.
You can find a full list of changes via the links below.
Pricing and availability
Affinity Photo 1.8, Affinity Designer 1.8 and Affinity Publisher 1.8 are available for Windows 7+ and Mac OS X 10.9+. Photo and Designer are also available for iOS 12+.
New perpetual desktop licences of the applications cost $49.99; the iPad editions cost $19.99. The updates are free to registered users.
Updated 13 November 2020: Serif has released version 1.8.6 of the Affinity applications, adding support for Apple's M1 chips: the first of the firm's new Apple Silicon processors.

Read an overview of the new features in the Affinity 1.8 updates
Read a full list of new features in Affinity Photo, Designer and Publisher 1.8 on the Affinity forum
Tags: Affinity Designer, Affinity Designer 1.8, Affinity Designer 1.8.1, Affinity Designer 1.8.6, Affinity Photo, Affinity Photo 1.8, Affinity Photo 1.8.1, Affinity Photo 1.8.6, Affinity Publisher, Affinity Publisher 1.8.1, Affinity Publisher 1.8.6, Apple Silicon, Boolean operation, Canon CR3, collect images, desktop publishing, digital painting, document collection, document template, DxO, Excel, IDML, image editing, InDesign, iOS, iPad, IPTC, keyboard shortcuts, lens correction, M1, macOS, master pages, merge document, metadata, new features, Nik collection, page layout, Pantone, perpetual licence, Photoshop, plugin, Preflight, preflight checks, price, PSD, RAW, Serif, Smart Object, stock images, Stock panel, stroke, system requirements, unified toolbar, vector design, Windows, XMP, XSLS