Originally posted on 6 August 2021. Scroll down for news of the 1.10.3 updates.
Serif has released Affinity Photo 1.10 and Affinity Designer 1.10, the latest versions of its GPU-accelerated image editing and vector design apps for desktop systems and iOS devices.
The updates focus on improving performance rather than adding major new features, with Serif describing Affinity Designer's rendering engine as "up to 10 times faster than before".
In addition, Affinity Photo users gets support for Adobe Camera Model lens profiles for lens correction, and both apps get support for emojis and better IME editing for Japanese and Simplified Chinese text.
Affinity Photo 1.10: faster panorama stitching and layer blending, plus better lens correction
Affinity Photo 1.10 features a number of performance updates, including when stitching panoramas, blending layers in a document, or converting between ICC colour profiles.
GPU rendering and the RAW engine have also been "improved", although Serif hasn't put a figure on any of the speed boosts.
New features include the ability to load Adobe Camera Model (ACM) lens profiles for correcting lens distortion, and better lens correction for Canon, Tamron and Sigma lenses.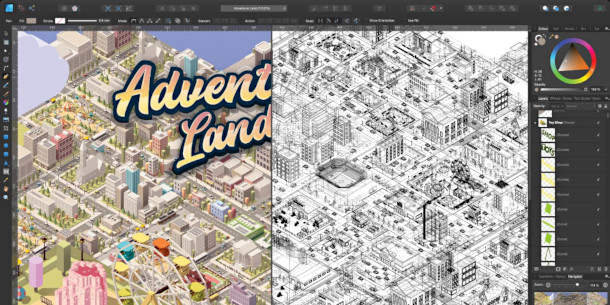 Affinity Designer 1.10: faster rendering of complex documents
Affinity Designer 1.10 also improves performance, particularly when rendering complex documents, like PDFs imported from CAD applications.
According to Serif, rendering documents with "hundreds or thousands of objects" is now "up to 10 times faster than before", improving interactivity when panning within the document.
Both apps: emojis, better IME text editing, and updates to the Resource Manager
Both apps also get improved IME text editing when working with Japanese or Simplified Chinese text, and support for "most" emoji.
The Resource Manager, used to manage linked images in a project, gets support for EPS files, and the option to relink missing resources.
You can find a full list of changes – and of new features in page-layout app Affinity Publisher, which has also just been updated – via the links below.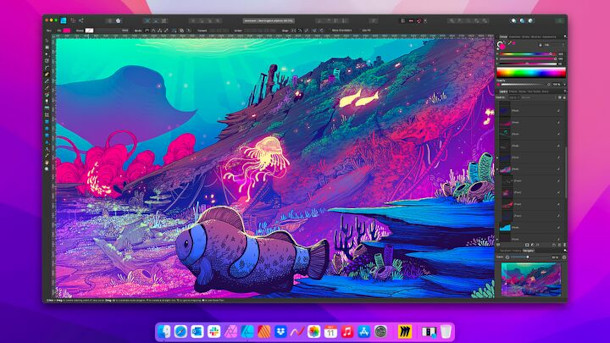 Updated 25 October 2021: Serif has released Affinity Photo 1.10.3 and Affinity Designer 1.10.3.
On most platforms, the updates are primarily bugfix releases, but on macOS, they introduce support for macOS 12 Monterey, and optimise the software for Apple's new M1 Pro and M1 Max processors.
Serif describes the speed improvement as "stunning", commenting that the 32-core M1 Max chip's performance in its internal benchmark "obliterate[s] any other single GPU score we have ever measured".
The changes also improve performance with Apple's original M1 processor by "roughly 10%".
Pricing and availability
Affinity Photo 1.10.3, Affinity Designer 1.10.3 and Affinity Publisher 1.10.3 are available for Windows 7+ and Mac OS X 10.9+. Photo and Designer are also available for iOS 12+. The updates are free to registered users.
The price of new perpetual licences has risen since the 1.10 release, with the desktop versions up $5 to $54.99 and the iPad editions up $2 to $21.99.

Read an overview of the changes in the Affinity 1.10.3 updates
Read an overview of the changes in the Affinity 1.10 updates
Read a full list of new features in Affinity Photo and Affinity Desinger on the Affinity forum
Tags: ACM, Adobe Camera Model, Affinity Designer, Affinity Designer 1.10, Affinity Designer 1.10.3, Affinity Photo, Affinity Photo 1.10, Affinity Photo 1.10.3, Affinity Publisher, Affinity Publisher 1.10, Affinity Publisher 1.10.3, benchmark, CAD, Canon, Concept Art, desktop publishing, digital painting, emoji, GPU rendering, ICC, illustration, image editing, image stitching, IME, Japanese, layer blending, lens correction, M1, M1 Max, M1 Pro, macOS, macOS 12, macOS Monterey, new features, page layout, panorama, PDF, price, price increase, price rise, relink missing files, rendering, Resource Manager, Serif, Sigma, Simplified Chinese, system requirements, Tamron, text editing, vector design, vector editing