Originally posted on 5 June 2019. Scroll down for news of the 1.7.1 updates and links to Affinity Publisher.
Serif has released Affinity Photo 1.7 and Affinity Designer 1.7, the latest versions of its pro image editing and vector design software.
The first updates to the applications since 2017, the releases are also described as the "biggest ever Affinity updates", adding GPU acceleration of brush and layer operations on macOS and support for HDR monitors.
New features in both apps: GPU acceleration on macOS
The biggest structural change in both applications is GPU acceleration, with Serif claiming that all raster layer and brush operations are now "up to 10 times faster" than before.
Both packages also support multiple GPUs, although we don't have any figures on how performance scales.
The downside for non-Mac users is that the implementation is based on Apple's proprietary Metal API, so the same work on Windows will happen "in a future update".
Apple deprecated cross-platform technologies OpenGL and OpenCL in macOS last year, effectively giving developers no option but to implement GPU acceleration separately for Macs and other PCs.
However, Windows users do get some performance boosts due to improvements in memory management: Serif claims that there are "3x or 4x speed improvements across many tasks".
In Affinity Photo, loading RAW files is also listed as "at least 2x faster".
New in both apps: support for HDR monitors, plus pen and dial support for Microsoft Surfaces
Other new features common to both applications include support for HDR monitors, enabling users to view images in high dynamic range while painting or editing.
Serif describes it as "a market first for photo editing and graphic design apps", which is strictly true, although HDR monitors are also supported in the open-source painting tool Krita 4.2.
For tablet users, both applications get pen and dial support on Microsoft Surface devices, while the iPad editions get a new compact UI, which seems to be aimed particularly at the iPad Mini.
New in Affinity Photo 1.7: 32-way symmetry, Sub Brushes system, HEIF support
In addition, Affinity Photo 1.7 gets support for up to 32-way symmetry, with on-canvas controls; plus a new Sub Brushes system, making it possible to combine multiple brushes in a single stroke.
There is also a new HSL adjustment layer, and new procedural texture and Voronoi filter effects.
New formats supported include 12-bit and 16-bit CMYK TIFFs and the 'JPEG-killing' HEIF format, the latter with support for loading depth maps.
Workflow changes include improvements to noise reduction, the performance of live filter effects, and "huge macro and batch processing improvements".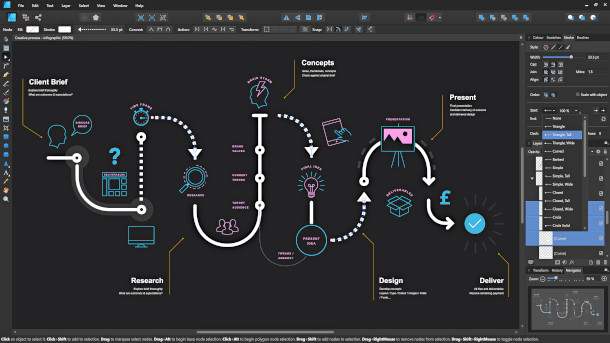 New in Affinity Designer 1.7: improved isometric workflow, new tools, support for arrowheads
Affinity Designer 1.7 users get the option to work directly in any isometric plane, support for arrowheads at the end of lines, and the option to add an unlimited number of strokes and fills to a single shape.
Changes to tools include a new Point Transform tool, a new sculpt mode in the Pencil tool, a new Transform mode in the Node tool, and support for lasso selection of nodes.
There are also "many grid improvements", including a new cube grid and column guides.

Updated 20 June 2019: Serif has released 1.7.1 updates for Affinity Designer and Affinity Photo.
For the desktop editions of the software, they're largely bugfix and performance updates.
However, the iPad editions also get support for multi-page documents created in Affinity Publisher, Serif's new print and digital design software, which officially left beta yesterday.
While Affinity Publisher itself is outside CG Channel's area of coverage, one interesting feature in the software is the new StudioLink system, which integrates it with Affinity Photo and Designer.
If you own a licence of either product, and have it installed on the same machine, clicking the 'persona' icons within the interface lets you use tools from Photo or Designer directly inside Publisher, making it possible to edit images or vector shapes – or even paint freehand – within a page layout.
You can read more about StudioLink here, and find changelogs for the 1.7.1 updates here.
Pricing and availability
Affinity Photo 1.7.1 and Affinity Designer 1.7.1 are available for Windows 7+, Mac OS X 10.9+ and iOS 12+. The updates are free to registered users.
New perpetual desktop licences of both applications cost $49.99; the iPad editions cost $19.99. At the time of posting, both applications are available at a launch discount.

Read a full list of new features in Affinity Photo 1.7
Read a full list of new features in Affinity Designer 1.7
Tags: 16-bit, 32-bit, 32-way symmetry, Affinity Designer, Affinity Designer 1.7, Affinity Designer 1.7.1, Affinity Photo, Affinity Photo 1.7, Affinity Photo 1.7.1, Affinity Publisher, Affinity Publisher 1.7, arrowheads, batch processing, CMYK, combine brushes, digital painting, EDR monitor, Fill, GPU acceleration, grid, HDR monitor, HEIF, high dynamic range, HSL, image editing, iOS, iPad, iPad Mini, isometric, live link, macOS, macro, Metal, new features, Node tool, OpenCL, OpenGL, Pencil tool, Point Tranform tool, procedural texture, RAW, Serif, stroke, StudioLink, Sub Brushes, symmetry, system requirements, vector design, Voronoi, Windows