Friday, April 17th, 2020

Posted by Jim Thacker
Serif is working on 3D texturing tools in Affinity Photo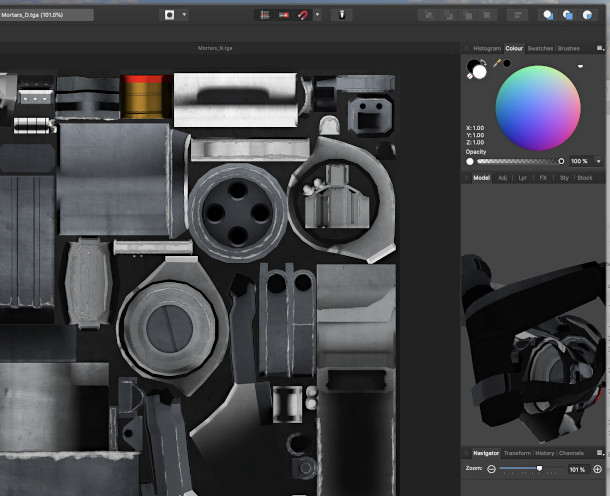 Affinity Photo lead developer Andy Somerfield has posted an intriguing preview screenshot of new 3D texturing features within Serif's popular image-editing software.
The image, which was posted in a thread on the Affinity forums on features for games artists, shows an OBJ file displayed in a new Model panel within the interface, and the UV unwrapped texture in the viewport.
According to Somerfield, both the diffuse and normal map are being edited and a preview of the result displayed in real time on the 3D model.
Not an alternative to dedicated texturing tools like the Substance products – yet
Although fans of Affinity Photo see it as a perpetually licensed alternative to Adobe Photoshop, it's still a bit early to see it as an alternative to texturing tools like the – also Adobe-owned – Substance products.
Somerfield comments that it is still "early days" for the toolset, and that he "can't promise this for [Affinity Photo] 1.9", but that Serif will be "looking to the beta user community to help us make sure we get this right".
If you're interested in more immediate alternatives to the Substance tools, you may want to check out our stories on open-source 3D texture painting tool ArmorPaint, and free material authoring tool Quixel Mixer.
Pricing and system requirements
Affinity Photo is available for Windows 7+, Mac OS X 10.9+ and iOS 12+. New desktop licences have an MSRP of $49.99; the iPad edition costs $19.99. The current stable release is Affinity Photo 1.8.
Read more about the work-in-progress 3D texturing tools in Affinity Photo on the product forums