Tuesday, February 19th, 2019

Posted by Jim Thacker
Check out open-source production-tracking tool Kitsu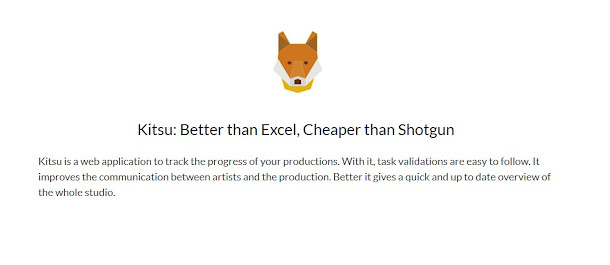 French start-up CGWire has launched Kitsu, a new production-tracking tool aimed at small-to-mid-size studios that it describes as "better than Excel, cheaper than Shotgun".
The system, which is available open-source or as a commercial cloud-hosted solution, is being developed in collaboration with some of France's leading VFX facilities.
A streamlined production tracking tool aimed at smaller studios
A JavaScript-based web application – it's based on the Vue.js framework – Kitsu is intended to be a streamlined, lightweight production-tracking and communication tool.
It has a clean, minimal interface, but is designed to scale to commercial production work, particularly broadcast production: the option to group shots into episodes is provided natively.
The feature set is pretty much what you would expect in a solution of this type, if currently somewhat bare-bones, Kitsu still being officially on its 0.8 release.
Production managers can set up assets, shots, breakdowns, and assign tasks to individual artists. Artists can use the system to view or check off assigned tasks, or fill in timesheets.
The system can also be used for asset reviews – images, movies and OBJ files can be reviewed directly in the browser – with simple in-picture annotation capabilities.
For pipeline integration, Kitsu comes with its own HTTP API, Zou, and Python client, Gazu, for writing custom tools or plugins for DCC software.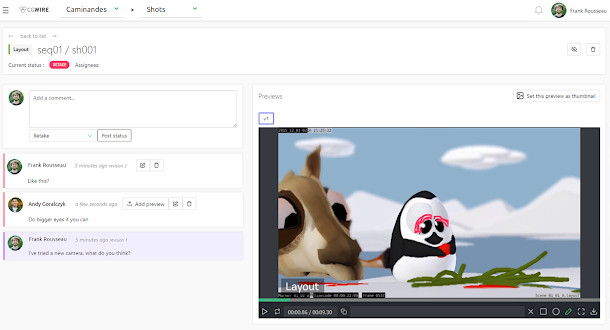 Kitsu includes shot review and annotation capabilities. The assets shown are from open short Caminandes.

Developed with input from leading local production facilities
Kitsu is also being developed in collaboration with artists working on real productions, since CGWire has the unusual development model of getting local studios to sponsor new features.
Those to have done so so far include the VES Award-winning Unit Image, along with commercials and 3D animation studio Cube Creative and character outsourcing studio Karlab.
CGWire's key staff also have backgrounds in production management themselves.
CEO Frank Rousseau used to work for HD3D, developer of production-tracking system ArtForge, while product manager Gwenaëlle Dupré used to be head of production at Unit Image.
Pricing and system requirements
Source code for Kitsu and Zou is available under an AGPL licence; Gazu is available under a LGPL licence. You can find instructions for self-hosting the software here.
Kitsu is also avaiable as a managed cloud-hosted service provided by CGWire, with prices ranging from €99/month (around $112/month) for up to 10 users, to €999/month ($1,130/month) for up to 150 users.

Read more about Kitsu on CGWire's website