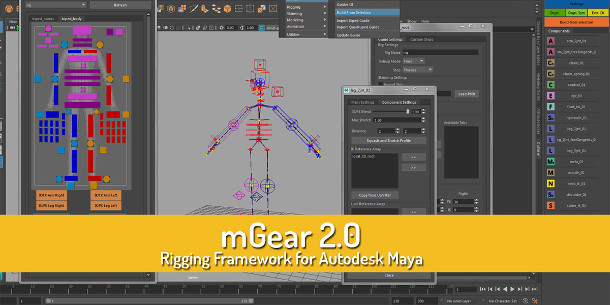 Originally posted on 28 November 2016. Scroll down for news of the 2.5 release.
Character TD Miquel Campos has released mGear 2.0: the latest update to his versatile open-source character rigging framework for Maya.
The release adds a new quadruped template and support for mapping mocap data from Maya's native HumanIK skeleton to mGear's biped template, and moves the software to a MIT licence.
A versatile framework for creating modular character rigs
First released last year, mGear is based on Gear, Blur Studio technical animation supervisor Jeremie Passerin's Softimage rigging framework, although it isn't an exact copy.
It provides character artists with a library of customisable rig components for different body parts, and is intended to generate "an infinite variety of rig combinations … without programming knowledge".
New quadruped template and HumanIK mapping tool
Major new features in mGear 2.0 include a new quadruped template, to complement the existing biped template in Shifter, the framework's newly renamed modular rigging system.
There is also a new leg component for legs with three bones, and a new tool for mapping mocap data from Maya's HumanIK skeleton to Shifter's biped template.
Other new features include new environment variables and deformers. Read a full list via the link below.

Updated 18 August 2017: Miquel Campos has released mGear 2.2.1. As well as making mGear compatible with Maya 2018, the update introduces a new Simple Autorig system (above), designed for "basic props".
Since we posted our original story, Campos has also introduced Rigbits: a new common library with "toos and functions to help the rigging system [for use] with custom steps or other rigging tools".

Updated 26 January 2018: Miquel Campos has released mGear 2.4. It's quite a major update, adding Animbits: the start of what will become an animation toolset.
Animbits currently consists of a single tool, SoftTweaks, shown in the video above. It is intended to help users add corrective tweaks to animations, and is based on work by Blue Zoo rigger Vasil Shotarov.
The framework also gets another long-awaited feature, support for facial rigging, with the Rigbits library getting new components for rigging eyes and lips.
Other new features include three new spline components: an FK chain with IK controls on each section; a lightweight FK chain; and an S-shaped spine, which complements the existing straight spine.

Updated 30 May 2018: Miquel Campos has released mGear 2.5: another sizeable update to the framework.
Highlights include a new RBF Manager, based around Ingo Clemens' free weightDriver RBF node – which needs to be installed separately – implementing a RBF (Radial Basis Function) solver inside Maya.
It's a kind of next-level version of Set Driven Key, supporting any number of driver and driven attributes.
The demo video above shows it being used to set up the character's skirt to move with her leg, interpolating between a set of reference poses to prevent intersections between the leg and the cloth.
Other features in the update include a new Synoptic tabs system, designed to help animators find controls not exposed on regular tabs, and an updated version of mGear's Simple Rig auto-rigging system.
mGear also has a new product website and forum, which you can check for more info.

Availability and system requirements
mGear is available now via an MIT licence: a change from the first release's BSD licence.
The framework works with Maya 2015 and above running on Windows, Mac OS X and Linux. It's free if you enter a figure of $0, or you can donate to support future updates.

Read a full list of new features in mGear in the online changelog
Watch video tutorials on how to use mGear on Campos's YouTube channel
Tags: Animbits, autorigging, biped, download, eyes, facial rigging, FK chain, free, Gear, humanIK, IK, Jérémie Passerin, lip sync, lips, mapping, Maya, mGear, mGear 2.0, mGear 2.2, mGear 2.2.1, Miquel Campos, mocap, modular rigging system, open source, quadruped, Radial Basis Function, RBF Manager, RBF Solver, retargeting, Rigbits, rigging framework, Shifter, Simple Autorig, Simple Rig 2.0, softimage, spine, synoptic tab, system requirements