Thursday, January 18th, 2018

Posted by Jim Thacker
Download free tree-generation software Tree It

Tree It, Evolved Software's suprisingly powerful free tree-generation tool, generates customisable trees for real-time work. It lacks documentation, but this video tutorial from user Resurrection 21 covers the basics.

If you're in the market for a free tree-generation tool, particularly for real-time work, you could do worse than to check out Evolved Software's Tree It.
The software generates a range of tree types, comes with a surprising range of options for adjusting their form, including a polygon reduction slider, and exports the geometry and textures in OBJ format.
Should work with any standard DCC tool or game engine
Tree It isn't new – according to the changelog, it goes back to 2012, and was originally a commercial tool for Dark Basic – but it isn't one we'd come across until it popped up on several community forums this week.
The software has since been updated, with the latest version released in July 2017, and now also exports in OBJ and .X formats, which makes it compatible with most standard game engines and DCC tools.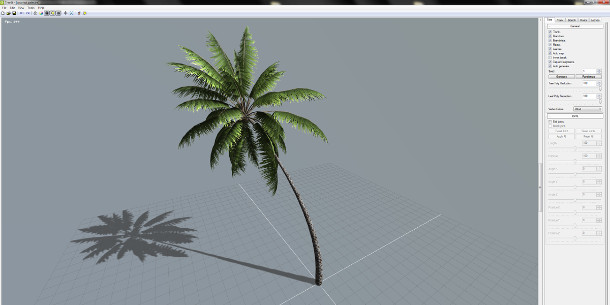 A good range of controls for adjusting the form and poly count of trees
The simplest way to get started with Tree It is to load one of the 18 readymade scene files that ship with the software, and which represent a range of tree types, including broadleaved trees, conifers and palms.
Generating unique variants is as simple as clicking the Generate button until you get a result you like, or you can adjust the individual growth parameters manually.
There are a surprising number of these, most with both sliders and direct parametric input, controlling the form of the trunk, branches, leaves, and the roots emerging at the ground surface.
You can even display the trunk as a joint chain, as you would with a character rig, and adjust the properties of each joint individually, which makes it possible to create some very unusual shapes.
There are also two separate polygon reduction controls, one for the entire tree and one for the foliage.
Once created, trees can be exported in .obj or .x format, or as a Dark Basic .dbo file. There's even support for wind animation, although it isn't clear how you export the data.
Expect to use the software 'as is' with no support
Which brings us to the real limitation with Tree It: its lack of documentation. The inline help consists of a list of keyboard shortcuts, and there doesn't seem to be an online manual.
The Evolved Software forum isn't particularly active, either, so your best bet for tech support is probably to hunt around on general game development forums.
Download over 100 tree models created with the software in OBJ format
Full disclosure: in our own brief tests, we didn't actually manage to make Tree It export an OBJ file, although if you're in the same boat, an Unreal Engine forum user called Lluis Garcia has done the work for you.
His tree library, which you can download for free, contains all of the standard Tree It species exported in OBJ format as multiple variants, at four levels of detail, making over 100 models in all.
The download also contains an Unreal Engine project file with the assets pre-assembled.
An interesting tool to experiment with
Overall, Tree It is an interesting tool to play around with, and one that several forum threads describe as being almost as powerful as commercial apps, if more time-consuming to use.
Even if you can't get it to produce the results you want, Lluis Garcia's library of exported OBJs is a useful readymade resource, particularly for Unreal Engine users.
System requirements and availability
Tree It is available for Windows XP and above. The software is a free download, and according to the Terms and Conditions in this forum post, the trees it exports can be used in commercial projects.

Download Tree It from Evolved Software's website
Download over 100 user-generated tree models in OBJ format from Lluis Garcia's Gumroad page
(Enter a figure of $0 to download the library for free)