Friday, September 29th, 2017

Posted by Jim Thacker
Allegorithmic releases Substance Painter 2017.3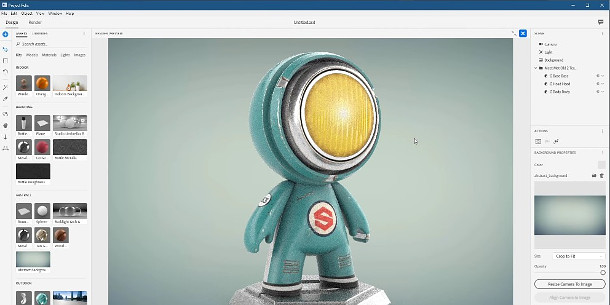 Allegorithmic has released Substance Painter 2017.3, the latest update to its 3D texture painting software, adding export to Adobe's Project Felix, support for glTF 2.0, and a new auto backup plugin.
Export assets directly to Project Felix for rendering
The headline feature in 2017.3 is the new Adobe Standard Material export option, which enables assets created in Substance Painter to be rendered directly in Project Felix.
Adobe's work-in-progress rendering and compositing software, Project Felix is intended as a more intuitive alternative to conventional 3D tools, with a solid core architecture based on V-Ray.
Support for the glTF 2.0 open standard for real-time 3D assets
The update also adds support for glTF 2.0, the new PBR-ready open standard for real-time 3D assets.
That's an unexpected boost for glTF, which looked to be struggling to find its way into DCC software.
At the time the gITF 2.0 specification was released, standards body Khronos Group noted that it was "seeing support" from developers, but its list of interested companies didn't include Allegorithmic.
Also new: improved Gradient filter, new Auto-Backup plugin, big UX changes
Other changes in Substance Painter 2017.3 include improvements to the Gradient Filter, which now supports up to 10 keys, making it possible to create much more complex colour ramps.
The release also comes with a self-explanatory – and handy – Auto-Backup plugin.
UX updates include the relocation of tabs from the bottom of windows to the top, bringing Substance Painter in line with "99.9% of other apps out there", as Allegorithmic's blog post puts it.
Substance Painter projects and meshes can also now be dragged-and-dropped directly in the viewport.
Pricing and availability
Substance Painter 2017.3 is available for Windows 7+, CentOS 6.6 or Ubuntu 12.4 Linux and Mac OS X 10.10+.
New Indie licences, intended for artists and studios earning less than $100,000 per year, cost $149, including 12 months' maintenance. Further updates cost $75/year. A floating Pro licence now costs $990.
The update is the last one free to owners of version 2.x under Allegorithmic's new continuous release cycle.

Read a full list of new features in Substance Painter 2017.3 on Allegorithmic's blog