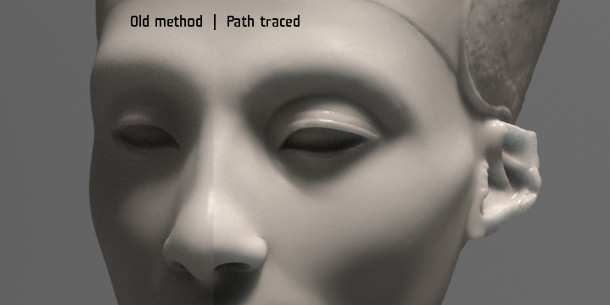 Pixar has released RenderMan 21.5, the latest update to its production renderer, adding a new physically accurate path traced mode for subsurface scattering, and improved hair shading and render denoising.
The first physically based implementation of subsurface scattering in a commercial VFX renderer
Perhaps the biggest single change in RenderMan 21.5 is the new path traced subsurface scattering mode in PxrSurface, the software's versatile multi-purpose shader.
Pixar describes RenderMan as the "first commercial renderer in the industry to ship with a physically based model for subsurface scattering: [a model] based on deep path tracing and albedo controls".
According to Pixar, the new mode simplifies the process of recreating materials like human skin, "providing an accurate result with a single set of controls instead of combining other techniques with Single Scatter".
Updates to the Marschner Hair Shader and Denoise tool
The release also updates the Marschner Hair Shader introduced in RenderMan 20, adding new art-driven, as opposed to purely physically realistic, controls for remapping colour.
The technology features in a panel on new advances in hair rendering at this week's Siggraph 2017 show.
RenderMan's Denoise tool for removing noise from renders as a post-process also gets an update, making it possible to use on exported EXRs "after a compositing process" if channel names and data are preserved.
There are also a number of smaller features and speed boosts: you can find a full list via the link below.
Pricing and availability
RenderMan 21.5 is is available for 64-bit Windows 7+, Mac OS X 10.9+ and Linux glibc 2.12 or higher and gcc 4.4.5 and higher. New licences cost $495; the upgrade is free to users on maintenance.
Integration plugins are available for Maya 2015 and above, Katana 2.0 and above, and Blender 2.76 and above. Versions 15 and above of Houdini contain their own integrated interface to RenderMan.

Read a full list of new features in RenderMan 21.5 on Pixar's online changelog
Visit the RenderMan product website
Tags: denoise, EXR, Marschner Hair Shader, new features, path tracing, physically accurate, physically based, Pixar, price, PxrSurface, render denoising, RenderMan, RenderMan 21.5, Siggraph 2017, SSS, subsurface scattering