Wednesday, July 19th, 2017

Posted by Jim Thacker
ftrack announces ftrack Studio and ftrack Review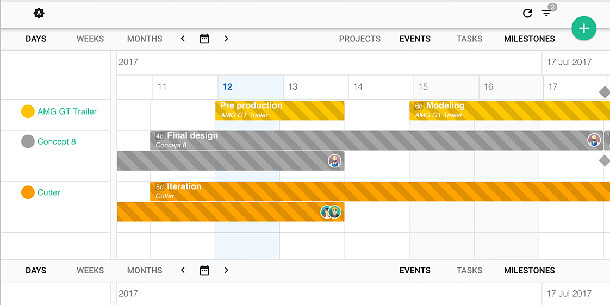 ftrack has rebranded ftrack, its eponymous cloud-based production-tracking platform, as ftrack Studio, and announced ftrack Review, a new entry-level edition intended for shot review and approval.
The company has also rolled out a range of new features in ftrack Studio, including a new Studio Overview display, new resource management tools, to-do notes, and better integration with Maya, Nuke and cineSync.
A versatile cloud-based production tracking system
Since its public launch in 2012, ftrack has been widely adopted within the visual effects industry: The Mill, MPC and Luma Pictures have all used it in production, along with a range of small-to-mid-sized studios.
The system, which is integrated with standard production tools from Autodesk, Foundry, Adobe and Maxon, provides a set of version-control, team-management, time-tracking, scheduling, and shot review features.
New in ftrack Studio: high-level facility overview, resource management tools, to-do notes
To that, ftrack has now added Studio Overview: a new "holistic view" of a facility's activities.
Intended as a high-level overview of multiple projects and departments, it is described by Luma Pictures VFX producer Michael Perdew as "the feature we've been waiting years for someone to get right".
The ftrack Studio update also adds the option to track the availability of teams working in different disciplines and provides analytics for forecasting future over or under-capacity.
Other changes include a new 'to-do notes' system: feedback notes attached to "a project, folder, asset or task that require action in order to be marked as complete".
ftrack's Connect API has also been updated, improving connectivity with Maya and Nuke; as has integration with cineSync, Cospective's popular remote shot-review and approval system.

ftrack Review: a new entry-level edition focused on shot review
ftrack has also announced ftrack Review: an "streamlined" edition for shot review and approval, intended to provide users with "a platform to collaborate on projects with annotations and notes".
You can see the key features in the video above. According to ftrack, the design of the user interface is a "sneak peek into the next major release of ftrack Studio".
Pricing and availability
ftrack Studio is available now, and is priced at $25/month/user. No release date has been announced for ftrack Review, although it will cost $15/month/user. You can register for the upcoming beta via the link below.

Read a full list of new features in ftrack Studio on ftrack's blog