Friday, June 12th, 2020

Posted by Jim Thacker
ftrack gets new synchronous review system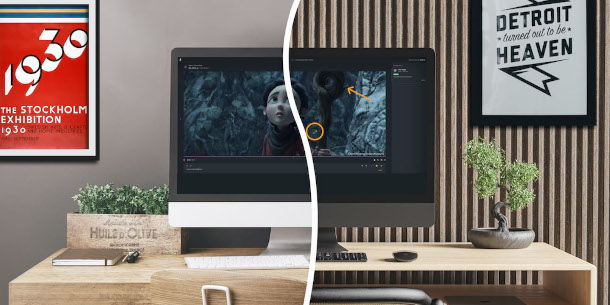 ftrack has added a new synchronous media review system to both ftrack Studio, its cloud-based production management system, and ftrack Review, its shot review and approval tool.
The functionality, which enables every participant in a remote shot review to see all changes made during the session simultaneously, is based on core technology from ftrack's sister application, cineSync.
ftrack has also released Review Pro, a new paid add-on for ftrack Studio and ftrack Review that raises the maximum number of participants in a synchronous review from two to ten.
Synchronous review removes lag when making annotations or skipping forward in a video
Although both editions of ftrack have a well-established shot review and approval toolset, there was always a delay between one participant in a review session making a change and the others seeing it.
The new synchronous review system eliminates that lag, with all users seeing annotations made to a shot simultaneously – and crucially, having their display update when someone else jumps to a new frame.
According to ftrack, "Whether participants work across the office or halfway around the world, they will see the same frame at the same time, in high resolution, and with full-speed playback."
The feature uses the same underlying technology as cineSync, the Academy Award-winning remote review system that ftrack acquired when it bought original developer Cospective last year.
Available free in ftrack, but most review sessions will require the paid add-on
Users of both editions get a basic version of the synchronous review system as part of ftrack Studio 4.5 and ftrack Review 4.5, which shipped last week.
That enables two people to take part in a synchronous review, but most real-world review sessions are going to require ftrack's new Review Pro add-on, which raises the maximum number of participants to 10.
It also raises the maximum resolution of the footage that can be viewed in a synchronous review from 1080p (full HD) to 2160p (4K), and increases the online storage capacity provided from 250GB to 500GB.
Unlike ftrack itself, it's priced per-company rather than per-user, so the extra cost will be more significant for smaller studios than larger ones.
Pricing and system requirements
ftrack Review 4.5 and ftrack Studio 4.5 are available now. Subscriptions start at $15/month/user for ftrack Review and $25/month/user for ftrack Studio. Enterprise plans are now priced on demand.
The Review Pro add-on is available for both editions, and costs $120/month/workspace.
Read more about ftrack's synchronous media review system on the company's blog