Friday, July 22nd, 2016

Posted by Jim Thacker
Andrew Hazelden releases PlayblastVR for Maya V2.0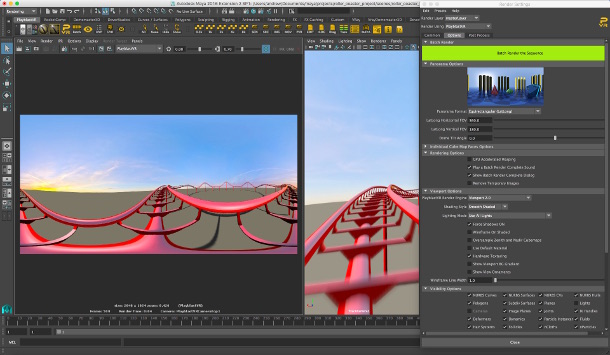 Dover Studios co-founder Andrew Hazelden has released PlayblastVR for Maya V2.0: the latest version of the hardware renderer for creating fast previz renders of Maya scenes in common panoramic formats.
The update makes the software compatible with Maya 2016 Extension 2, and extends the list of panoramic formats available to include Facebook 360's native format.
Turn Maya scenes into rendered VR content
First released in 2015, PlayblastVR generates fast test renders of Maya scenes. It supports standard lights and shaders, Maya Fluids and FumeFX volumes, Paint Effects, nParticles, nHair and cloth.
The output can be generated in a range of 18 common panoramic formats, now including the Cube Map 3×2 image projection format used by Facebook 360.
There is also a new Individual Cube Map Faces format, which renders a group of six unstitched cubic camera views that can then be combined in an external application.
According to Hazelden, the option is "useful if you are rendering out [in high resolution] and only one camera view of an otherwise perfect 360-degree rendered sequence needs to be updated".
Compatibility with Maya 2016 Extension 2, new viewing options
PlayblastVR for Maya V2.0 makes the software compatible with the the new Render Setup-based render layer system in Maya 2016 Extension 2 (Maya 2016.5).
The update also extends the list of external image-viewing and playback applications to which renders may be sent automatically on output to include Kolor's GoPro VR Player and BUF Software's Bview.
You can read a full list of new features via the link below.
Pricing and availability
PlayblastVR for Maya is available for Maya 2012 and above on 64-bit Windows, Linux and Mac OS X 10.9 and above. A single user licence costs $249. Five and ten-user licences cost $995 and $1,895, respectively.
Read a full list of new features in PlayblastVR for Maya V2.0