Monday, November 16th, 2015

Posted by Jim Thacker
Andrew Hazelden releases PlayblastVR for Softimage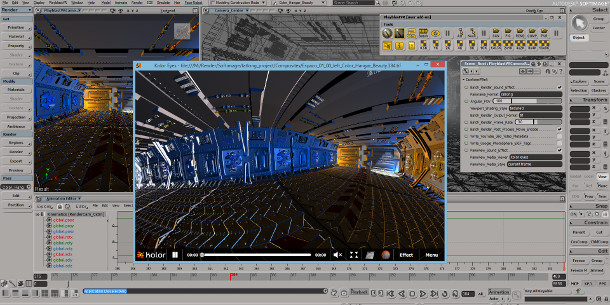 Tools developer Andrew Hazelden has released PlayblastVR for Softimage: a new version of his previously Maya-only software for creating previz renders of VR scenes in a range of common panoramic formats.
Like Blackcore's ExplosiaFX, released earlier this year, the release is testament to the continuing activity in the Softimage user community, even 18 months after Autodesk officially stopped developing the software.
Previz Softimage scenes, complete with ICE effects
Like the Maya version of the software, PlayblastVR for Softimage is intended to create fast OpenGL-based previz renders of VR scenes.
It can render standard Softimage scene elements including animated polygon and NURBS geometry, lights, effects created with Softimage's ICE system, hair and fur, cloth and procedural shading networks.
The output can be generated in 14 common panoramic formats, including the equirectangular latlong format The Foundry is using in its own VR tools development work.
When a render is complete it can be viewed in the Softimage Flipbook or standard professional image viewers like RV or djv_view; in specialist VR viewers like DomeViewer or Whirligig; or via an Oculus Rift.
PlayblastVR also supports output to Google Maps Photo Spheres and 360° YouTube videos with automatic metadata embedding. You can see its other functionality in the software's online documentation.
Pricing and availability
PlayblastVR for Softimage is available for 64-bit Windows only. A single-user licence costs $249.
Read more about PlayblastVR for Softimage on Andrew Hazelden's blog