Tuesday, April 28th, 2015

Posted by Jim Thacker
Andrew Hazelden releases PlayblastVR for Maya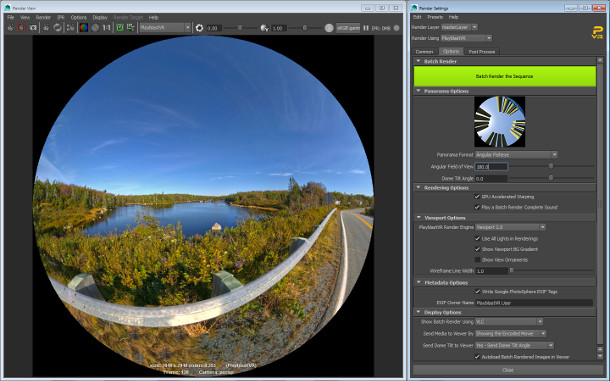 Originally posted on 28 April 2015. Scroll down for updates.
Dover Studios co-founder Andrew Hazelden has released PlayblastVR for Maya: a new hardware renderer intended for creating previz renders of Maya scenes in a range of common panoramic formats.
Turn Maya scenes into rendered VR content
PlayblastVR uses OpenGL or DirectX to generate fast test renders of Maya scenes. It supports standard lights and shaders, Maya Fluids and FumeFX volumes, Paint Effects strokes, nParticles, nHair, cloth simulations.
The output can be generated in 15 common panoramic formats, including the equirectangular latlong format The Foundry is using in its own VR tools development work.
When a render is complete it can be sent automatically to FCheck, to standard professional image viewers like RV or djv_view, or to more specialist VR viewers like DomeViewer or Whirligig.
PlayblastVR also supports output to Google Maps Photo Spheres and 360° YouTube videos with automatic metadata embedding.
The software can also automatically build a Fusion or After Effects composite based on current render settings.
Pricing and availability
PlayblastVR for Maya is available for Maya 2012 and above on 64-bit Windows. A single commercial licence costs $199.95, or a $499.95 site licence lets you use the software on an unlimited number of machines.
Updated 16 November 2015: The price of a single-user licence has been raised to $249, in line with the new Softimage version of the software. Five and ten-user licences cost $995 and $1,895, respectively.
The renderer comes with detailed online documentation, including a list of common MEL commands that can be used to control it.
Read more about PlayblastVR for Maya on Andrew Hazelden's blog