A creature animation rendered by games artist Paolo Lamanna in PixelBerg. Version 1.8 makes the real-time PBR render engine compatible with Cinema 4D's standard renderer, extending its use for final-quality output.
FrostSoft – aka game artist and plugin developer 'Tundras' – has released PixelBerg 1.8, the latest update to its physically based real-time render engine for Cinema 4D, making it compatible with C4D's standard renderer.
Generate fast, high-quality images of games assets
First released in beta at the end of 2014, PixelBerg enables games artists to generate fast, high-quality images of assets for look development and promotional work, filling a similar niche to Marmoset Toolbag.
As well as its own PBR material and image-based lighting sky system, the renderer comes with a set of post effects plugins designed for tasks like adding a user-definable watermark to renders.
Now compatible with the standard software renderer
The biggest change in PixelBerg 1.8 is that the software – previously primarily a viewport render engine – now supports Cinema 4D's standard renderer, extending its usability for final-quality output.
According to FrostSoft, output from the standard software renderer should be a "99% match" for the viewport, supporting PixelBerg's PBR material, sky system and all of the post effects.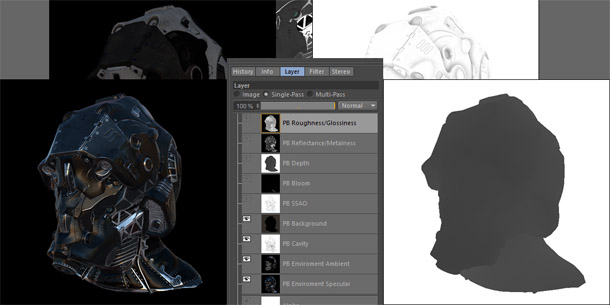 It also supports multi-pass render layers (shown above), including "all the normal ones you would expect plus new [PixelBerg] material layers for each input, together with post effects like SSAO, Vignette [and] Bloom".
The renderer can also now generate a "proper depth pass", which also works with standard C4D materials.
Inexpensive final-quality physically based rendering
Although FrostSoft notes that for many artists, Cinema 4D's Hardware render setting will still be the preferred option due to its speed, support for the standard renderer gives users access to better anti-aliasing and shadows.
The update also gives users of the entry-level Prime edition of Cinema 4D access to a physically based renderer: while C4D has had its Physical renderer since version 13, it's currently only available in the high-end editions.
According to FrostSoft, PixelBerg currently has "basic support" for the Physical renderer – the PBR material and sky are supported, but not the post effects – but this will be extended in future releases.
New post effects for environment maps and lens distortion
Other changes in PixelBerg 1.8 include two new post effects: one for generating spherical environment maps and a lens distortion effect based on the original algorithm from camera-tracking application SynthEyes.
The sky object gets a new Shadows Density setting, which controls how much of a scene's ambient lighting is included in the shadows, and new options for backface culling and to set the direction of vertex normals.
Pricing and availability
PixelBerg 1.8 is available for 64-bit Cinema 4D R15 and above, running in Windows and Mac OS X.
The software is still officially in beta, and is available on a 'pay what you want' basis. The minimum price is $1, but $30 gets you a year's access to the VIP area of the FrostSoft website to download plugins and updates.
Read more about the new features in PixelBerg 1.8 on FrostSoft's website
Tags: anti-aliasing, Cinema 4D, environment map, FrostSoft, IBL, image based lighting, lens distortion, Marmoset Toolbag, new features, PBR, PBR shader, Physical renderer, physical sky, physically based, PixelBerg, PixelBerg 1.8, post effects, price, procedural textures, real time, render engine, renderer, SSAO, standard renderer, SynthEyes, viewport