Monday, March 2nd, 2015

Posted by Jim Thacker
FXhome updates HitFilm 3 Pro
Originally posted on 27 October 2014. Scroll down for updates.
FXhome has announced HitFilm 3 Pro, the next version of its editing, compositing, VFX and grading package. The new release will replace the three existing editions of the software: Standard, Express and Ultimate.
The update, which FXhome describes as "vastly overtaking" HitFilm 2 in scope, revamps the UI and editor; adds support for camera projection and 3D textures for particles; and makes HitFilm compatible with OpenFX plugins.
New camera projection, particles and 3D rendering options
Of the new functionality, the biggest changes are probably those affecting 3D workflows, with the addition of a new camera-projection system, and 3D textures for particles – for creating flocking animations, for example.
The 3D renderer also now includes a wireframe render mode, while ambient occlusion now uses 32-bit rendering and can go up to 32x MSAA.
And finally 3D objects, particles and effects now able to occupy separate layers, as in previous releases; or a unified 3D space, minimising the need for compositing hacks in complex 3D scenes.
Automatic mask tracking and new effects
Elsewhere, the version of Imagineer Systems' mocha planar tracking technology first included with HitFilm 2 now supports automatic tracking for masks.
There are also 20 new preset effects, including 3D volumetrics, heat distortion, lens blur, curves and a grade transfer effect for automatically matching looks across multiple source clips.
New plugin architecture
HitFilm 3 Pro also supports the OpenFX plugin API, opening the door to a range of industry-standard plugins.
GenArts' Sapphire plugins will work with the software out of the box, while FXhome is currently working with Red Giant Software, RE:Vision Effects and Primatte owners Photron on supporting their tools.
Version 3 will also ship with FXhome's own 130-plus plugins for After Effects, Vegas Pro, Final Cut Pro X, Premiere Pro and Motion. Anyone who bought the collection on its release earlier this year gets a free licence.
More standard workflow and user interface
Editorial workflow has been brought more in line with other NLEs, including a new trimmer to preview and trim clips before adding them to a sequence; plus the options to loop play and slice clips at the playhead.
The UI has also been reworked to a "new, low-profile design … bringing the focus back to your shots". Under the hood, support has been added for background rendering of proxies, and an in-to-out 16-bit OpenEXR pipeline.
Updated 25 November: HitFilm 3 Pro is now shipping on Mac OS X 10.7 and above and 64-bit Windows Vista and above. A new licence costs $299 (£229).
Upgrade discounts are available, including one for users of HitFilm 2 Express, released free earlier this year.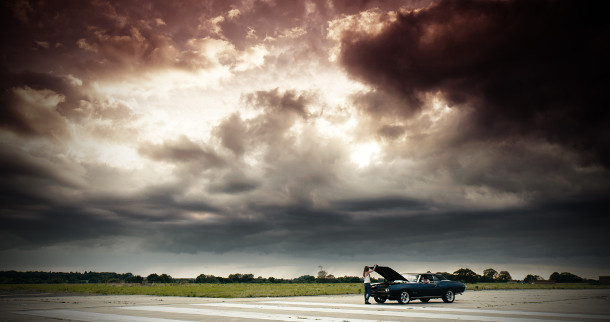 Updated 21 January 2015: FXhome has released a sizeable update to HitFilm 3 Pro, adding support for LUTs and options for deinterlacing footage, and an alternative exposure-based vignette effect (shown above).
There are also a number of bugfixes and smaller features, which you can read about on FXhome's blog. The update is free to registered users.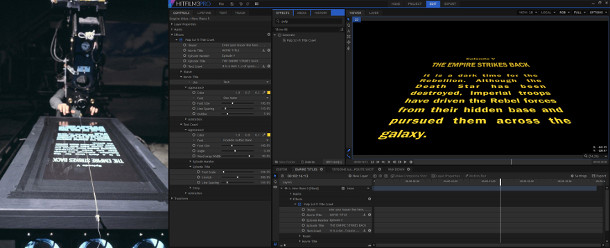 Updated 2 March: FXhome has released a third update to Hitfilm 3 Pro. Again, it's free to registered users.
The Star Wars-style title crawl effect (above) is fun, but more usefully for professional work, more effects are now available as plugins. The plugins are also now available for popular colour grading tool DaVinci Resolve 11.