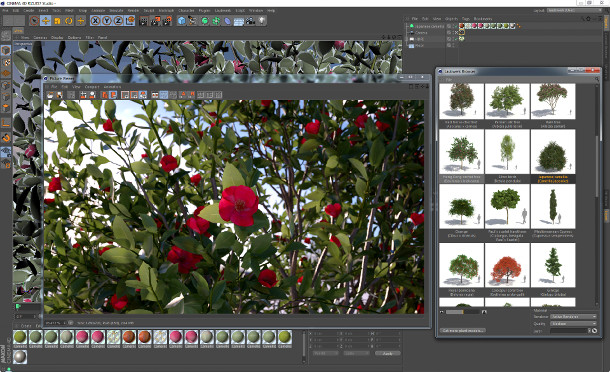 Laubwerk has updated its range of procedural plant models for 3ds Max and Cinema 4D, adding support for more advanced materials – and what looks to be the start of support for other 3D packages.
High-quality assets for artists and visualisation pros
We last featured Laubwerk on the site last February, when its first plants kit was released for 3ds Max, promising extremely detailed renders without "speed-crippling memory use".
Since then, the product line-up has expanded to four kits, each one containing ten species with 36 variant models per species; and its software base has expanded to include Cinema 4D.
Support for advanced materials
The new 1.09 update to the kits overhauls the materials system, adding support for translucency – nice for leaves against the sun – glossy reflections and the VRay2Sided material for anyone rendering with V-Ray.
The free bundled Laubwerk Browser also now supports three material quality settings for faster previews.
Import to other 3D apps via Python
And if you've got some coding skills, you can use the assets in other 3D software, since it's now possible to load the plants using Python, at least on Windows systems.
While Laubwerk notes that it doesn't yet directly support other apps, the list of apps it doesn't yet directly support (LightWave, Vue, Houdini, Blender) sounds like a fairly clear statement of intent.
Pricing and availability
Laubwerk Plant Kits cost €149 (around $250), excluding tax. There are two collections of temperate trees, and one each of subtropical and tropical trees. The 1.09 update is free to registered users.
Read more about the Plants Kits on Laubwerk's website
Read a full list of new features in the Laubwerk Plants Kits 1.09 update
Download Laubwerk's Freebie kit (two free species; 72 models in total)
Tags: 3ds max, Blender, Cinema 4D, detailed, glossy reflection, Houdini, import, Laubwerk, LightWave, material, model, plant, Plants Kit, procedural, Python, translucency, tree, V-Ray, vegetation, Vue