Wednesday, July 2nd, 2014

Posted by Jim Thacker
Download 60 new Xfrog plants for free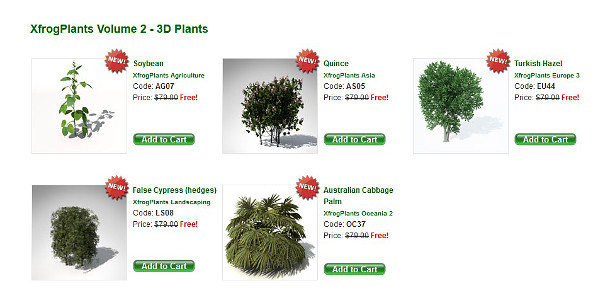 Some of the 10 plant species included in Xfrog's current giveway. In total, 60 plant models are available.
Xfrog has updated the selection of 3D plant and tree models it makes available for free, offering five species from both of its XfrogPlants collections in multiple formats and variant forms, for a total of 60 free plants.
This time round, the species are all trees and shrubs, barring a model of a soybean plant, and include a useful range of conifers and broadleaved trees.
Each one comes in a range of formats, including 3DS, OBJ and the native formats of 3ds Max, Cinema 4D, LightWave, Maya, Modo, Terragen and Vue.
Download the free Xfrog plant models from the Xfrog site (Registration required)