Lagoa has launched Lagoa.com, a very promising new online rendering and collaboration platform.
The service enables multiple users to collaborate on visualisation projects from anywhere in the world, and requires nothing more than an internet connection and a web browser: all of the work is done in the cloud.
Formerly known as TeamUp
You may remember Lagoa from last year's Siggraph demo, when the company was still known as TeamUp.
(The change of title presumably reflects the name recognition for co-founder Thiago Costa's previous creation: the Lagoa Multiphysics system, now integrated into Softimage.)
Powered by MultiOptics
At the heart of the system lies MultiOptics: a proprietary unbiased physically based renderer. According to Lagoa, "[the] engine is highly interactive, and the editing is real-time even when rendering millions of triangles".
Users can upload models in a range of standard 3D formats (OBJ, 3DS, PLY, STL, DAE, LWO) and manipulate them in the browser, seeing the viewport display update progressively as they do so.
MultiOptics comes with its own library of materials derived from measurements of their real-world equivalents, and is capable of achieving very realistic results with minimal set-up.
Moreover, multiple users can collaborate on the same assets, seeing one another's changes in real time.
Initial reactions
We were given a brief demo of Lagoa.com a couple of weeks back, and already the system looked fast and fluid, even when working on some fairly large scenes via a Transatlantic collaboration session.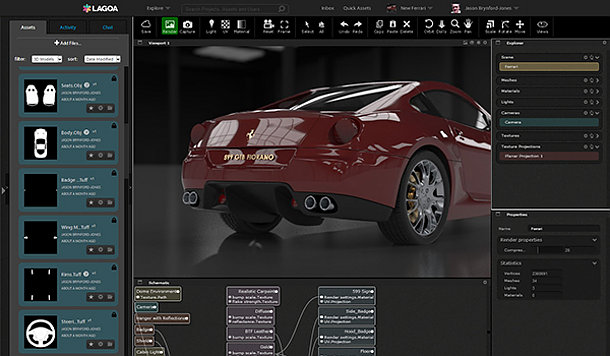 The interface will be familiar to users of 3D software, and hints at the power of the system, although it lacks the simplicity of comparable offline rendering systems like KeyShot.
Lagoa tells us it will be tailored to the device you're viewing it on.
Free to try
However, you don't need to take our word for it: registration on Lagoa.com is free, and entitles you to 1GB of cloud storage and 5 hours of rendering per month.
To be able to share assets privately, you'll need to sign up for a paid account, which start at $35/month.
The system runs on Windows, Mac OS X and Linux, and there is no need to pre-install any software. All you need to get started is a WebGL-enabled browser, including current builds of Chrome, Firefox and Safari.
Tags: browser, browser based, cloud, collaboration, collaborative, Lagoa, Lagoa multiphysics, Lagoa Technologies, lighting, materials, MultiOptics, online, physically accurate, rendering, TeamUp, Thiago Costa, unbiased, WebGL