Wednesday, November 15th, 2017

Posted by Jim Thacker
Lagoa to close its online rendering service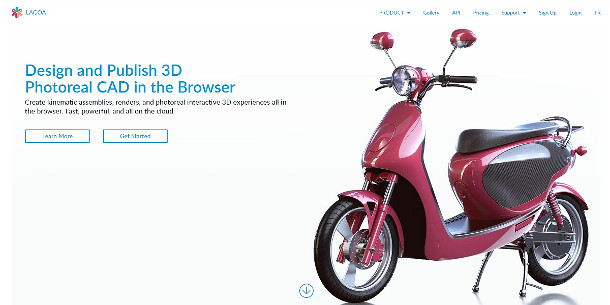 Pioneering online rendering and collaboration service Lagoa is to close. Rendering functionality will be turned off on 22 December 2017, and the Lagoa.com website will be taken down on 2 March 2018.
The firm describes itself as now being focused on development work for current owner Autodesk, and unable to give the original online service "the love and attention it needs".
Lagoa: a brief history of a pioneering cloud rendering firm
Launched in 2011, Lagoa was one of the first tools developers to embrace a purely cloud-based workflow.
Users – primarily CAD and visualisation artists – could upload models in a range of standard file formats, and assign materials and view interactive renders from within a standard web browser.
It was a vision that chimed with that of Autodesk, which acquired the company in 2014 with a view to accelerating the development of its own cloud-based services.
Now entirely subsumed into Autodesk product development
In an email to users, Lagoa comments: "[We started] with the mission to bring professional design tools to the browser. With our acquisition into the Autodesk family of products, that goal has largely been met."
"The Lagoa team is now completely dedicated to injecting our DNA into multiple Autodesk products, and we simply cannot give the Lagoa.com product the love and attention it needs."
Users looking for a similar service are directed to Autodesk's Fusion 360 platform, which offers similar browser-based rendering functionality.
Visit the Lagoa.com website (until 2 March 2018)
Read our archive 2013 interview with Lagoa founder Thiago Costa on his aims for the company