Thursday, September 30th, 2010

Posted by Jim Thacker
Autodesk releases updates to 3ds Max, Maya, Softimage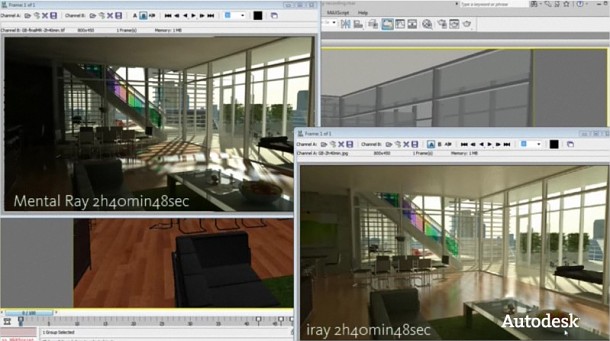 Autodesk has released its latest subscriber-only updates to its DCC products. The Subscription Advantage Packs for 3ds Max, Maya, Mudbox, MotionBuilder and Smoke are available now; Softimage will follow in October.
The packs function as 'half-point' updates for the products, so non-Subscription users can expect to see these features in the next full release of the software.
Highlights include:
3ds Max users get mental images' new iray GPU-accelerated physically accurate renderer, and GPU-acclerated PhysX rigid-body dynamics.
Maya users get four ready-made Craft Animations' camera rigs.
Softimage users get Thiago Costa's much-praised Lagoa Multiphysics system, Composite (the compositing system formerly known as Toxik) and MatchMover.
and
Mudbox users get the first ever Linux edition of the software (not strictly part of the Advantage Pack, but cool nonetheless).
For full details, check out the press releases below.
PRESS RELEASES (Excerpts)
Incorporates technology from well known industry partners and Autodesk developers to provide higher-level access to animation, shading and effects feature sets, enabling artists to focus on creativity.
Up to 75 lightweight, resolution-independent Substance dynamic textures
Four new input device-driven camera rigs from the Craft Director Studio animation tool to help emulate real-world setups
FX Assets, a range of easy-to-use effects that can be assigned to an object as easily as assigning a shader
Integrates leading technology from Allegorithmic, NVIDIA and mental images that helps transform rendering and simulation workflows.
Up to 75 lightweight, resolution-independent Substance dynamic textures
GPU-accelerated PhysX rigid-body dynamics
iray photorealistic renderer, one of the first physically accurate "point-and-shoot" renderers
Provides new and extended toolsets to help artists and technical directors realize their creative vision in less time.
New Interactive Creative Environment (ICE) shaders, predefined ICE FX and ICE model library
New modeling, compositing and matchmoving toolsets
In-viewport stereoscopic viewing supporting a range of display modes, and a stereoscopic camera rig
Delivers new tools to better facilitate virtual moviemaking and performance animation.
Ability to stream reference video from a motion capture session directly into MotionBuilder and record it simultaneously with the motion capture data on a per-take basis
Real-time curve filtering for higher-quality live motion output
Motion path up vector control, enabling cameras and certain other objects attached to a motion path to be assigned an up vector
Now available for the Linux operating system, the Subcription Advantage Pack for Mudbox 2011 delivers improved interoperability and expanded creative toolsets to enable easier software integration into studio pipelines. This helps to increase productivity without compromising artistic freedom.
New and improved posing and painting tools
Twenty-two new layer blend modes for enhanced interoperability with Adobe Photoshop
New topology and UV-independent workflows to help address common production challenges
Provides new creative tools and increased format support to help artists finish today's challenging projects with more of what they need to own the creative – from first cut to final delivery.
New support for Avid Artists Series Control Panels offering more precise control over color, soft effects and transport controls
New support for ARRIRAW media and enhanced in-application support for RED RAW media.
New GPU-accelerated glow, blur and gradient tools
Enhanced support for finishing stereoscopic 3D projects when capturing from EDL and the option for parallel rendering of stereoscopic effects in the timeline
Download Autodesk Advantage Packs here (Subscription customers only)