Tuesday, March 4th, 2014

Posted by Jim Thacker
Softimage died to help Max and Maya, says Autodesk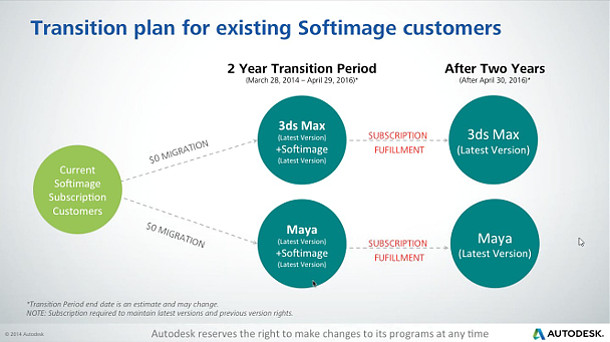 Autodesk's original Softimage migration plan. Since this story was originally posted, the company has changed its policy, and will now provide subscription customers with access to Softimage indefinitely.
Autodesk has confirmed that the upcoming Softimage 2015 will be the last release of the software, after the information leaked online earlier today via a UK reseller's website.
Speaking at a press conference, Autodesk industry manager Maurice Patel described the discontinuation of the software to focus development resources on Maya and 3ds Max as a "tough decision".
"The industry has been going through some challenging times. To address this we needed to focus our energy on [two products]," he said. "The cost of continuing Softimage and keeping it up to par [was prohibitive]. It has long been the case that we've not been able to do that."
Softimage users on maintenance contracts will be offered either 3ds Max or Maya cost-free for the next two years, until Softimage support, hotfixes and service packs are withdrawn in April 2016.
After that, switching to Max or Maya will be the only way to continue to receive support.
Updated 10 March: Autodesk has now changed its migration policy in response to user feedback. Users on subscription contracts will now be able to access Softimage "indefinitely". You can read full details here.
Putting the strengths of Softimage in other software
The Softimage development team has been moved on to other projects, including Bifrost, the fluid simulation technology formerly known as Naiad that Autodesk acquired from Exotic Matter in 2012.
In addition, some of the developers have been specifically tasked with "making the transition [to 3ds Max or Maya] easier" for Softimage users.
Patel noted that users could expect to see changes in other products to incorporate "the best of the strengths of Softimage", but warned that anyone expecting Softimage Mk. II would be disappointed.
"Ultimately, we're not going to recreate Softimage in Maya or Max, because it won't be efficient," he said. "Maya users are comfortable with their existing ways of working."
Asked whether Softimage's ICE visual programming system – often regarded as one of the key strengths of the software – would be integrated into 3ds Max or Maya, Patel commented that "the [design] concepts behind ICE will continue to live on, but we will not build ICE again within those products".
Entertainment product suites reshuffled
The discontinuation of Softimage will also mean a reshuffle of Autodesk's Entertainment Creation Suites, with the $6,825 Premium suite – the Standard suite plus Softimage – being withdrawn, and the top-of-the-range Ultimate suite being cut in price from $8,395 to $6,825 to take its place.
Read the official FAQs about the discontinuation of Softimage on Autodesk's website