Autodesk intends to "retire" Softimage over the next two years, if the text of a now-removed announcement posted on a UK reseller's website proves to be accurate.
According to the page on Jigsaw24's site – presumably published accidentally, but currently still accessible via the Google cache – next year's release of Softimage will be the last one.
Product support will be provided until April 2016, and service packs until 30 April 2016.
Migrate to Max or Maya
The official advice for Softimage users – or Jigsaw24's take on it – seems to be 'jump ship before it sinks'.
Anyone with a current subscription will be able to migrate to a bundle package of Softimage plus either 3ds Max or Maya when the 2015 product releases ship later this year.
According to Jigsaw, Autodesk intends to "start adding Softimage's functionality into the Entertainment Creation Suites" – presumably making it a legacy component in the same way that Toxik became Autodesk Composite.
We've contacted Autodesk for an official confirmation or denial, and we'll update when we hear back. For the minute, we've attached a full screenshot of Jigsaw24's original webpage below.
Updated: Autodesk has confirmed that the upcoming 2015 release of Softimage will be the last, and has posted an FAQs document about the news on its website.
We attended the company's online press conference earlier today, and will post a more detailed story later on.
Updated 10 March: Autodesk is now to provide customers on subscription contracts with access to Softimage "indefinitely", even after support is discontinued in 2016. You can find full details here.
Jigsaw24's original announcement (retrieved from Google cache on 4 March)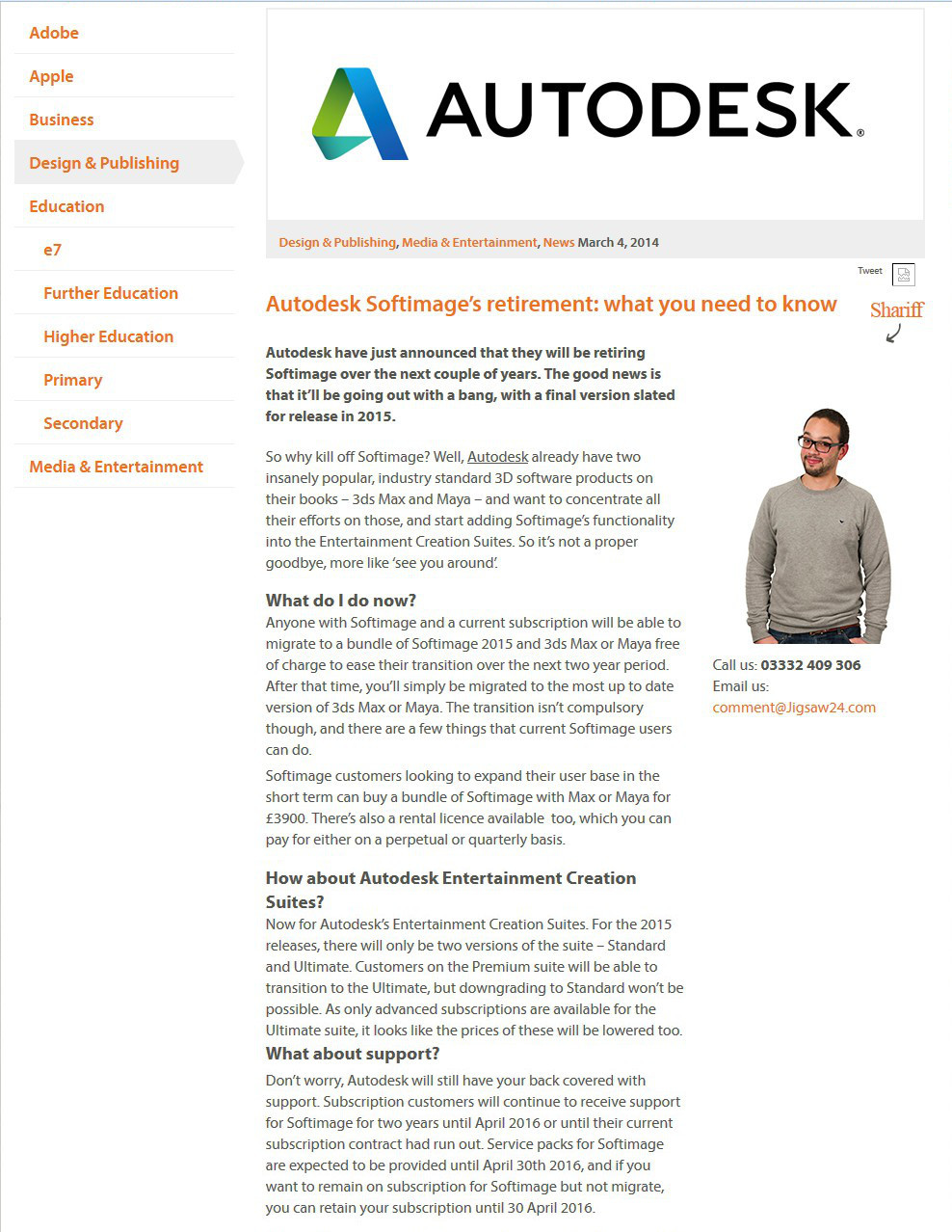 Tags: autodesk, date, discontinue, Jigsaw24, kill, migration, retire, rumor, softimage, Softimage 2015