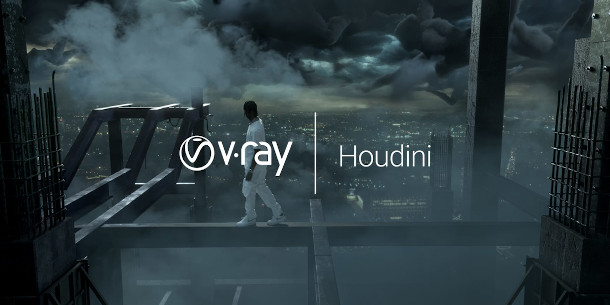 Chaos Group has released V-Ray Next for Houdini Update 1, the latest version of the renderer for SideFX's VFX-industry-standard 3D animation and effects software.
The update – the first since the software was released last year – adds support for custom AOVs and texture paths, and for debug shading, and improves memory efficiency on massively instanced scenes.
A readymade look development pipeline across Maya and Nuke
Houdini already has a pretty powerful built-in renderer, Mantra, so Chaos Group pitches V-Ray for Houdini as much in terms of streamlining a studio's production pipeline as for final-frame rendering.
V-Ray scenes should display consistently across editions of the renderer for common VFX production tools, including Maya, Katana and Nuke, meaning that look dev work can be transferred between applications.
The Houdini edition now supports the vast majority of features from the other versions of V-Ray, but you can find a list of current restrictions here.
New in Update 1: support for custom AOVs, debug shading and improved instancing
New features in Update 1 include support for custom AOVs and custom attribute texture paths, the latter permitting "smooth randomisation of textures with support for per-face and per-primitive string attributes".
The release also adds the option to isolate selected textures or materials in the interactive render preview to help debug complex shading networks: something already possible in V-Ray Next for Maya.
Other workflow improvements include drop-down menus for quick selection of render nodes and cameras.
Although Chaos Group's release notes don't put figures on the changes, performance improvements include better memory efficiency on scenes with heavy instancing.
The time taken to import assets from other DCC tools and launch renders on scenes with heavy geometry has also been reduced.
Pricing and availability
V-Ray Next for Houdini Update 1 is available now for Houdini and Houdini Indie 17.0 and above running on Windows 7+, RHEL/CentOS 6.2+ or Fedora 16+ Linux and Mac OS X 10.10.2+.
Unlike older editions of V-Ray, the software is rental-only. Subscriptions cost $80/month or $470/year.

Read a full list of new features in V-Ray Next for Houdini Update 1 in the online documentation
Read an overview of V-Ray for Houdini on Chaos Group's website
Tags: .vrayscene, Chaos Group, custom AOV, custom texture path, debug shading, hair, instancing, interactive rendering, Katana, look dev, look development, Mantra, Maya, price, renderer, rendering, SideFX, supported features, system requirements, texture randomization, V-Ray, V-Ray for Houdini, V-Ray for Houdini Update 1, V-Ray GPU, V-Ray Next, V-Ray Next for Houdini Update 1