Tuesday, November 14th, 2023

Posted by Jim Thacker
Autodesk to launch Flow in 2024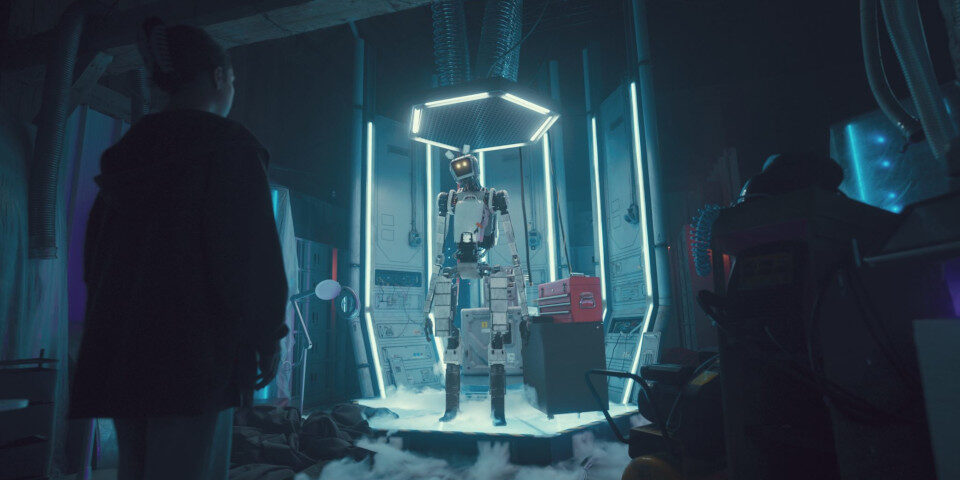 A still from a 90-second film produced by Fathom Studios as a test of Autodesk Flow.

Originally posted on 14 November 2023. Updated with more information on 28 November.
Autodesk has unveiled more details of Flow, its 'industry cloud' for media and entertainment at Autodesk University 2023, its annual user conference.
Flow should become available in 2024, and the first two Autodesk products to be integrated with it will be production-tracking system ShotGrid and digital dailies platform Moxion.
Below, we've summarised what we know about Flow so far.
Updated 28 November: We've updated this story with extra information provided by Mimi Hoang, VP Production Management & Platform for Autodesk Media & Entertainment.
What is Autodesk Flow?
Autodesk pitches Flow as a cloud-based platform connecting "people, workflows, and data across the entire production lifecycle from earliest concept to final delivery".
It's of three 'industry clouds' that Autodesk announced at Autodesk University last year, alongside Forma and Fusion, its equivalents for AEC, and design and manufacturing.
The three form part of Autodesk's wider Design and Make platform, underpinned by Autodesk Platform Services, a collection of lower-level APIs and services.
What is Flow for?
Autodesk says that Flow is intended to serve "a broad range of capabilities for both creating and managing content, connected by a common data model and asset management system".
As key objectives, it lists fostering collaboration across teams – both between studios, and between the stages of production: pre-production, the live shoot, and post.
The company aims to provide a "single source of truth for all assets, versions, and feedback".
Other objectives including enabling studios to automate repetitive pipeline tasks, and to generate analytics to budget and schedule future projects more accurately.
What Autodesk services will be available through Flow?
The first products to be integrated with Flow will be Autodesk's existing cloud-based services.
ShotGrid, its production-tracking platform, will become Flow Production Tracking, while Moxion, the digital dailies platform Autodesk acquired last year, will become Flow Capture.
Neither will become part of Flow exclusively: Autodesk tells us that it will still be possible to subscribe to both Moxion and ShotGrid independently.
Will Flow include content-creation tools?
Unlike with the Fusion cloud and Fusion 360, Autodesk doesn't have an existing cloud-based content creation platform that it can integrate with Flow.
Instead, to generate assets for use within Flow's review and production tracking systems, users will be able to connect existing offline tools.
Autodesk describes Flow as an "open ecosystem", so as well as Maya, artists will be able to use other manufacturers' software, starting with Avid, Foundry and SideFX.
Applications namechecked specifically include Houdini and Avid's Media Composer.
When we asked whether we might see an equivalent to Fusion 360 in Flow in future, Autodesk told us while Flow will provide "access to native content creation apps, rather than developing one single, cloud-based tool, we're looking to develop a number of workflow- and persona-specific capabilities".
What other capabilities could Flow have?
Further down the line, Autodesk's latest blog post on Flow mentions AI-based 'generative scheduling' to automate the allocation of resources to tasks within a project: something the firm has been talking about introducing in ShotGrid – then still known as Shotgun – since 2020.
Autodesk has now switched to building generative scheduling on top of the Autodesk platform, rather than ShotGrid alone, to make it available to users outside the M&E market.
The functionality is now in beta, with general availability "expected in the near future".
What kind of users is Flow aimed at?
The product webpage describes movie and broadcast workflows, including post work like VFX. However, Autodesk says that when building Flow, "games are top of mind too".
Flow will initially roll out to "charter customers", and the firms namechecked in Autodesk's blog post – Electronic Arts and Walt Disney Animation Studios – are some of the largest in their fields.
However, Autodesk told us last year that Flow is ultimately "intended for studios of all size".
When will Flow be publicly available?
Autodesk tells us that users can request early access to Flow now, but the workflow shown at Autodesk University will become available in January 2024: the date given in its online FAQs.
Wider availability is expected later in 2024, although there's a pretty heavy caveat that "timing is subject to change".
How much will Flow cost?
Autodesk hasn't announced pricing yet.
However, the firm told us that at launch, Flow Capture and Flow Production Tracking will "maintain comparable pricing options to Moxion and ShotGrid".
Read Autodesk's latest blog post on Flow
Read more about Flow on Autodesk's product webpage
(Includes FAQs)

Have your say on this story by following CG Channel on Facebook, Instagram and X (formerly Twitter). As well as being able to comment on stories, followers of our social media accounts can see videos we don't post on the site itself, including making-ofs for the latest VFX movies, animations, games cinematics and motion graphics projects.