Friday, June 23rd, 2023

Posted by Jim Thacker
Free tool Masterpiece X lets you 'remix' characters in VR

Masterpiece Studio has released Masterpiece X, an interesting free application that lets indie game developers create new assets by 'remixing' content from an online library inside virtual reality.
The software, which is currently in early access, enables users with Meta Quest 2 headsets to generate 3D characters with custom geometry, textures, rigs and animations.
A more beginner-friendly alternative to Masterpiece Studio Pro
Masterpiece Studio has been developing virtual reality content creation tools for some years now, releasing its current flagship product, VR sculpting, rigging and animation tool Masterpiece Studio Pro in 2021.
Masterpiece X is aimed at a rather different audience, being intended to let hobbyists and indie game developers create custom 3D content without the need to develop it completely from scratch.

Create animated low-poly 3D characters by 'remixing' stock content from the online library
Masterpiece X lets users create custom 3D assets by 'remixing' content from Masterpiece's Community Library, an online library of stock content available under a Creative Commons CC0 licence.
The video above shows the process for a humanoid character, but the promo embedded at the top of the story shows a wider range of content, including creatures, vehicles and environment assets.
Users can change the shape and colour of the model by manipulating the mesh directly in virtual reality, and painting directly on its surface.
For character rigging, the software comes with auto-rigging and auto-skinning systems, although it's possible to work manually, drawing out bones and painting weight maps in virtual reality.
Animation can also be done by keyframing the character manually, although given the target audience, we imagine that most users will simply apply readymade animation clips from the built-in library.
Once complete, the 3D asset can be exported to the Community Library, from where it can be downloaded in standard 3D file formats.
Unlike with the free edition of Masterpiece Studio Pro, it is possible to keep content uploaded to the library private, although you can choose to make it available to other users.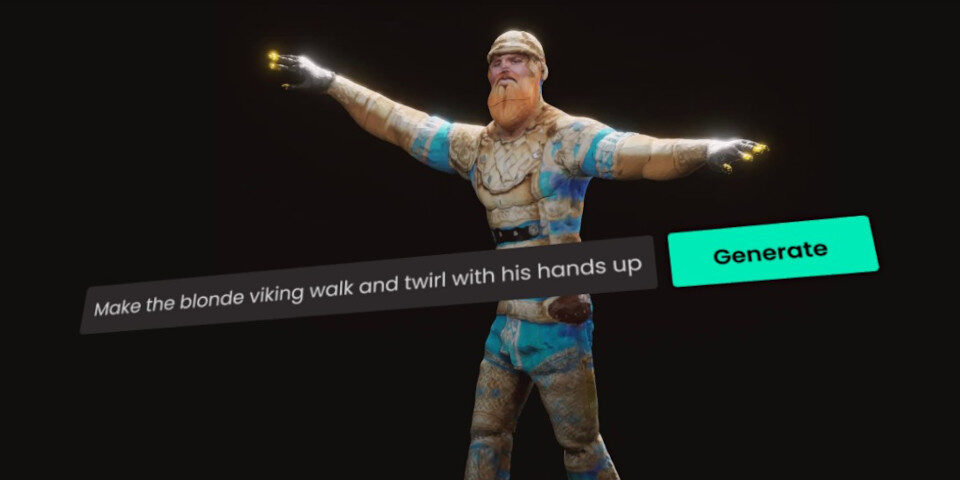 Generative AI capabilities to come in future updates
Masterpiece Studio also plans to add generative AI capabilities to Masterpiece X: the promo material shows text-to-3D and text-to-animation systems.
They are currently in closed alpha, but you can apply to join the waitlist here.
Price and system requirements
Masterpiece X is compatible with Meta's Quest 2 and Quest Pro headsets and Touch controllers.
The app is currently available free in early access: Masterpiece Studio tells us that it plans to add paid tiers later, but that the base app will remain free.

Read more about Masterpiece X on Masterpiece Studio's blog
Download free '3D remixing' app Masterpiece X from the Meta Quest online store