Nvidia's latest demo of Omniverse audio-to-animation app Audio2Face. The 3D character is rendered using the upcoming real-time ray traced SSS shading capabilities in Omniverse Kit 105, due out later this spring.

Nvidia has announced its latest updates to Omniverse, its real-time 3D design collaboration platform.
Highlights include new integration plugins for Unity and the Cesium geospatial data platform, and upcoming real-time ray traced subsurface scattering and new AI-based text-to-materials capabilities in Omniverse Kit.
The announcements were made at GTC 2023, along with six new professional RTX GPUs, and a partnership with Shutterstock to develop a new generative AI text-to-3D-model service.
A USD-based collaboration platform for VFX, game development, design and visualization
Officially launched last year after a year in beta, Omniverse enables artists and designers anywhere in the world to collaborate on projects in real time.
Data is exchanged between compatible CAD and DCC applications and Omniverse in USD format, with connector plugins available for tools including 3ds Max, Maya, Revit, Rhino, SketchUp and Unreal Engine.
New names for Omniverse Create and Omniverse View
As well as the Omniverse core, Nvidia has released frontend applications for specific tasks, including Omniverse Create for scene layout and editing, and Omniverse View for scene review.
At least, that's what the applications were called, since one of the changes in the Spring 2023 is to rename Omniverse Create to USD Composer and Omniverse View to USD Presenter.
New real-time SSS and generative AI tools due in Omniverse Kit 105 later this spring
Nvidia has also previewed the new features in Omniverse Kit 105, the latest version of Omniverse Kit, its SDK for building Omniverse applications, including its own apps.
The update, due out this spring, will feature what Nvidia claims is the "first real-time ray traced subsurface scattering shader", shown in use to render the skin of the digital character in the video at the top of the story.
The update will also feature new generative AI features, including text-to-materials and text-to-code capabilities, and 1,000 new assets in Nvidia's SimReady collection of readymade 3D assets.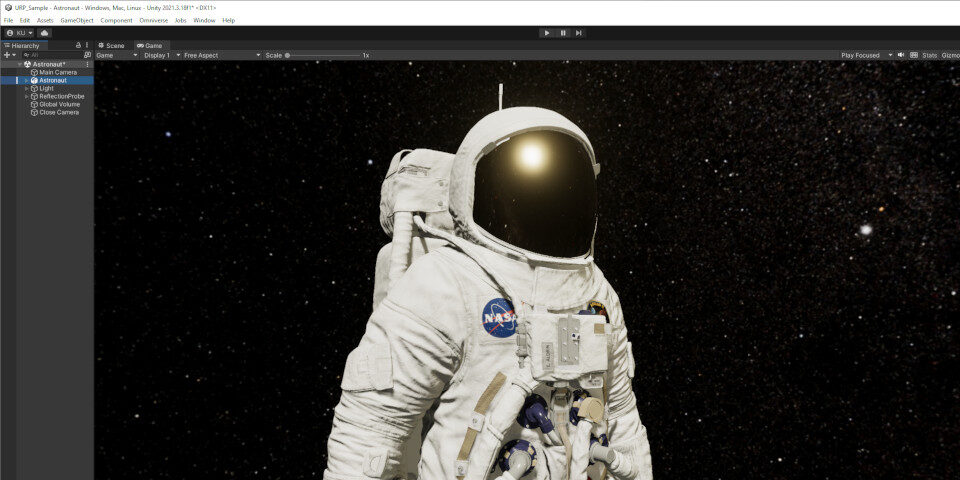 New Unity and Cesium integrations
There are also new integration plugins for transferring data to and from CG applications.
Most are for CAD tools, but there is also new Unity Connector for the Unity game engine (shown above, and currently in beta), and Cesium for Omniverse, for streaming geospatial data into Omniverse.
Blender users get a new Nucleus Connector add-on for reading and writing assets on Omniverse servers from directly within the open-source 3D software.
It installs as part Nvidia's experimental alpha branch of Blender, available through the Omniverse launcher: it isn't a connector plugin for the standard public build of Blender.
In addition, disguise has announced an integration between its virtual production platform and Omniverse, currently in closed beta.
Availability and system requirements
The Omniverse apps are compatible with Windows 10+ and CentOS 7/Ubuntu 18.04+ Linux. Most require a Nvidia GeForce RTX 3070 GPU or better. Find detailed system requirements here.
Ominverse is free for individual artists. For teams, commercial Enterprise subscriptions are available through Nvidia's partner firms. You can find pricing information in this story.

Read Nvidia's blog post about its Spring 2023 updates to Omniverse
Tags: AI art tools, AI-based, AI-trained, arch viz, architectural visualization, Audio2Face, Blender, Cesium, Cesium for Omniverse, connector, disguise, free edition, free to indei artists, game dev, game development, generative AI, GTC 2023, integration plugin, motion graphics, new features, Nucleus Connector plugin for Blender, NVIDIA, Omniverse, Omniverse Create, Omniverse Kit, Omniverse Kit 105, Omniverse View, online collaboration, price, ray tracing, real time, SDK, SimReady, Spring 2023, subsurface scattering, system requirements, text to code, text to materials, Unity, USD Composter, USD Presenter, vfx, virtual production, visual effects