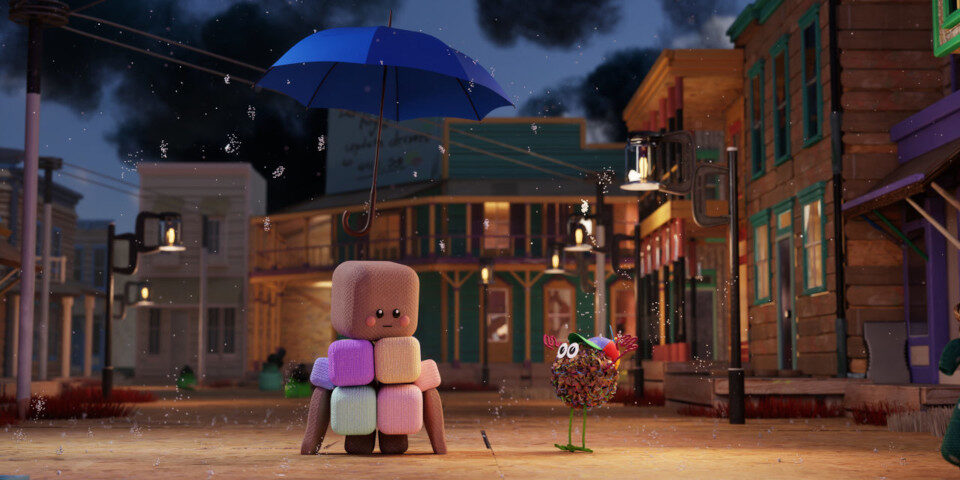 Nvidia has announced its latest updates to Omniverse, its real-time 3D design collaboration platform.
Highlights include a new version of the Omniverse-compatible version of Blender that adds 'one-button' integration with Audio2Face, Nvidia's free AI-based tool for generating facial animation from audio.
In addition, free AI-based painting tool Canvas will become part of the Omniverse family, with the next update also making it possible to generate 360-degree environments suitable for use in 3D scenes.
A USD-based collaboration platform for VFX, game development, design and visualization
Officially launched last year after a year in beta, Omniverse enables artists and designers anywhere in the world to collaborate on projects in real time.
Data is exchanged between compatible CAD and DCC applications and Omniverse in USD format, with connector plugins available for tools including 3ds Max, Maya, Revit, Rhino, SketchUp and Unreal Engine.
As well as the Omniverse core, Nvidia has released frontend applications for specific tasks, including Omniverse Create for scene layout and editing, and Omniverse View for scene review.

Updates to Omniverse Create, View and Audio2Face, plus a new version of Canvas soon
Nvidia's blog posts on the latest changes to Omniverse cover a range of apps and connectors, but those most relevant to CG Channel readers include new versions of Omniverse Create and View.
We covered Omniverse Create 2022.3 on its initial beta release in November, while the key change in Omniverse View 2022.3 is the streamlined, more minimal UI design.
Audio2Face, Nvidia's AI-based tool for generating facial animation from audio sources, gets a performance update, with Audio2Face 2022.1.2 adding support for Nvidia's current-gen Ada GPUs.
Nvidia also announced that Canvas, its free AI-based painting tool, will be added to the Omniverse Launcher, and posted a teaser video for the next release (embedded above).
The update – available later this quarter – will make it possible to generate 360-degree images suitable for use as environments in 3D scenes, as well as conventional 2D images.
New Unity connector enters early access, and more features for Blender users
Of the connectors, there is a new Omniverse connector for Unity, currently in early access, and a bugfix update to the Substance 3D Painter connector.
Blender integration is currently handled via a separate experimental build of Blender rather than a connector, with the latest release adding a new Audio2Face add-on to improve workflow with Audio2Face.
There is also a new Optimization add-on, which Nvidia's blog post describes as enabling users to "repair geometry, generate automatic UVs and decimate high-resolution CAD data to more usable polycounts".
Outside CG Channel's areas of coverage, avatar-generation platform Omniverse ACE moves into wider early access, while games modding platform RTX Remix will be in early access "soon".
Availability and system requirements
The Omniverse apps are compatible with Windows 10+ and CentOS 7/Ubuntu 18.04+ Linux. Most require a Nvidia GeForce RTX 3070 GPU or better. Find detailed system requirements here.
Ominverse is free for individual artists. For teams, commercial Enterprise subscriptions are available through Nvidia's partner firms. You can find pricing information in this story.

Read Nvidia's blog posts about its January 2023 updates to Omniverse here and here
Tags: 360-degree environment, AI-based, AI-trained, arch viz, architectural visualization, Audio2Face, Audio2Face 2022.1.2, Blender, Canvas, CES 2023, digital painting, free edition, game dev, game development, highlights, January 2023, motion graphics, new features, NVIDIA, Omniverse, Omniverse Create, Omniverse Create 2023.3, Omniverse View, Omniverse View 2022.3, online collaboration, price, Substance 3D Painter, system requirements, Unity, vfx, visual effects