Maxon has released ZBrush 2023.1, the latest version of its digital sculpting software.
Changes include Proxy Pose, a new system for posing characters whose topology means that they don't perform well when posed directly, with users working instead on a clean, low-res proxy of the sculpt.
The update also introduces Drop 3D, an interesting new way to detail low-poly models that uses ZBrush's Dynamesh system to increase mesh density automatically around 2.5D brush strokes.
The new features are only available to users with active subscriptions, Maxon having announced that users with perpetual licences of ZBrush 2023 only receive bugfixes and feature enhancements from the update.
The changes were announced during a livestream yesterday, the recording of which is embedded above.
Timed to coincide with Maxon's other Spring 2023 updates
For artists used to the previous ZBrush release schedule, ZBrush 2023.1 is a fairly small update, but also an unexpectely sudden one, ZBrush 2023 itself having been released just two months ago.
Whereas original developer Pixologic tended to release new features in large updates spaced six to twelve months apart, Maxon is opting for smaller, more frequent updates.
In this case, the timing has been dictated by Maxon's Spring 2023 release, which features updates to most of the company's other software.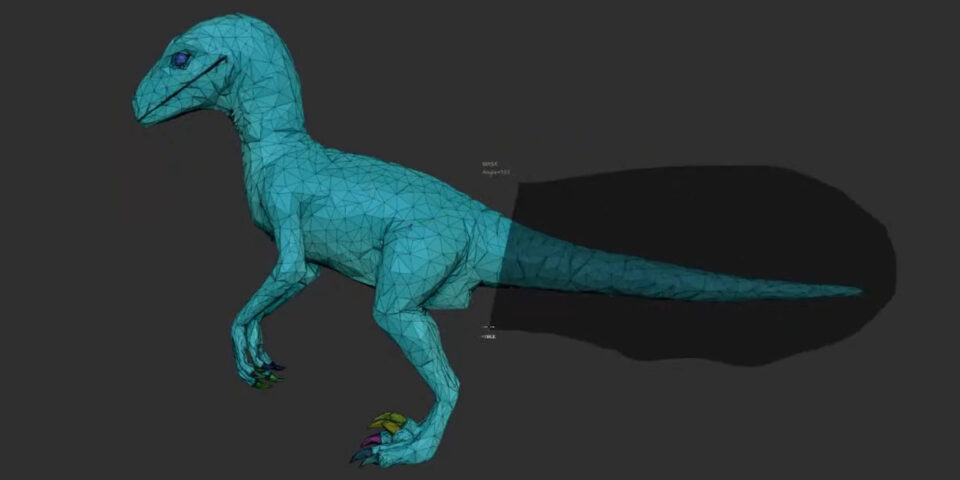 Posing a character using Proxy Pose. The new features generates a low-resolution proxy version of a high-resolution sculpt that can then be posed cleanly using ZBrush's standard sculpting tools.

Proxy Pose lets you pose characters cleanly, even those with poor topology
Nevertheless, there are some interesting new features in ZBrush 2023.1, including Proxy Pose, a new system for posing characters using a low-res proxy of a sculpt.
ZBrush first decimates the high-resolution model to generate a low-resolution proxy with clean topology, with the user controlling the geometry count via a Reduction Amount slider in the new Proxy Pose sub-palette.
The user can then pose the low-res proxy using the standard sculpting tools and have ZBrush transfer the pose back to the original high-resolution model.
The workflow is designed for meshes that don't peform when posed directly with existing tools like Transpose Master, including those with "suboptimal topology with no lower levels of subdivision available".
As well as subdivided meshes, it works with sculpts created using ZBrush's DynaMesh system.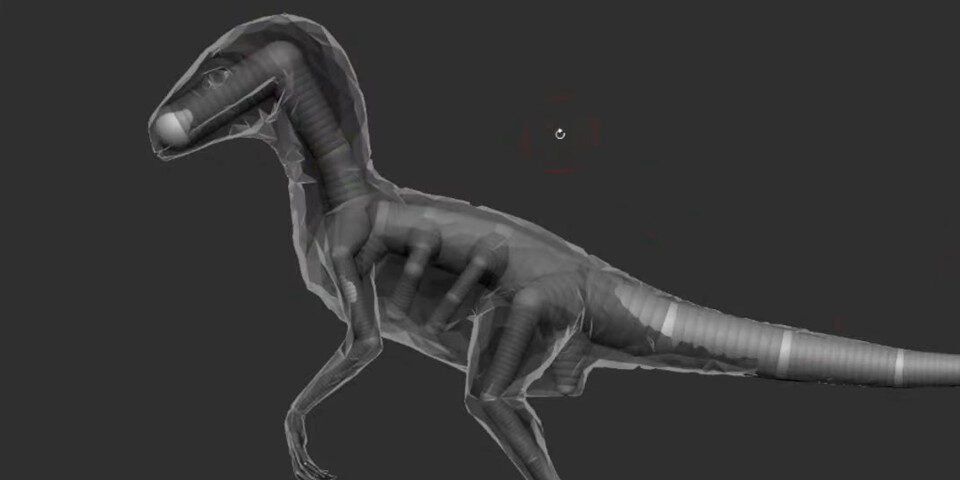 A ZSphere skeleton bound to a low-poly proxy generated by Proxy Pose. The workflow can be used to pose characters by manipulating the ZSphere 'rig', then transferring the resulting pose back to the high-res sculpt.

Can be used to 'rig' and animate characters directly inside ZBrush
Proxy Pose can be used to manipulate high-resolution characters inside ZBrush in a way that will be familiar to character riggers and animators in other DCC applications.
At 00:14:15 in the livestream, you can see a ZSphere rig being bound to a proxy mesh and used to pose a character, with the pose then transferred back to the original high-resolution model.
Later sections of the video show Proxy Pose in use with Layers and the Timeline to create simple animations.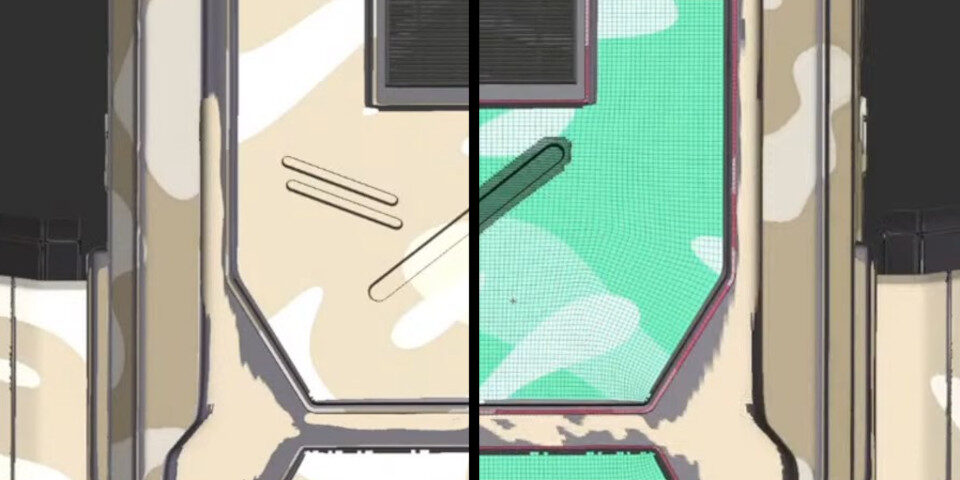 Drop 3D combines ZBrush's 2.5D canvas with Sculptris Pro, its dynamic tessellation system, increasing mesh density around 2.5D brush strokes (shown on the right of the image) to ensure that alphas display cleanly.

Drop 3D adds clean surface detail even very low-resolution geometry
For hard surface modelling, ZBrush 2023.1 introduces Drop 3D, a new feature for detailing models that combines ZBrush's 2.5D canvas with Sculptris Pro, its dynamic tessellation system.
Clicking the Drop 3D button in the Document Palette drops the model into 2.5D mode, with users then able to use the 2.5D tools to paint details onto its surface.
ZBrush uses Sculptris Pro to increase the density of the mesh around each stroke, meaning that brush alphas are applied cleanly even to very low-resolution geometry.
Since it is possible to move or duplicate the strokes after they have been created, users can quickly edit the resulting details in a way that would not be possible with ZBrush's 3D tools.
Maxon describes it as a way to "explore design concepts aligned with illustration techniques".
New options to create alphas from IMM and VDM brushes and undoing lighting and material changes
Other changes include a new From IMM option in the Alpha and Stencil palettes, which enables users to create alphas from Insert MultiMesh (IMM) and Vector Displacement Mesh (VDM) brush geometry.
In addition, Undo and Redo options have been added to ZBrush's Lighting and Material palettes.
There are also a number of feature updates and bugfixes, which you can find in the online changelog.
So which features do you get if you have a perpetual licence?
However, not all of the features in ZBrush 2023.1 are currently available unless you have a subscription.
According to Maxon's online FAQs, users with perpetual licences receive "all bug fixes and feature enhancements", but new features are "reserved for the next paid upgrade" – that is, ZBrush 2024.
That includes perpetual licences bought after the release of ZBrush 2023.1: new licences are for the "base 2023 version" with "new features introduced in 2023.1 or beyond" reserved for the next paid upgrade.
The news has prompted complaints from perpetual licence holders, many already angered by the comparatively high cost of upgrading to ZBrush 2023 from previous editions of the software: at $659, over 70% of the price of a new perpetual licence.
ZBrush 2023 was the first update for which many perpetual licence holders had had to pay, Maxon having ended Pixologic's policy of releasing updates for free on buying the company last year.
Price and system requirements
ZBrush 2023.1 is compatible with Windows 10+ and macOS 10.14+. New perpetual licences cost $895; subscriptions cost $39/month or $359/year.

Read a full list of new features in ZBrush 2023.1 in the online changelog
Read Maxon's FAQs about features available to perpetual licences of ZBrush
Tags: 2.5D canvas, 2.5D tools, 3D modeling, 3D painting, alpha, Alpha palette, Character Animation, character design, character modeling, character rigging, convert IMM brush to alpha, convert VDM brush to alpha, create proxy, decimate model, digital sculpting, Drop 3D, DynaMesh, dynamic tessellation, FAQs, first paid update, first paid upgrade, game art, game development, hard surface modeling, IMM, Insert Multi Mesh, layers, Lighting palette, low-resolution proxy, Material palette, Maxon, motion graphics, new features, perpetual licence, Pixologic, pose high-resolution character with poor topology, price, price change, Proxy Pose, retopology, Sculptris Pro, Stencil palette, subscription, system requirements, timeline, Transpose Master, undo, undo lighting change, undo material change, upgrade, VDM, Vector Displacement Mesh, vfx, visual effects, which features in ZBrush 2023.1 are available to perpetual licence holders, ZBrush, ZBrush 2023, ZBrush 2023.1, ZSphere