Friday, February 3rd, 2023

Posted by Jim Thacker
Substance 3D Designer's creators win Sci-Tech Awards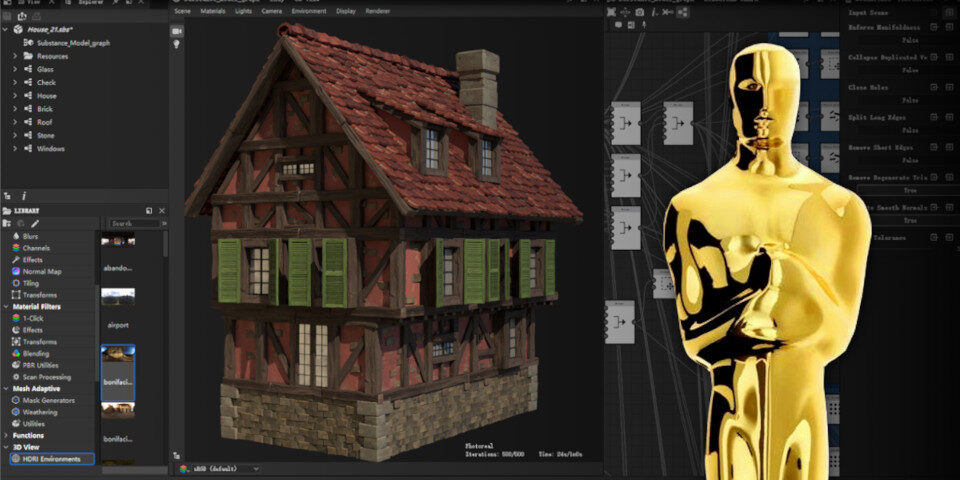 Oscar statuette image: Wikimedia Commons.

The creators of Substance 3D Designer have won Scientific and Technical Academy Awards.
Other Sci-Tech awards – the Oscars of the technology world – go to the developers of Pixar's Fizt2 simulation system, and of Framestore and Wētā FX's in-house render management systems.
The physical awards will be presented at a ceremony in Hollywood later this month.
Substance 3D Designer's creators win Technical Achievement awards
This year's Technical Achievement award-winners include the creators of node-based material-authoring Substance 3D Designer, originally developed by Allegorithmic, and acquired by Adobe in 2019.
Allegorithmic founder Sébastien Deguy and Christophe Soum receive their awards for the underlying Substance Engine; Sylvain Paris and Nicolas Wirrmann for the design of Substance 3D Designer itself.
The Academy Award citation describes Designer as providing artists with a "flexible and efficient procedural workflow for designing complex textures" through its "sophisticated and art-directable pattern generators".
Although initially used mainly in game development, Substance 3D Designer has since been widely adopted in movie pipelines, with Framestore's work on Blade Runner 2049 being a watershed moment.
The software has since been used on visual effects blockbusters like Star Wars: The Rise of Skywalker and Dune, and animated features including Abominable, Frozen 2, Encanto and Lightyear.
In a post on LinkedIn, Sébastien Deguy described himself as "incredibly humbled and thankful", commenting that he founded Allegorithmic to "create software tools that, I hoped, would inspire 3D artists to produce more amazing visual effects than ever".
Substance Engine now powers a growing ecosystem of Substance 3D applications, including texture painting software Substance 3D Painter, also increasingly used in movie work.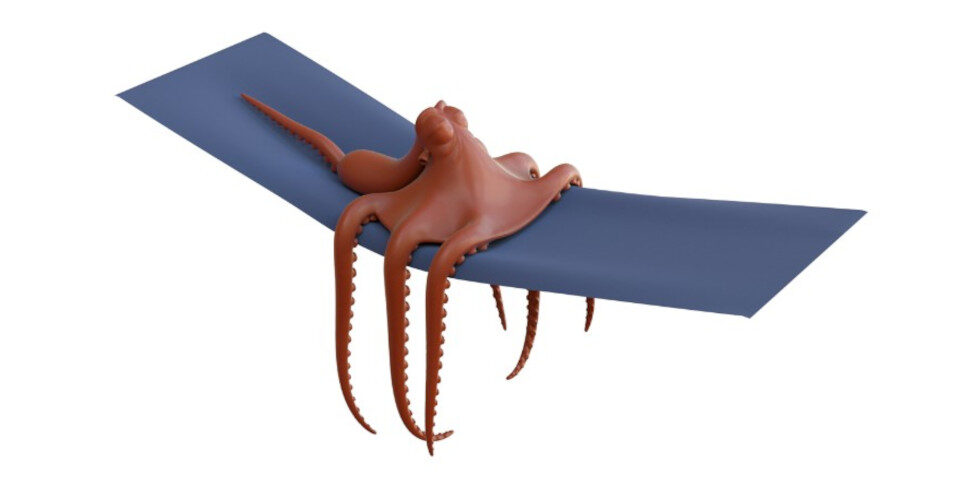 Other awards go to the creators of Pixar's Fizt2 simulation framework
Other Sci-Tech Awards go to Pixar tools lead David Eberle and his colleagues Theodore Kim, Fernando de Goes and Audrey Wong for the design and development of the studio's Fizt2 elastic simulation system.
The second major iteration of Pixar's core simulator, Fizt2 incorporates a range of recent advances in cloth, skin and flesh simulation, developed during work on animated features from 2017's Coco onwards.
The original Fizt had been Pixar's core simulation tool since 2001's Monsters, Inc.
The Academy citation describes Fizt2 as a "high-performance solver with novel and stable implicit physics [that lets artists] apply soft-body dynamics to a broad range of interacting animated characters and objects".
In-house render management tools at leading VFX firms also win awards
The creators of the in-house render management tools at some of the world's top VFX firms also win awards.
Mark Hills and Jim Vanns win theirs for the design and engineering of FQ, Framestore's render queue manager, used since 2010 for CG production at all of Framestore's facilities worldwide.
According to its Academy citation, "with an architecture that has remained largely unchanged for more than a decade, FQ continues to support substantial growth in computational complexity at Framestore".
Matt Chambers, now principal engineer at AI data engine platform Labelbox, wins his award for his work on two render management systems: Sony Pictures Imageworks' Cue 3 and Wētā FX's Plow.
Cue 3, in particular, has had an impact on the wider visual effects industry, since it formed the basis of open-source render engine OpenCue, now overseen by the Academy Software Foundation.

Read the full list of winners for 2023's Scientific and Technical Academy Awards