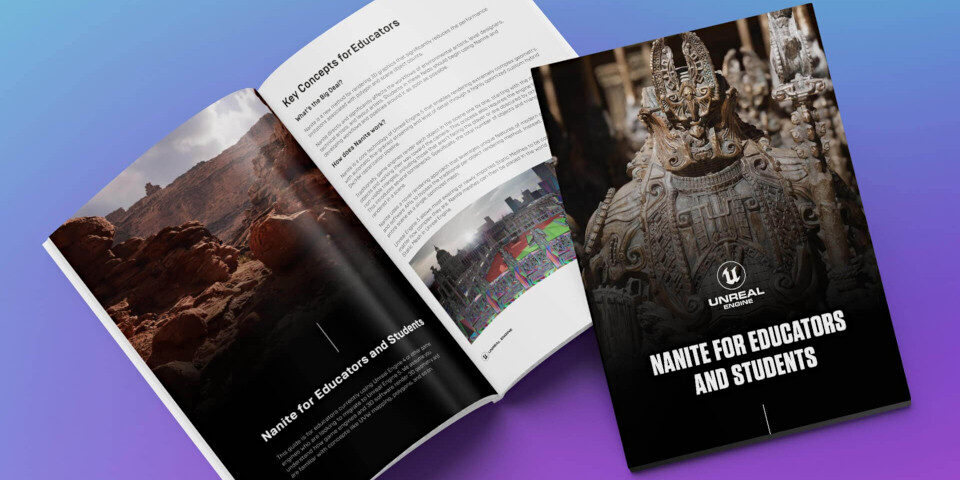 Epic Games has released Nanite for Educators and Students, a free downloadable e-book on Nanite, the new virtualised geometry system in Unreal Engine 5.
Although, as its title suggests, the 21-page PDF is aimed at students and teachers, it provides an overview of how Nanite works and how it affects game production workflows that a lot of artists may find useful.
A useful overview of Nanite for anyone looking to master UE5's new virtualised geometry system
One of the most significant new toolsets in Unreal Engine 5, Nanite enables the game engine to render much more complex geometry in real time than would be possible using conventional static meshes.
The new e-book provides a nice concise overview of how Nanite works, the advantages it offers over using static meshes with baked normal maps, and its current technical limitations.
It also summarises how switching to Nanite meshes affects game art workflows, particularly its impact on UV work and texturing – including why Epic doesn't think baking textures will become obsolete just yet.
The final section of the PDF includes links to sample scenes, Nanite tech demos and training courses, collating all of Epic Games' key resources for anyone hoping to learn Nanite into one place.
Free to download without registration
Nanite for Educators and Students is free. You don't need to register on Epic Games' website to download it.
Download Epic Games' free e-book Nanite for Educators and Students
Tags: digital sculpting, download, e-book, Epic Games, free, game art, game development, game pipeline, geometry streaming, how Nanite works, introduction to Nanite, Nanite, Nanite for Educators and Students, PDF, real-time production, real-time rendering, texture baking, texturing, UE5, Unreal Engine, Unreal Engine 5, UV unwrapping, virtualized geometry