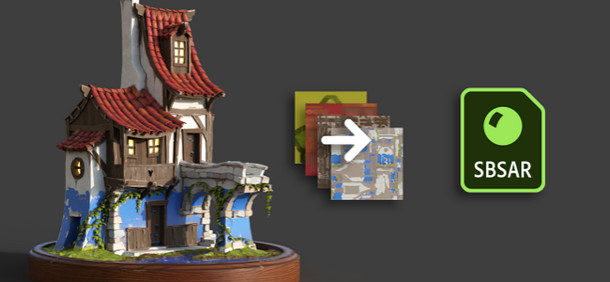 Adobe has released Substance 3D Painter 8.2, the latest version of the 3D texture painting software.
The update, described by Adobe as the "largest … in quite a while", adds the option to export .sbsar materials as well as individual texture maps.
Other new features in the release include the option to apply effects to folders, improvements to layer workflow, and the option to align an environment map to the camera when viewing 3D models from below.
Export .sbsar materials from Substance 3D Painter as well as Substance 3D Designer
Key changes in the release include the much-requested option to export materials in .sbsar format from Subtance 3D Painter, or to export both texture maps and a .sbsar file.
The workflow automatically packages the texture maps that Painter generates into a single material, making them quicker to import into DCC applications and game engines that support the .sbsar file format.
Until now, it was only possible to author .sbsar files in Substance 3D Designer, Painter's sibling app, which is aimed at more technically minded artists.
Users can also package textures into .psd files for export to apps that support the format, like Photoshop.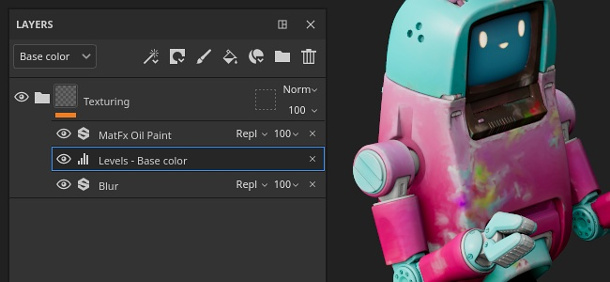 Workflow improvements to layers and channel
The update also features a number of quality-of-life improvements when working with layers, including the option to apply effects to entire folders within the layer stack as well as to individual layers and filters.
It is also now possible to set blending mode and opacity directly on any filter or colour selection effect, rather than having to use anchor points and fill effects to control the results.
Users can also copy and paste blending mode and opacity settings to every channel of a material at once.

Lock environment maps to the camera when viewing models from below
The update also adds the option to lock an environment map to the view camera rather than having it fixed in world space, which automatically illuminates the underside of a model when viewing it from below.
Users can also now tag favourite assets to add them to a new Favorites category in the Asset window, and to delete or reload any asset directly from the Assets window, not just those used in projects.
Other changes include the option to display individual RGBA components in viewports, and better support for HDPI screens, particularly when moving windows between screens with different resolutions.
There are also a lot of smaller workflow improvements and fixes: you can find a full list via the links below.
Release date, pricing and system requirements
Substance 3D Painter 8.2 is available for Windows 10, CentOS 7.0/Ubuntu 18.04+ Linux and macOS 10.14+. Perpetual licences are available via Steam and cost $149.99.
The software is also via Adobe's Substance 3D subscriptions. Substance 3D Texturing subscriptions cost $19.99/month or $219.88/year; Substance 3D Collection subscriptions cost $49.99/month or $549.88/year.
Subscriptions to the Linux edition require a Creative Cloud Plan for Teams priced at $1,198.88/year.

Read a list of new features in Substance 3D Painter 8.2 in the online release notes
Tags: 3D painting, Adobe, blending mode, channel, environment map, export PSD file from Subtance 3D Painter, export SBSAR file from Substance 3D Painter, export SBSAR file from Substance Painter, favorite assets, filter, game art, game development, HDPI, Hi-DPI, IBL, image based lighting, layer, lock environment lighting to camera, lock environment map to camera, new features, opacity, Photoshop, price, PSD, Substance 3D Designer, Substance 3D Painter, Substance 3D Painter 8.2, Substance Painter, system requirements, texture painting, texturing, vfx, visual effects, visualization