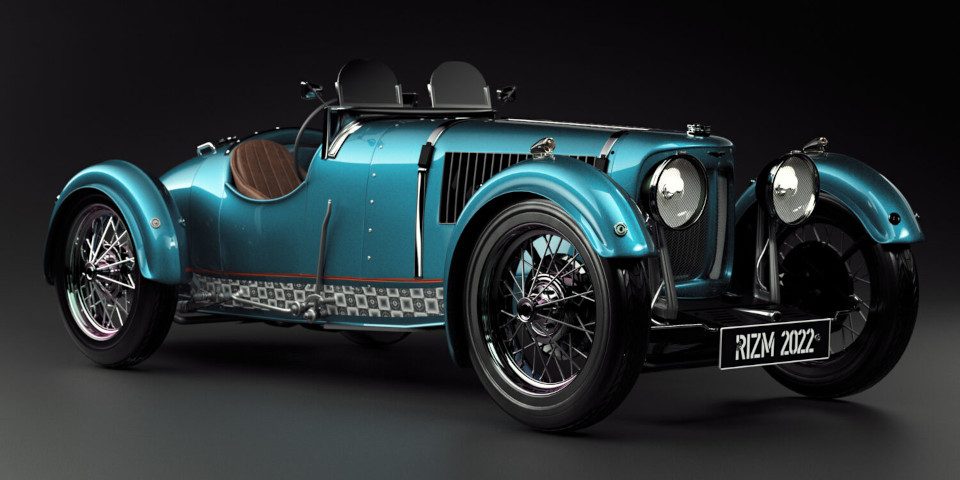 Rizom-Lab has released RizomUV 2022 Virtual Spaces (VS) and RizomUV 2022 Real Space (RS), the latest version of its UV unwrapping applications.
The update replaces the software's old Autofit system for packing UV islands with a more flexible two-stage process better suited to the LOD and UDIM-based workflows used in current game development pipelines.
Other changes include the option to nest UV and geometry groups; histogram displays showing texel density and texture distortion of UV islands; and a new system of Seam Markers in the 2D view.
Standalone UV unwrapping tools for entertainment or product design work
Available under their current branding since 2018, RizomUV VS and RS are standalone applications for UV unwrapping 3D models and packing the resulting UV islands.
The two editions have similar features, but whereas VS is designed for games and VFX, RS is designed for product design, and works in unnormalised UV space, respecting the dimensions of the original model.
New two-stage process for semi-automated UV packing
The main change in RizomUV 2022 is that Autofit, the software's old automated system for packing UV islands, has been replaced by a two-step process.
Users now set a Scaling Mode and Scaling Factor for UV islands before performing an automated pack.
Rizom-Lab describes the new system as more customisable than Autofit, noting that it gives better results for "trim sheets and LOD-type packing, as well as UDIM workflows".
Workflow improvements to unwrapping models and managing UV islands
Other changes include the reworked Islands and Groups panel, for creating and managing groups of UV islands or geometry selections, which now provides the much-requested option to create nested groups.
Users can also now scale the contents of a group by dragging on the frame surrounding it; and lock the frame, the islands it contains, or both.
To help troubleshoot problems with a UV unwrap, the Texel Density and Distortion bars displayed at the bottom of RizomUV's interface have now been replaced by histograms.
As with the old colour bars, they provide visual feedback on the success of an unwrap, colour-coding problem UV islands as blue or red, but users can now select UV islands by clicking points on the histogram, or dragging to select a range of values.
The release also introduces Seam Markers to RizomUV's 2D viewport: lines linking the edges selected to the same edges on other UV islands. Users can customise the colour and weight of the lines.
There are also a number of smaller workflow improvements: find a full list via the links at the foot of the story.
Pricing and system requirements
RizomUV 2022 VS and RizomUV 2022 RS are available for 64-bit Windows 7+, macOS 10.12.5+ and Linux. There are integration plugins for 3ds Max, Blender, Cinema 4D, LightWave, Maya, Modo and ZBrush.
Licensing varies between Indie users – artists and companies earning under €100,000/year – and Pro users.
Indie users get the option to rent to own or buy a perpetual licence; Pro users get a rental-only model. Indie licences of both types are node-locked to two computers, while Pro users can also rent floating licences.
For RizomUV VS, a perpetual licence costs €149.90 (around $168) and rent-to-own costs €14.90/month ($17/month). Pro licences cost €34.90/month ($39/month).
For RizomUV RS, a perpetual licence costs €299.00 (around $335) and rent-to-own costs €29.90/month ($34/month). Pro licences cost €59.90/month ($67/month).

Read an overview of the new features in RizomUV 2022 on Rizom-Lab's blog
Read a full list of new features in Rizom UV 2022 in the online changelog
Tags: 2D viewport, 3D viewport, 3ds max, Autofit, automated UV unwrapping, Blender, Cinema 4D, distortion, game art, game development, histogram, Layers and Groups, LightWave, Maya, nested groups, new features, price, Rizom-Lab, RizomUV, RizomUV 2022, RizomUV 2022 RS, RizomUV 2022 VS, RizomUV 2022.0, RizomUV Real Space, RizomUV RS, RizomUV Virtual Space, RizomUV VS, Seam Markers, system requirements, Texel Density, UDIM, UV island, UV packing, UV seam, UV unfolding, UV unwrapping, vfx, visual effects, visualization, ZBrush