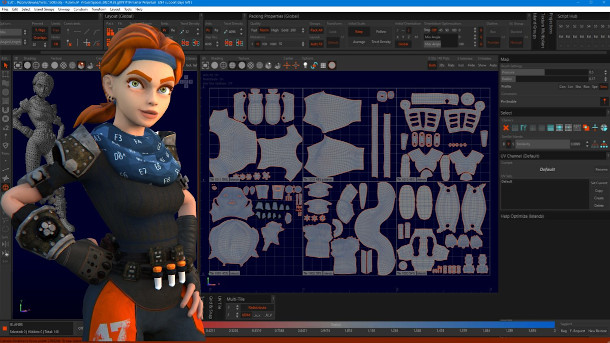 Rizom-Lab has released RizomUV 2020.0 Virtual Spaces (VS) and RizomUV 2020.0 Real Space (RS), the latest versions of its UV unwrapping applications.
The updates add a new Photoshop-style feature for aligning and distributing UV islands, an autosave system, and improvements to selection and texel density management workflows.
Standalone UV unwrapping tools for entertainment or product design work
Available under their current branding since 2018, RizomUV VS and RS are standalone applications for UV unwrapping 3D models and packing the resulting UV islands.
The two editions have similar features, but whereas VS is designed for games and VFX, RS is designed for product design, and works in unnormalised UV space, respecting the dimensions of the original model.
New in the 2020 updates: new Distribute Space system aligns UV islands
Rizom-Lab has been putting out incremental builds of both editions of RizomUV since the start of the year, but has just officially announced the new features as its Spring 2020 updates.
Those new features include a Distribute Space system, which automatically aligns UV islands horizontally or vertically to help keep UV maps organised, in a similar way to Photoshop's Align and Distribute options.
Distribution can be done in average, pixel or real space, and also works on edges and vertices.
Users can also now choose to keep constrained edges aligned when unwrapping geometry or packing UVs, with an option to create 'hinges' from selected vertices.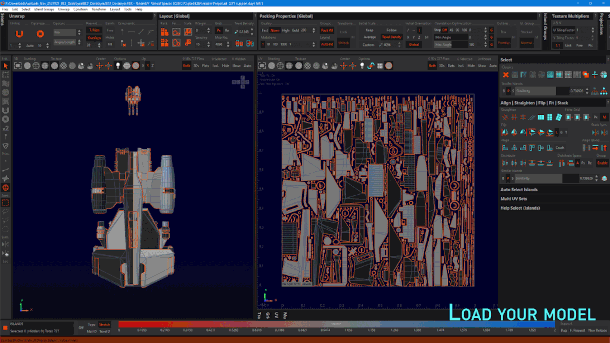 Other changes: improved selection and texel density workflow, new autosave system
Workflow changes include the option to select only mirrored geometry in a model and the UV islands corresponding to it, as shown in the image above; and improvements to edge selection.
The update also streamlines workflow for managing texel density: texel density values in the software's Layout and Packing panels are now linked by default, and the UI has been updated.
Other new features include an autosave system, which backs up an asset at user-defined intervals.
The way that RizomUV handles imported FBX files has also been updated, including new options to use partial UV sets, or to delete unused UV sets.
Pricing and system requirements
RizomUV 2020.0 VS and RizomUV 2020.0 RS are available for 64-bit Windows 7+, macOS 10.12.5+ and Linux. There are integration plugins for 3ds Max, Blender, Cinema 4D, LightWave, Maya, Modo and ZBrush.
Licensing varies between Indie users – artists and companies earning under €100,000/year – and Pro users.
Indie users get the option to rent to own or buy a perpetual licence; Pro users get a rental-only model. Indie licences of both types are node-locked to two computers, while Pro users can also rent floating licences.
For RizomUV VS, a perpetual licence costs €149.90 (around $162) and rent-to-own costs €14.90/month ($16/month). Pro licences cost €34.90/month ($38/month).
For RizomUV RS, a perpetual licence costs €299.00 (around $324) and rent-to-own costs €29.90/month ($32/month). Pro licences cost €59.90/month ($65/month).

Read an overview of the new features in RizomUV 2020.0 VS and RS on Rizom-Lab's website
Read a full list of new features in the online changelog
Tags: 3ds max, automated UV unwrapping, Blender, Cinema 4D, FBX, LightWave, Linux, Maya, multiple UV set, new features, price, Rizom-Lab, RizomUV, RizomUV Real Space, RizomUV RS, RizomUV Virtual Space, RizomUV VS, UDIM, UV island, UV packing, UV seam, UV unfolding, UV unwrapping, Windows, ZBrush