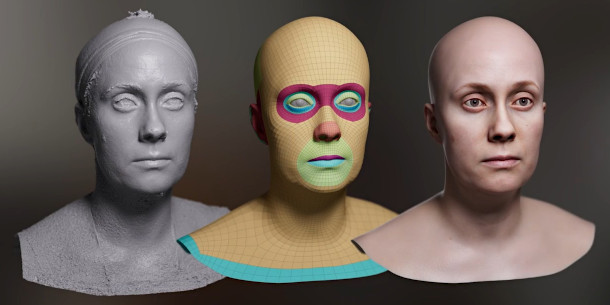 The Gnomon Workshop has released Creating Digital Doubles With Single-Camera Photogrammetry: a guide to photo-based 3D scanning of the human head, recorded by facial modeller Adam Spring.
The workshop, which comprises just under six hours of video training, uses a range of software, including photogrammetry app Metashape and scan-editing tool Wrap, plus Lightroom, Photoshop, Mari and ZBrush.
A detailed introduction to creating production-ready digital characters via photogrammetry
Photogrammetry has become an integral part of the 3D industry, particularly when it comes to creating digital characters for film, TV and games.
In the workshop, Adam Spring provides a detailed introduction to the subject, with a focus on using single-camera head scanning.
Topics covered include the principles of photography, capture kits, and shooting patterns for capturing a head scan; plus use cases, examples, and the limitations involved.
Spring also sets out his own complete process for creating scan-based 3D models of real people, beginning by pre-processing source photos in Lightroom.
He then uses Agisoft's Metashape to generate a 3D head, before cleaning up the mesh in ZBrush, retopologising it in R3DS's Wrap, and removing unwanted texture details in Mari and Photoshop.
The final part of the workshop explores how to optimise scan data for use in a look development pipeline.
About the artist
Adam Spring has over 10 years of experience in VFX and animation, working for clients such as Blur Studio, Activision and Ubisoft with a focus on facial modelling and FACS pipelines.
His work has ranged from supervising actors during 3D scanning sessions to processing scanned facial expressions into blendshape networks to be handed on for facial rigging and animation.
Pricing and availability
Creating Digital Doubles With Single-Camera Photogrammetry is available via an online subscription to The Gnomon Workshop. Subscriptions cost $49/month or $490/year. You can try the training for free.
Read more about Creating Digital Doubles With Single-Camera Photogrammetry

Full disclosure: CG Channel is owned by Gnomon.
Tags: 3d character, 3D scanning, Adam Spring, Agisoft, animation, character modeling, Creating Digital Doubles with Single-Camera Photogrammetry, digital double, digital sculpting, facial topology, fundamentals, game art, game development, Gnomon, head model, human head, image based modeling, introduction, Lightroom, look dev, look development, Mari, Metashape, Photogrammetry, Photoshop, principles, production pipeline, R3DS, retopology, texture editing, texturing, The Gnomon Workshop, Training, tutorial, vfx, video, visual effects, workflow, workshop, Wrap, ZBrush