Wednesday, April 28th, 2021

Posted by Jim Thacker
Motiva ships Layama 1.5
Workflow in Layama, Motiva's new tool for converting 3ds Max, Blender or Unreal Engine scenes into 'pseudo-VR' experiences that can be viewed in a web browser on any device.

Originally posted on 16 March 2020. Scroll down for news of the 1.5 update.
Tools developer Motiva has released Layama, an interesting new tool that turns 3ds Max, Blender or Unreal Engine scenes into "pseudo-VR" experiences that can be explored on any desktop or mobile device.
The software is targeted at visualisation professionals who need a halfway house between static 360-degree panoramas and fully interactive – but hardware-intensive – virtual reality experiences.
(Full disclosure: it actually came out last month, but we didn't manage to cover it at the time.)
From the creators of Datasmith and Colimo
Layama isn't Motiva's first foray into software development: the firm has released a number of inventive tools over the years, primarily for rendering and relighting.
Its best-known product – although, ironically one that fewer people know it developed – is Datasmith, the CAD-data-to-UE4 import toolkit acquired by Epic Games and now distributed free with Unreal Engine.
Turn existing 3D scenes into 'pseudo-VR' experiences that can be viewed in a web browser
Layama is also targeted at visualisation pros: particularly those whose clients want VR walkthroughs but don't have powerful enough hardware or enough experience with VR controllers to view them successfully.
Users take a 3D scene and position view cameras at key points throughout it, as shown in the video above.
Layama then renders all of the camera views and assembles the output into a semi-interactive virtual tour that can be viewed in a standard web browser.
Viewers can use the mouse or keyboard to zoom or partially pan the camera view, or to teleport between the preset viewpoints. You can see how the navigation works by exploring the sample scenes.
The result isn't as seamless as a fully interactive VR environment, but it doesn't require a headset to view.
The tours also run on pretty much any mobile or desktop system: output is optimised for different device types and browsers, and Motiva says that smartphones up to seven years old will work.
Removes the need to prepare offline assets before use
Equally importantly, the base scene doesn't require any preparation, beyond placing cameras.
According to Motiva, it isn't necessary to reduce the poly count of geometry or the resolution of textures: usually the most time-consuming part of the process when rendering with game engines.
The only restriction seems to be that you can't use screen-space effects like vignetting, although you can post-process the renders generated manually before Layama assembles them into a tour.
It's a neat idea, so it will be interesting to see whether users are willing to trade the flexibility of a fully interactive VR experience for the ease with which a pseudo-VR scene can be created and viewed.

Updated 16 November 2020: Motiva has released Layama 1.2. New features include support for alternative Scene Sets, as shown in the video above.
The update also introduces support for custom camera speeds and FOVs, and for custom scene units.
The previous update, Layama 1.1, was primarily a bugfix and quality-of-life release, improving support for Hi-DPI displays, and adding a log file for debugging scenes.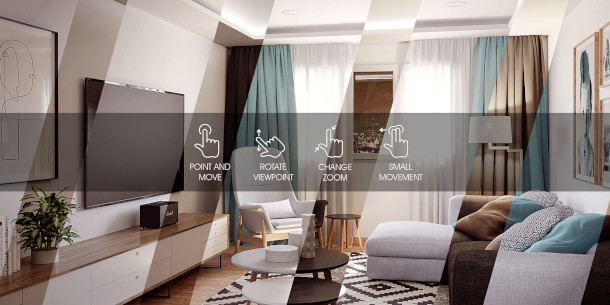 Updated 21 December 2020: Motiva has released Layama Lite, a new feature-limited free edition.
The Lite edition caps set-ups at four cameras and one alternative scene, and removes the option to add custom logos or watermarks, but has no time limit, and can be used for commercial work.
In addition, Motiva has released Layama 1.22, improving navigation performance: the relase notes claim a "500% to 3000% speed gain" when starting movement.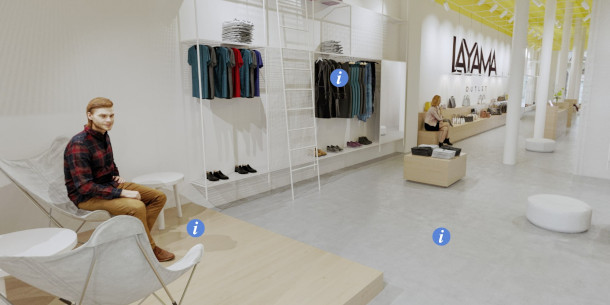 Updated 29 April 2021: Motiva has released Layama 1.5.
The update adds a new hotspots system, making it possible to set up icons in the pseudo-VR scene that perform actions when the viewer clicks on them, like displaying pop-up images or opening web links.
Hotspots can be set up via dedicated hotspot creation plugins for the three host apps. You can see the system in action in this online demo scene.
Pricing and system requirements
Layama is compatible with 3ds Max 2014+ and the V-Ray, Corona Renderer and FStorm render engines; Blender 2.80+, using the Cycles or Eevee engines; and Unreal Engine 4.24+. It costs €180 (around $220).
The new Lite edition is free for commercial use, with the limitations listed above.