Monday, March 1st, 2021

Posted by Jim Thacker
Download free UV packing tool UV-Packer for Blender

Originally posted on 1 March 2021. Scroll down for details of the new macOS edition.
Plugin developer 3d-io has released UV-Packer for Blender, a new edition of its free UV packing plugin for the open-source 3D software.
Designed for "3D artists, game studios, arch viz, photogrammetry … and 3D product designers", the plugin optimises the packing of UV islands for both organic and hard surface models to minimise wasted UV space.
A high-performance automated UV packing plugin
UV-Packer began life as a commercial 3ds Max plugin, with 3d-io making the 3ds Max edition available free on the release of version 3 last year.
The software automatically arranges the UV islands of a previously UV-unwrapped 3D model to minimise wasted space, reducing total file sizes for sets of texture maps.
It is resolution-independent – so packing times remain constant, regardless of the resolution of the textures – and supports tiled UV layouts, used in applications like ZBrush.
UV-Packer is multi-threaded and, according to 3d-io, is capable of "crunching thousands of UV islands and millions of polygons in minimum time".
The product website shows the plugin achieving 48% UV packing efficiency for an 80,000-polygon building model, as opposed to 28% for Blender's native tools.
Free for commercial use, but the SDK remains a paid product
The Blender edition of UV-Packer consists of two components: the UV-Packer engine itself, and a Blender integration plugin. You can see installation instructions at the end of the video above.
The engine is not open-source, but the EULA included in the .zip archive with the installer permits use in commercial projects. The integration plugin is available under a MIT licence.
The UV-Packer SDK, used by software developers and studios to customise the plugin, or to integrate it into other tools, remains a commercial product.
UV-Packer's sister applications, including 3ds Max and Maya UV unwrapping plugin Unwrella, and texture baking tool Flatiron, also remain available commercially.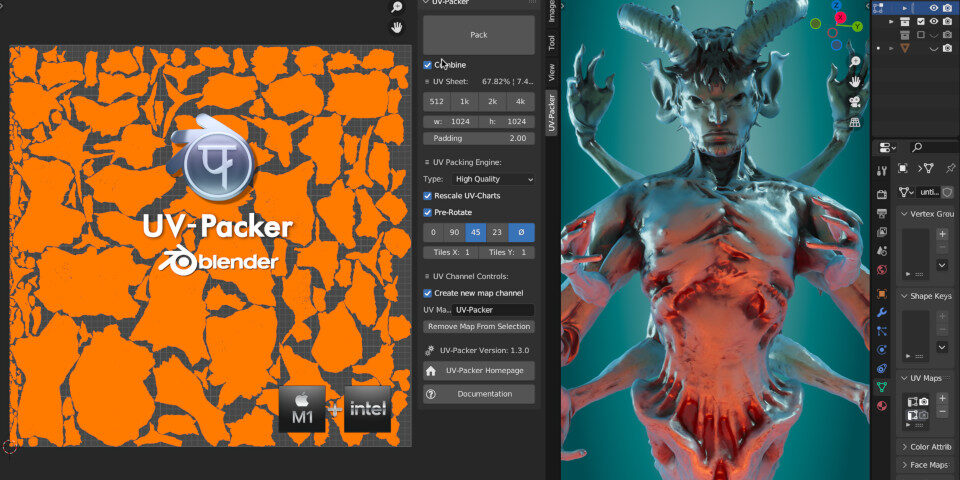 Updated 6 February 2022: 3d-io has released UV-Packer 1.01 for Blender, adding support for macOS. Both old Intel and current M1 and M2 Apple Silicon Macs are supported.
The update actually came out last October, but we only spotted it while working on a story on the new edition of UV-Packer for Unreal Engine, which is also available for free.
Pricing and system requirements
UV-Packer for Blender is available free for Blender 2.90+ on Windows and macOS. A Linux edition is due "soon". You don't have to register on the product website to download it.
A perpetual licence for the UV-Packer SDK costs €5,000 (around $5,920).
Download UV-Packer for Blender free from the product website